I-70 Is Open Through Glenwood Canyon Again After Mudslides From The Grizzly Creek Fire Burn Scar Closed It. That Could Be A Sign Of Things To Come
Updated June 28 at 6:10 p.m.
All lanes on Interstate 70 through Glenwood Canyon have reopened to eastbound and westbound traffic after clean-up from two mudslides in two days was completed, CDOT tweeted on Monday evening.
Our original story and first update follow below.
---
Updated June 28 at 7:19 a.m.
Interstate 70 through Glenwood Canyon from Glenwood Springs to Dotsero closed again on Sunday late afternoon and remained closed overnight, due to another flash flood warning from the Grizzly Creek fire burn scar. It then became a second mudslide in two days, CDOT confirmed. The mud came down the same drainage as it had on Saturday, and this time, it reached both westbound and eastbound lanes of the highway.
At 8:30 a.m. on June 28, CDOT tweeted that eastbound I-70 will reopen later this morning, but that westbound remains closed with no estimated time of reopening.
Our original story follows below.
---
A mudslide caused by heavy rains in a wildfire burn scar in Glenwood Canyon temporarily closed I-70 in both directions on Saturday afternoon. The highway reopened completely late Saturday night.
The Colorado Department of Transportation said the debris flow, which came from the area burned by the Grizzly Creek fire last year, measured 70 feet wide, at five to seven feet deep. CDOT maintenance official Kane Schneider described the consistency of the mudslide as "very soupy," with some small rocks. 
There were no injuries or vehicles damaged in the incident, due in part to some early action taken by CDOT. About an hour before, the National Weather Service advised CDOT it would be issuing a flash food warning for the area, which caused CDOT to shut down nearby recreational areas.
"That mechanism, for us, is to start shutting the rest areas down," Schneider said. "So if we do go to an advanced warning that we don't have people in those rest areas recreating, and then we, in turn, have a search and rescue on our hands too." 
CDOT is on particularly high watch for trouble in Glenwood Canyon after last year's wildfire. Spokeswoman Elise Thatcher said Saturday's actions were part of a canyon closure system they have set up, so they can be on standby if there's a flash flood watch or warning.
"This is why we have this system set up so that we can as quickly as possible respond and clear the canyon and close the interstate." She added, "The conditions are going to change with weather, right, it's Colorado. So we need to be able to move quickly."
The closures happened around 3:30 p.m. Saturday. After weather let up, the eastbound lanes reopened at 8 p.m. Westbound lanes were closed until around 10:30 p.m. 
The nearby town of Glenwood Springs has mandated residents use less water following the mudslide to prevent its water treatment facilities from being overwhelmed. Exterior water use like watering lawns, washing cars and filling pools, are prohibited. Residents are being asked to take shorter showers and refrain from running dishwashers or washing machines.
"What we need right now is for everyone to keep water usage to a minimum until we are able to get our water tanks refilled and excess debris out of our water intakes so the water treatment plant can return to typical production levels," said the town's Public Works Director Matt Langhorst in a press release.
Although I-70 reopened late Saturday, local businesses like High Country Gems & Minerals in Glenwood Springs haven't seen normal foot traffic today.
"We're usually very busy," said the store's owner, who goes by Patti Rock Star. "I was even trying to see if any of the lanes [on the highway] were open to see if people were coming or going, but it's really super quiet today.
"Anything happens to I-70 and it affects us for sure."
Burn scars from last year's wildfires — which torched hundreds of thousands of acres — are highly susceptible to flash flooding, due to their lack of vegetation, which normally absorbs most rainfall. 
The two years immediately after a fire are when flood risk is highest, according to National Weather Service meteorologist Greg Hanson. Glenwood Canyon has been highlighted as a particularly vulnerable burn scar because its steep terrain means debris flow can rush down the canyon walls and affect drivers and recreators below. 
The National Weather Service is regularly warning of flash flooding in areas burned by last year's wildfires in Colorado, including today.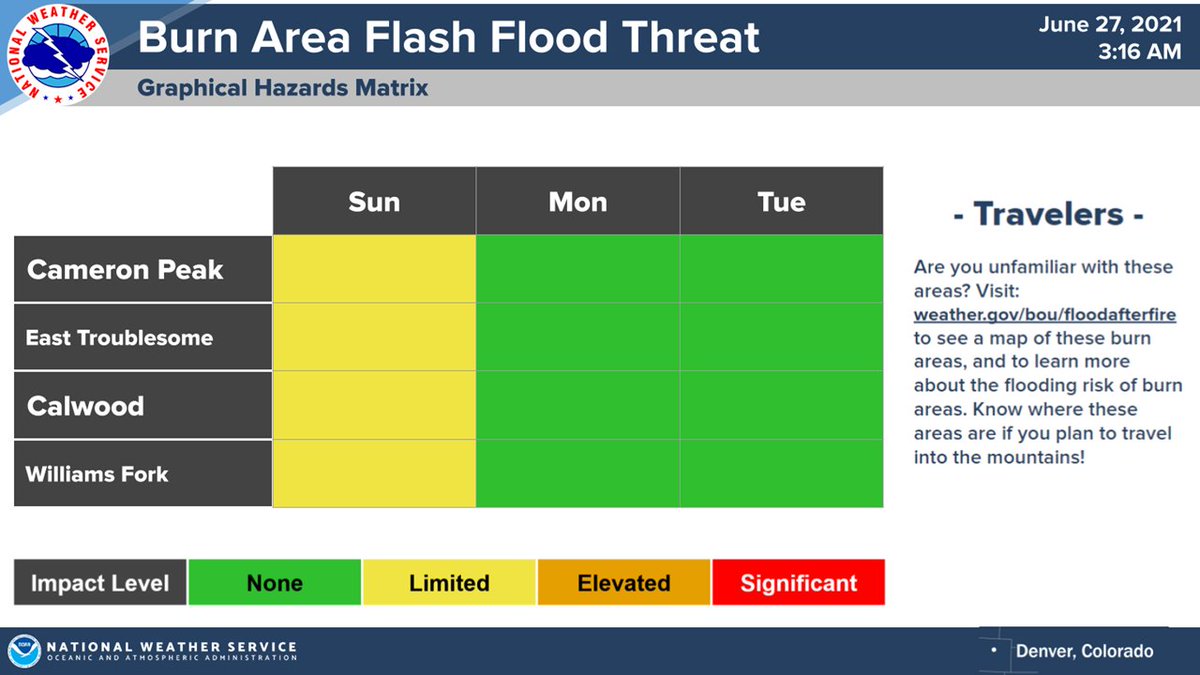 Burn scar flash flood threat today. #cowx | Originally tweeted by NWS Boulder (@NWSBoulder) on June 27, 2021.