For One Native Student At Fort Lewis College, Lacrosse And Family Were A Lifeline As The Pandemic Disrupted Classes
This story was produced by The Hechinger Report, a nonprofit, independent news organization focused on inequality and innovation in education.
---
After the pandemic sabotaged her senior year of high school lacrosse, Nina Polk was determined not to miss another season.
Although her mom was hesitant to let her go away to college, the family piled into their car in August 2020 to make the 20-plus hour drive from their home in Shakopee, Minnesota, to Durango, Colorado, where Polk had been recruited to play women's lacrosse at Fort Lewis College.
The liberal arts college, a former Native American boarding school that today offers free tuition to Native American students, was Polk's dream school. In addition to the tuition waiver, it had everything she was looking for: a division II sports program, a fine arts major and gorgeous natural surroundings.
"It was kind of a package deal for me," said Polk, who is Diné (Navajo), Sičangu Lakota, San Carlos Apache and Quechan. "The first few weeks, it was kind of hard to adjust, because of just being away from home. But with everyone here, and my teammates, they just made it a whole lot easier. And the Native community here, too, I don't feel alone."
Simply by getting to college, Polk, now 19, stood out from many of her peers. Only around a quarter of 18- to 24-year-old American Indian and Alaska Native people were enrolled in college in 2019 according to the National Center for Education Statistics. Native American students are also more likely to drop out of college during or after their freshman year and more likely to transfer to a different institution.
Then the pandemic hit, throwing up additional obstacles on the high school-to-college path. Last fall, the share of Native American students enrolled in college for the first time plummeted by almost a quarter, more than for any other racial or ethnic group, according to the National Student Clearinghouse Research Center.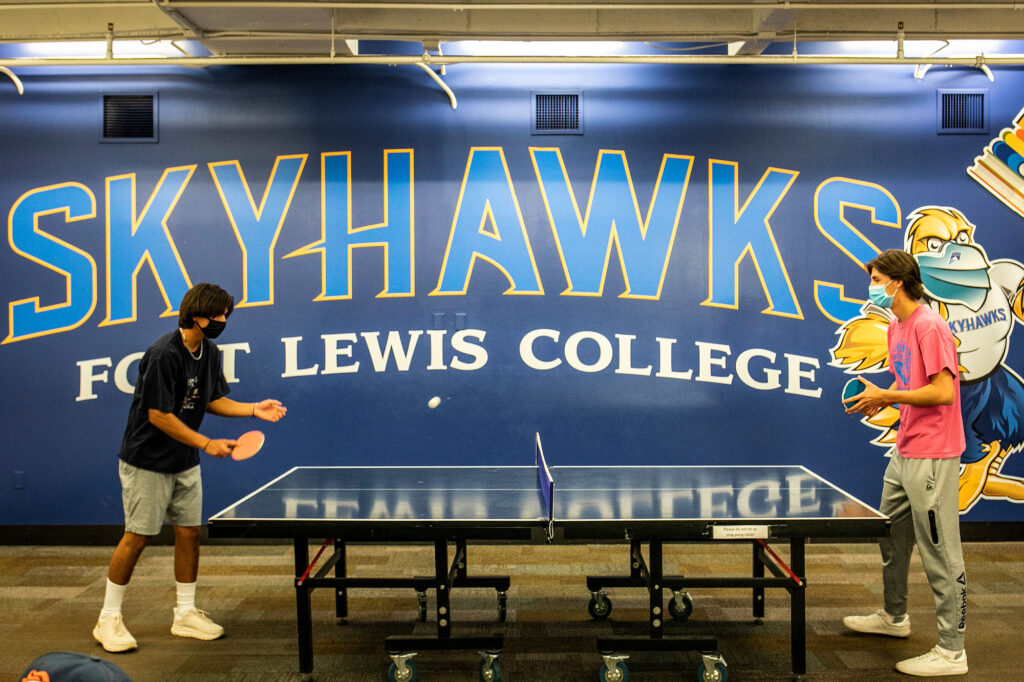 The barriers that can derail Native American students in their pursuit of a college degree are numerous. These students are more likely to face financial difficulties or experience racism than many other student groups, according to Native American higher education experts. Research shows that finding professors, peers and mentors who understand them and can help them create a sense of belonging on campus can be crucial to helping Native students succeed on campus.
"Connection to community is very centered on who we are who we have been throughout the generations," said Megan Red Shirt-Shaw, the director of Native student services at the University of South Dakota, who is Oglala Lakota. But the pandemic made finding those connections even more difficult.
The type of campus Native students attend, and whether those colleges are able to support them, can play a major difference in whether students feel welcome. In August 2020, Cante Skuya Lonehill-Stover, a 19-year-old member of the Oglala Lakota tribe, left her home on the Pine Ridge Reservation in South Dakota. She enrolled at Augustana University, a small private liberal arts college in Sioux Falls, where she was one of 11 Native American students on campus.
Lonehill-Stover had been drawn to what she described as the college's stated commitment to cultural diversity and inclusion, but she didn't see that reflected in the student body, which is 83 percent white.
"It was a huge culture shock coming from ... a close, tight-knit community, to a place where people aren't as accepting," she said. 
She never found the friend group she was looking for and got to know only a few faculty members, and it wasn't because of the coronavirus. Most of the professors, she said, "weren't very understanding about me being 500 miles away from home, being in a completely culturally different environment."
Jill Wilson, a college spokesperson, wrote in an email that Augustana is committed to recruiting and admitting more students from underrepresented groups, including by "establishing deep relationships with tribal colleges, universities and other networks to recruit more Native American students." She also said the school runs a program to help first-year students of color navigate campus life (which Lonehill-Stover said she didn't know about).
As a result of her experience at Augustana, Lonehill-Stover transferred to South Dakota State University, where she started classes in veterinary medicine this fall.
Lonehill-Stover's year at a small, predominantly white institution sits in stark contrast to Polk's experience at a public college that is 46 percent Native American, up from 41 percent in fall 2019.
Fort Lewis was the first school Polk attended where she didn't feel alone, she said. She'd moved a lot as a kid, living in several states before her family settled in Minnesota when she was 8. Her middle school was racially diverse, but Native students were few, and her high school was predominantly white. At Fort Lewis, she felt like she belonged.
Fort Lewis officials say that sense of community is intentional. The college runs programs such as Native Skyway to Success, a pre-orientation for incoming first-year and transfer students that allows them to connect with other Native students and staff at the college's Native American Center.
In fall 2020, Fort Lewis was able to buck national enrollment trends, increasing the number of first-year Native students by 11 percent, which was more than for all first-year students. First-year enrollment of Native (and all) students has continued to increase for fall 2021, with Fort Lewis admitting its largest freshman class ever, said provost Cheryl Nixon. She attributes some of the boost to 2020 high school graduates coming back to college this fall after taking a year off.
In its communications to students during the pandemic, the college also tried to be inclusive, designing a COVID-19 safety campaign around the Diné, or Navajo, concept of K'é, which broadly means kinship and mutual respect.
"When our Native American students talk about a community of care, they mean their Fort Lewis community, but they really mean their home community," Nixon said. "What we've learned at Fort Lewis is we really need to do outreach to the students that respects their connection to their family … And that has not been done well by higher ed."
Still, having a lot of Native students on campus doesn't eliminate prejudice, Polk said. At Fort Lewis, she overheard students complaining that Native students don't deserve to "get in for free," she said. It's the kind of derogatory comment about Native people she's heard her whole life, she said.
In middle school, Polk had almost abandoned athletics after some of her basketball teammates bullied her for her culture and physique, despite its advantages for the sport — at 6 feet, 1 inch, she still stands a head taller than many of her teammates. (In a TikTok video on frequent questions she gets, Polk explained "the Creator wanted me to be closer to my ancestors" when asked why she was so tall.)
It wasn't until she picked up a traditional lacrosse stick in seventh grade through the Twin Cities Native Lacrosse league that Polk finally found her sport. She first played modern lacrosse when she tried out for her high school team as a ninth-grader. Lacrosse quickly became a driving force as she started to look at colleges.
And while she was able to experience campus life for a few months, Polk's fall semester at Fort Lewis was cut short. In early November, the lacrosse coach called an urgent team meeting. An on-campus party had been the source of a coronavirus outbreak. The team, gathered on the field, fell silent as their coach told them practice was suspended for the rest of the fall.
Then, the college announced all instruction would be remote until Christmas break. Polk made the decision to return to Minnesota and finish out the semester there, so her parents drove out to Colorado again to bring her home. 
While Polk was disappointed to miss fall lacrosse training, being home was in many ways a relief from the stress of campus life during the pandemic. It also gave her an opportunity to spend precious time with her family, including her parents, three grandparents and her little sister, Tusweča, which means "dragonfly" in Lakota.
"When she was born, I was like, 'I'm going to be the best sister ever,'" Polk said. "I want her to love lacrosse. I'm going to try and teach her that."
At 19, Polk is more than a decade older than Tusweča. Her parents were around her age when they met at Haskell Indian Nations University, a boarding school turned tribal college in Lawrence, Kansas. She said she got her love of art from her mom, a mixed media artist, and her athletic ability from her dad, a professional disc golf player.
In January, when campus reopened, Polk returned to Colorado and joined her fellow Skyhawks on the lacrosse field. Although the spring season was disrupted by frequent coronavirus testing, shin splints and canceled games, Polk was happy to spend weekends on the road, doing homework on long bus rides and in hotel rooms in places such as Colorado Springs and Denver. 
Polk shared her culture with her teammates, too, by teaching them about the history of the game. Some of them even knew her through TikTok before they'd met her in person. Before coming to college, Polk had begun to record and share TikTok videos on the differences between modern and traditional lacrosse, which drew tens of thousands of views.
In the videos and in conversations with her teammates, she explained how tribes such as the Haudenosaunee (Iroquois), Choctaw and Ojibwe played traditional lacrosse before it was appropriated by European settlers, who adapted it to create modern lacrosse. She learned the Great Lakes version, called thakápsičapi or baaga'adowewin, played by the Dakota and Ojibwe tribes.
"We call it the Creator's Game or the medicine game, because we believe it was gifted to us by the Creator," Polk said. "It was a healing game because it connected us to the land, to animals, to water."
After successfully finishing the spring semester at Fort Lewis, Polk returned to Minnesota for the summer. She picked up her traditional Great Lakes stick again and was invited to speak about the history of Native lacrosse at several professional lacrosse events.
Although Polk felt welcomed at Fort Lewis and enjoyed sharing her culture with her teammates through lacrosse, she too felt the mental health effects the pandemic. She lacked motivation with online learning and worried about her grades. And she struggled with her art classes, which had always been an important creative outlet. She even began to wonder if it was still the career path she wanted to pursue.
Lacrosse, on the other hand, had become Polk's lifeline.
"That's what kept me motivated, the game itself," she said.
At Fort Lewis, Nixon says that the challenges of last year are showing up in the college's retention rate – the number of first-year students who return for a second year. In fall 2019, the college retained 62 percent of all students and 57 percent of Native American students. In fall 2021, the numbers were 54 percent and 49 percent, respectively — meaning that fewer than half of Fort Lewis' Native American freshmen in fall 2020 came back to campus the next year, according to data from the college.
That's in line with national trends. Native Americans were the most likely group of students to withdraw or take a leave of absence from college due to the pandemic, according to the National Center for Education Statistics.
Nixon said that all freshmen were affected by the disruptions of the pandemic but Native students tended to be hit the hardest.
"That 'COVID class' is not coming back for their second year, because they had just such a crazy first year — completely disrupted, shifting online, back in person, maybe not creating that strong social bond with peers, or that even that bond with us (as a college)," she said.
"So many of our Native American students … wanted to go take care of a family member, or just felt that draw back home," Nixon added.
This fall, that includes Polk, who decided to take the fall semester off to heal from a knee injury, spend time with her family and take care of her mental health after a very difficult year.
"I think there are the traditional sort of retention and persistence factors that we think about with Native students," Red Shirt-Shaw said. "But this past year especially, it was an entirely new game that we were playing and so many of our students had to face challenges that were unprecedented."
To try to encourage students who are taking time off to return, Fort Lewis will be launching a "circle back" program in the next month, Nixon said. The college plans to hire two additional advisors who will stay in touch with students and helping connect them with resources when they are ready to come back, she said.
Polk, for one, says she is certain she'll return to Fort Lewis. When she does, she said she intends to switch her major from studio art to Native American and Indigenous studies "to learn more about my culture, my people" and find new ways to advocate for the sport she loves.
---
The story was supported by a grant from the Education Writers Association. The story was produced by The Hechinger Report, a nonprofit, independent news organization focused on inequality and innovation in education, which publishes this higher education newsletter.
You care.
You want to know what is really going on these days, especially in Colorado. We can help you keep up.  The Lookout is a free, daily email newsletter with news and happenings from all over Colorado. Sign up here and we will see you in the morning!