The Mesa County Clerk Tina Peters' election security controversy, explained
Updated 3:50p.m., July 14, 2022
In May 2021, Mesa County Clerk Tina Peters allowed an unauthorized person to access voting machines and attend a secure update of their software. That individual, took pictures and made copies of the hard drives, with the images ending up posted online.
The incident has become a high-profile flashpoint as false claims about the 2020 presidential vote risk undermining election security around the country. And on March 9, 2022, Peters was indicted on multiple charges related to this breach. Two women who worked in the office and allegedly assisted in her efforts have also been arrested. Here's what's happened so far.
What Peters did
There's a general consensus on the basic facts of what happened in May, although the Secretary of State and Tina Peters disagree about whether the actions violated any laws or Colorado's election rules.
On May 17, 2021, deputy clerk Belinda Knisley asked Mesa's IT department to turn off security cameras in the Mesa County elections office, and leave them off until August 1. Peters says state law does not require nonstop video monitoring.
On May 23, 2021, a Sunday, Peters used her badge to enter the secure area with man who prosecutors have identified as Conan Hayes, a former professional surfer who has become a leading figure in the national 'stop the steal' movement. While in the room, the man imaged the hard drives of vote-counting equipment, essentially making a copy of their software and data. Peters has called him a 'consultant' in court filings but offered no details about who exactly he is, how she connected with him, and whether he was paid for his services.
Two days later, three employees of Dominion Voting Systems, the company that makes and operates election equipment in Mesa and nearly every other county in Colorado, arrived with a staffer from the Secretary of State's office to conduct a 'trusted build' to update the software on the machines. Under the rules, only people who worked for the county elections office, the Secretary of State and Dominion were supposed to be present.
Logbooks and accounts from staff suggest that same person attended the trusted build with Peters. An email listing the people who would be present included someone named "Gerald Wood" and described him as an "administrative assistant," although no one by that name was on county payroll at the time. During the build, the man is alleged to have taken pictures and video of the trusted build, including passwords for the election machines displayed on a laptop belonging to the state employee.
According to the March indictment filed again Peters, a local man named Gerald Wood testified to the grand jury that Peters and Knisley contacted him before the trusted build about doing some backup work on Dominion machines. He said he told them he was unfamiliar with the equipment but was called in for a meeting and given an access badge from county HR. After meeting with the two women he left -- giving the badge back to them on his way out. The indictment accuses Peters of using that badge to let the unauthorized man access the machines and attend the software update.
In July, charging documents against Sandra Brown, a former Mesa County election manager, added significantly to the picture of who prosecutors believe this "mystery consultant" was.
Investigators have found evidence -- including cell phone location data and an interview with Knisley -- that indicates Hayes travelled to Grand Junction ahead of the update, and that he attended using the badge originally issued to Wood. Peters is also accused of making a second copy of the hard drives after the trusted build and sending it to him in California.
While Hayes has not been arrested, the affidavit states, "The person who completed that computer service using Wood's identity is still under investigation."
The investigation
In early August, blurry photographs of a screen showing the BIOS password for a Dominion voting machine appeared on the conservative website Gateway Pundit as part of an article claiming Dominion has remote access to its tabulation machines, something the company and the states that use its technology maintain isn't possible. 
Dominion identified the password as belonging to the machines in Mesa County and alerted the state, which sent staff to Peters' office on August 10th to initiate an investigation. According to court filings, they found two altered settings that made the machines vulnerable to manipulation. Early in the investigation, Secretary of State Jena Griswold barred deputy clerk Knisley and election manager Sandra Brown from overseeing any aspects of the 2021 election.
At the time, Peters was attending a conference in South Dakota hosted by MyPillow CEO Mike Lindell, where he claimed he would produce incontrovertible evidence that the 2020 election was stolen through manipulation of tabulation equipment. That data was never supplied. 
At the conference, one speaker presented what he claimed were files from the Mesa County machines, although Peters said that, to the best of her knowledge, the data hadn't come from her office. During her appearance, Peters described Griswold's investigation as a politically-motivated raid. After the conference, she apparently traveled to Texas and stayed at an undisclosed location for several weeks because of "threats" that had been made against her (A newspaper's review of emails to her office found that most were supportive). Peters did not appear publicly in Mesa County until mid-September. She has said she continued to work remotely during that time.
Shortly after the Secretary of State announced her investigation, Mesa County DA Daniel Rubenstein said his office was also looking into possible criminal charges and had reached out to the FBI office in Denver for assistance. 
In November 2021, the FBI and local investigators carried out search warrants on four locations, including Peters' home. Two months later, Rubenstein and Colorado's Attorney General jointly announced they were sending the case to a Grand Jury to consider possible criminal charges.
On March 8, 2022, a grand jury indicted Peters and Knisley on multiple felony and misdemeanor charges, including attempting to influence a public servant, criminal impersonation and identity theft. The two women turned themselves in to the county jail the next day.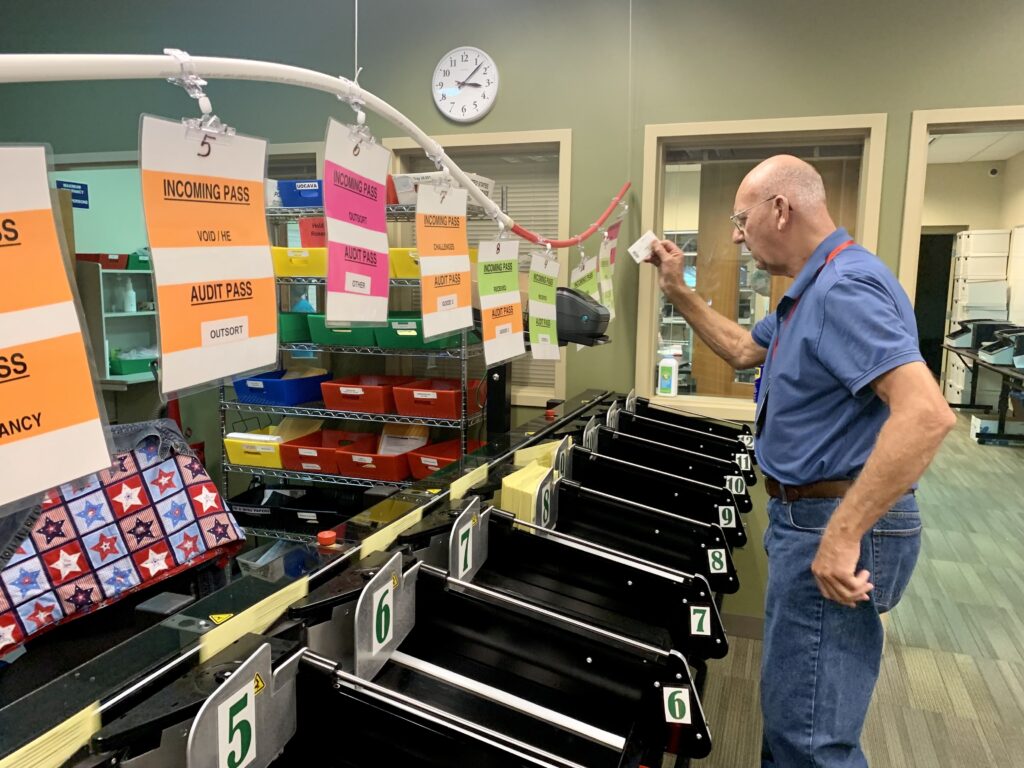 Fallout from the breach
Once Griswold's office confirmed that Peters had allowed someone outside her office to image the Dominion machines, the Secretary of State decertified Mesa County's equipment, saying the data breach had compromised their integrity. 
County Commissioners approved an agreement with Dominion to replace the machines ahead of the November 2021 election, extending their contract with the company to 2029.
Griswold also went to court to argue Peters should not be allowed to oversee the 2021 election because of the evidence that she had already broken Colorado's election laws. The judge agreed and the county appointed former Secretary of State Wayne Williams and former Mesa County Clerk Sheila Reiner to run the election, which went off without incident. 
In early 2022, Griswold went back to court to request a similar order barring Peters from overseeing the upcoming election, after she refused to adhere to extensive oversight requirements demanded by the state. In a related move, Mesa County commissioners voted to appoint Brandi Bantz, the county's current director of elections, to oversee the 2022 vote, should a court remove Peters from that role.
In February, Peters announced that she will run for Secretary of State against Griswold. Following her indictment, her campaign claimed the charges are a political motivated effort to hurt her chances ahead of the primary.
Peters came in last in a field of three Republican candidates in the June 28th primary. However, she claims the results are suspect and has requested a recount, although the race is far outside the margin required to trigger one automatically.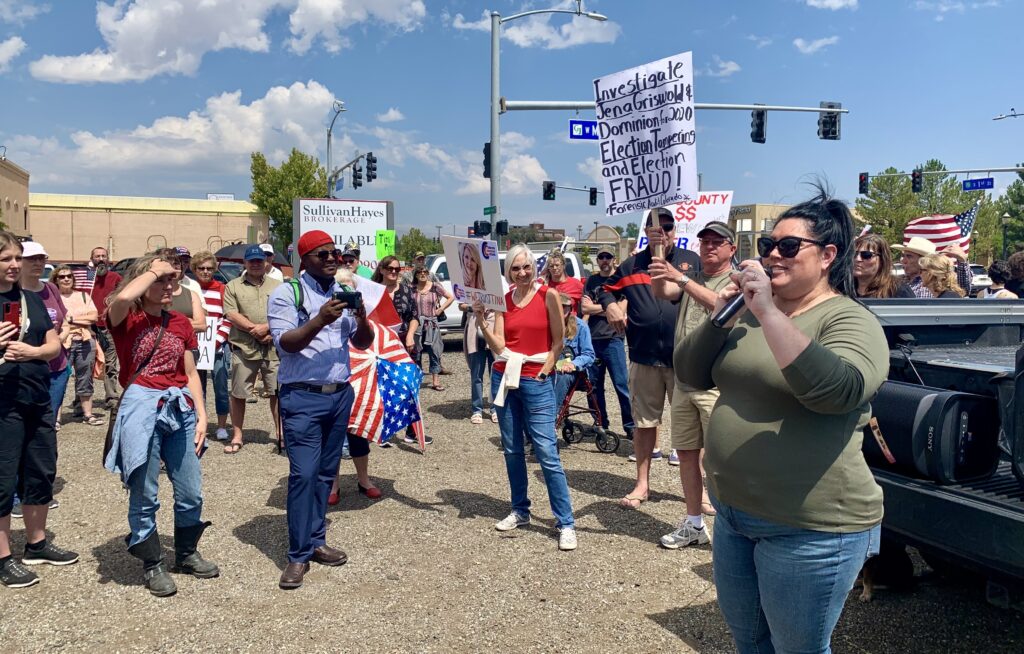 Is there any evidence for what Peters says she's concerned about?
Colorado has long been at the forefront of trying to ensure that the final tally of votes matches what voters mark on their ballots.
The state relies entirely on paper ballots that are run through scanners to be counted (the two exceptions are Mineral and San Juan counties, which do hand counts). After the election, every county that uses scanners is required to conduct a "risk limiting" audit, checking the actual marks on randomly selected paper ballots against the machines' record of their votes, to ensure the votes on paper match the record in the machine. 
To do that, a bipartisan group of staff and volunteers retrieve a number of randomly selected paper ballots and manually check the results against what the tabulation machine recorded. Mesa County's 2020 audit, which Peters signed off on, found no discrepancies.
In court filings, Peters argued why she should have been allowed to oversee the 2021 election. Her attorney included an 88-page report by Doug Gould, described as a cyber security expert, who also participated in Lindell's symposium. The report claims the hard drive images revealed scores of files that were deleted during the trusted build.
The state has said the deleted log files were outdated elements of the equipment's operating system, not "election records" under state law, and that counties are already required to back up much of the information that may have been contained in those files. State officials note that counties can back up their election hard drives if they want, something Larimer County apparently did ahead of its own trusted build last year.
Related legal cases
Since the security breach was discovered this summer, the incident has spawned a tangled web of legal cases.
In addition to being under criminal indictment, Peters is also being sued by the state for violating campaign finance laws. The Secretary of State's office said she began collecting donations for her legal defense fund and for her reelection campaign before filing the official paperwork to run for county clerk again. The suit also alleges she hasn't filed required donation disclosure information.
In mid-November, the state's Independent Ethics Commission agreed to take up a complaint against Peters alleging that the travel and housing she accepted from Lindell exceeds the state's strict limits on gifts to elected officials. Peters' lawyer has requested the IEC hold off on taking up the complaint while the criminal investigation and the campaign finance suit run their course.
Deputy Clerk Belinda Knisley was arrested in early September and charged with burglary and cybercrimes. Knisley had been on paid leave while the county investigated a complaint that she was causing a hostile work environment. Despite being barred from the county offices, she was allegedly found there several days later and had logged into a computer using Peters' credentials and emailed the county IT department from Peters' email account. She has pleaded not guilty to the charges.
That case against Knisley has led to further legal trouble for Peters; she has been cited for contempt of court for allegedly lying to a judge about filming one of Knisley's hearings, against courtroom rules. When investigators with the district attorney's office and the Grand Junction Police Department attempted to serve a search warrant to seize her iPad, the ensuing confrontation resulted in two misdemeanor charges against Peters.
Election manager Sandra Brown was fired in early November. According to court filings, Brown was the staffer who gave the state the list of people who would be present at the trusted build, which included "Gerald Wood" as an administrative assistant. A spokesperson for the fund set up to defend Peters said it intended to sue the county for wrongful termination on her behalf.
Who's who?
Tina Peters — Peters was a political newcomer when she was elected clerk in 2018. The former businesswoman ran on a platform of reopening shuttered DMV offices and beat a long-time clerk's office staffer in the Republican primary (she was unopposed in the general election). In the run-up to the 2020 election, officials discovered 574 uncollected ballots from the previous year's election in a dropbox outside the clerk's office. That incident spurred an unsuccessful recall effort against her. After the 2020 election, Peters signed off on an audit of the county's results, but began making unsubstantiated claims of potential fraud early in 2021. Peters has announced that she will run for Secretary of State.
Belinda Knisley — Knisley is Peters' Deputy Clerk. She was placed on administrative leave early in the investigation while the county looked into claims that she harassed and tried to intimidate other employees of the office. Despite being barred from entering the clerk's office, she was found there, allegedly trying to use Peters' log-in information to access computers. She has been charged with burglary and cybercrimes, to which she has pleaded not guilty.
Jena Griswold — Griswold, a Democrat and political newcomer, was elected Secretary of State in 2018, defeating incumbent Wayne Williams. During her time in office she has made frequent national media appearances to decry Republican changes to election laws in other states. County clerks have criticized some of her actions during her tenure, with some accusing her of politicizing her office. Griswold is running for a second term in 2022.
Mike Lindell — Lindell has emerged as one of the most vociferous and persistent proponents of former President Trump's untrue claims about the 2020 election. The owner of the MyPillow brand has started an online video channel to advance those lies and claims to have met with state Attorneys General sympathetic to efforts. In the summer of 2021, Lindell held a three-day symposium in South Dakota where he promised to reveal evidence of election tampering, but failed to do so. Peters attended the conference and the hard drive copies of Mesa County's voting machines were discussed by one of the panelists. Lindell is being sued for defamation by Denver-based Dominion Voting Systems.
Gerald Wood — The Fruita resident was identified during the investigation as the man Peters allowed to image the voting machine hard drives and attend the secure build. However, the indictment against Peters and Knisley describes Wood as the victim of identity theft, claiming the pair engineered the creation of an access badge in his name and used it to let a so-far unidentified person access the election equipment and attend the trusted build.
Scott Gessler — Peters has retained Gessler as her lawyer in her effort to retain her authority over Mesa County's elections. Gessler is a former Colorado Secretary of State from 2011 to 2015. After a bid for governor, Gessler returned to private practice as an election lawyer and participated in then-President Trump's unsuccessful effort to challenge the count in Nevada. However, Gessler has also defended the use of Dominion Voting machines in Colorado.
Daniel Rubenstein — Mesa County's Republican district attorney has worked in the office since 1996, according to his LinkedIn, and assumed his current position in 2015. His office has been involved in the Peters' investigation since the beginning.
Sheila Reiner — Reiner, a Republican, is Mesa County's elected Treasurer, a post she won after serving two terms as the county's Clerk and Recorder. In the fall, Griswold named her to oversee the 2021 election in Peters' stead. After county commissioners declared that they are the ones with the power to make that appointment, Reiner ended up sharing those responsibilities with Wayne Williams.
Wayne Williams — Williams, who is now an at-large city councilman in Colorado Springs, served as Colorado's Secretary of State from 2015 to 2019. The Republican has also been a county commissioner and clerk and recorder in El Paso County. Mesa County commissioners brought him in to work with Reiner to administer the county's 2021 election.
Mesa County Commissioners — Mesa County's three elected commissioners are Scott McInnis, Janet Rowland, and Cody Davis. All are Republicans and have taken an active role in the Peters' case since early on, urging her to return to the county to participate in the investigation and then getting involved in appointing a replacement for the 2021 election. The board has feuded publicly with Peters; in October she was nearly removed from a hearing for interrupting commissioners. 
Editor's note, 3/9/22: This article has been updated to reflect that Tina Peters and Belinda Knisley have been indicted on multiple charges and to correct that Gerald Wood was not the man who imaged the hard drives or attended the trusted build.
You care.
You want to know what is really going on these days, especially in Colorado. We can help you keep up.  The Lookout is a free, daily email newsletter with news and happenings from all over Colorado. Sign up here and we will see you in the morning!