Mesa Clerk Tina Peters says she's running for Secretary of State
Mesa County's embattled Republican Clerk and Recorder Tina Peters is entering the race for Colorado Secretary of State. 
Peters made the announcement on Steve Bannon's War Room, a podcast hosted by the rightwing political strategist. 
"I have a duty and responsibility to stand for truth and justice and the people's vote," she told Bannon, adding, "I'm standing against nationalized elections and this one party rule in our state and federal government."  
If Peters makes it through the contested Republican primary, she would face the woman whose office has been investigating her for the past seven months — Democrat Jena Griswold.
Three other Republicans are already in the race: former Jefferson County clerk Pam Anderson and political newcomers David Winney and Francis O'Donnell. 
Peters had previously announced she was seeking a second term as Clerk and Recorder in Mesa County. There is already another declared Republican in that race, Bobbie Gross, who lost the primary narrowly to Peters in 2018, as well as a Libertarian candidate.
Griswold was quick to denounce Peters as "unfit" for office and a "danger to Colorado elections." 
"Peters compromised voting equipment to try to prove conspiracies, costing Mesa County taxpayers nearly one million dollars," said Griswold in a written statement. 
"She works with election deniers, spreads lies about elections, was removed from overseeing the 2021 Mesa County election, and is under criminal investigation by a grand jury." 
For her part, Peters has characterized Griswold's investigation of her as politically motivated, claiming that Griswold "weaponizes her position to attack people that disagree with her."
Mesa election breach investigation has brought Peters national attention
Peters has been front and center in headlines across the state in recent months after pictures showing passwords for the county's Dominion Voting Machines were leaked to a conservative website last year. 
She is accused of allowing an unauthorized person to make copies of sensitive voting machine hard drives. Some of that information was later shared with election conspiracy theorists online at an event hosted by Trump supporter and MyPillow CEO Mike Lindell.  
Peters has maintained that everything she did was within her jurisdiction as clerk. A judge ruled last year that because of her actions, Peters should not be allowed to have access to the county's voting machines before the 2021 election. 
"Peters directed the creation of the images of the hard drive, which was not authorized by law and which directly led to the decommissioning of Mesa County's voting systems, facilitating the leak of sensitive data and exposed the county's voting system to compromise," Mesa County District Court Judge Valerie Robison wrote in her decision.
A Grand Jury is currently considering potential criminal charges for election tampering and misconduct against Peters. And the state has filed a second lawsuit, to have her removed from overseeing the 2022 election as Mesa Clerk. 
Peters' actions have frustrated many local Republican elected officials in Mesa County because of the time, energy and financial costs her alleged actions have taken up, which they argue divert attention from the issues they'd rather focus on. But her bid for statewide office thrusts means the national debate over the 2020 election will be front and center in Colorado this year.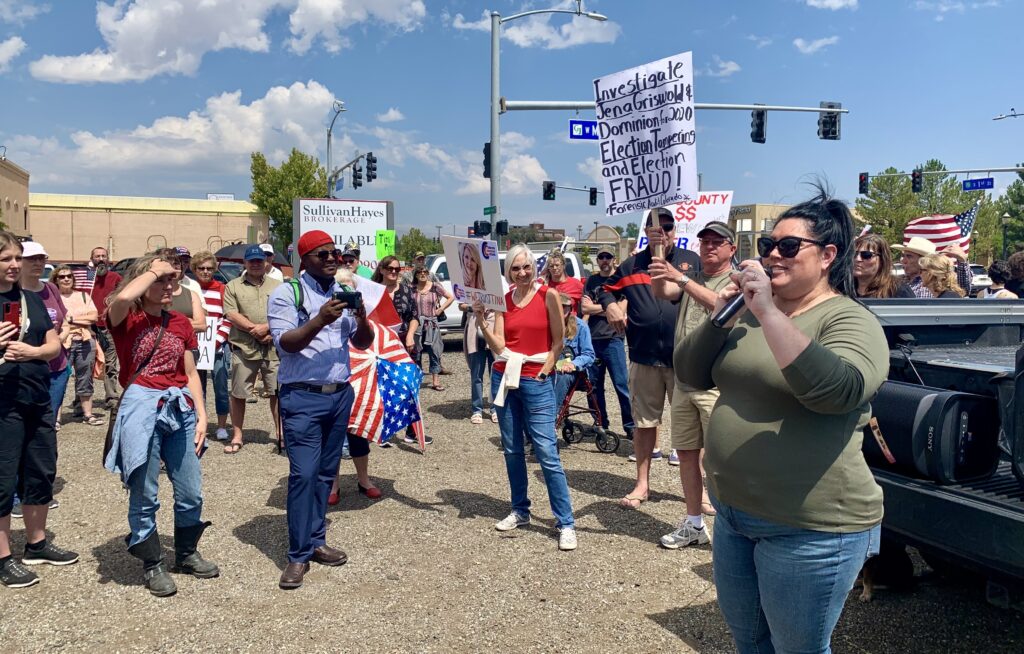 Peters has become somewhat of a celebrity among members of the far right who falsely believe the 2020 election was stolen. Lindell allegedly paid to put her up for several weeks after news of the investigation broke last year. And last week she appeared at a rally in Castle Rock where the crowd chanted "lock her up" about Griswold and a speaker said "if you are involved in election fraud, you deserve to hang." 
Hand counts across the country, including several Colorado counties, have confirmed the accuracy of the 2020 and 2021 election results, as have Colorado's risk-limiting audits. Colorado uses only paper ballots, relying on audits to ensure the machine tallies match the votes cast 
In his interview with her, Bannon, Trump's former chief strategist, referred to Peters' actions as heroic. 
"Tina Peters is an American hero, okay? She's already an American hero and she's coming back when she could take the easy route out," he said. "It's like why Trump ran in 2016, Trump didn't need to do that. These are heroes."
Announcement follows compounding legal troubles
Separate from her Secretary of State campaign and the election security case, last week Peters was charged with obstructing a police officer and obstructing government operations.
Peters turned herself into authorities in Mesa county Thursday morning and immediately posted a $500 bail.
Those charges occurred while the Mesa County District Attorney's office was seeking evidence of whether Peters recorded a criminal court proceeding against courtroom rules, and then lied to the judge about it.  
If Peters is found to have done those things, she could be charged with attempting to influence a public servant.
You care.
You want to know what is really going on these days, especially in Colorado. We can help you keep up.  The Lookout is a free, daily email newsletter with news and happenings from all over Colorado. Sign up here and we will see you in the morning!