Three more stories from the LGBTQ+ community in Western Colorado. Megan, a trans woman, shares her journey of self-discovery and acceptance through her love for 1950s-style dresses. Megan's fashion choices become a powerful symbol of her authenticity and a gateway to her career as a stand-up comedian. Lehua tells the story of coming out as her true self with the people who should understand her best — and their surprising reactions. Xavi offers a story about community, the support of his family and performing drag. Recorded May 2023 at Lithic Bookstore in Fruita.
Thanks to CPR News' Stina Seig for helping us connect with storytellers. Thanks also to Lithic Press, which has been publishing books of poetry from creators on the Western Slope of Colorado since 2007.
Xavi shares his story at a My Story So Far event in Fruita.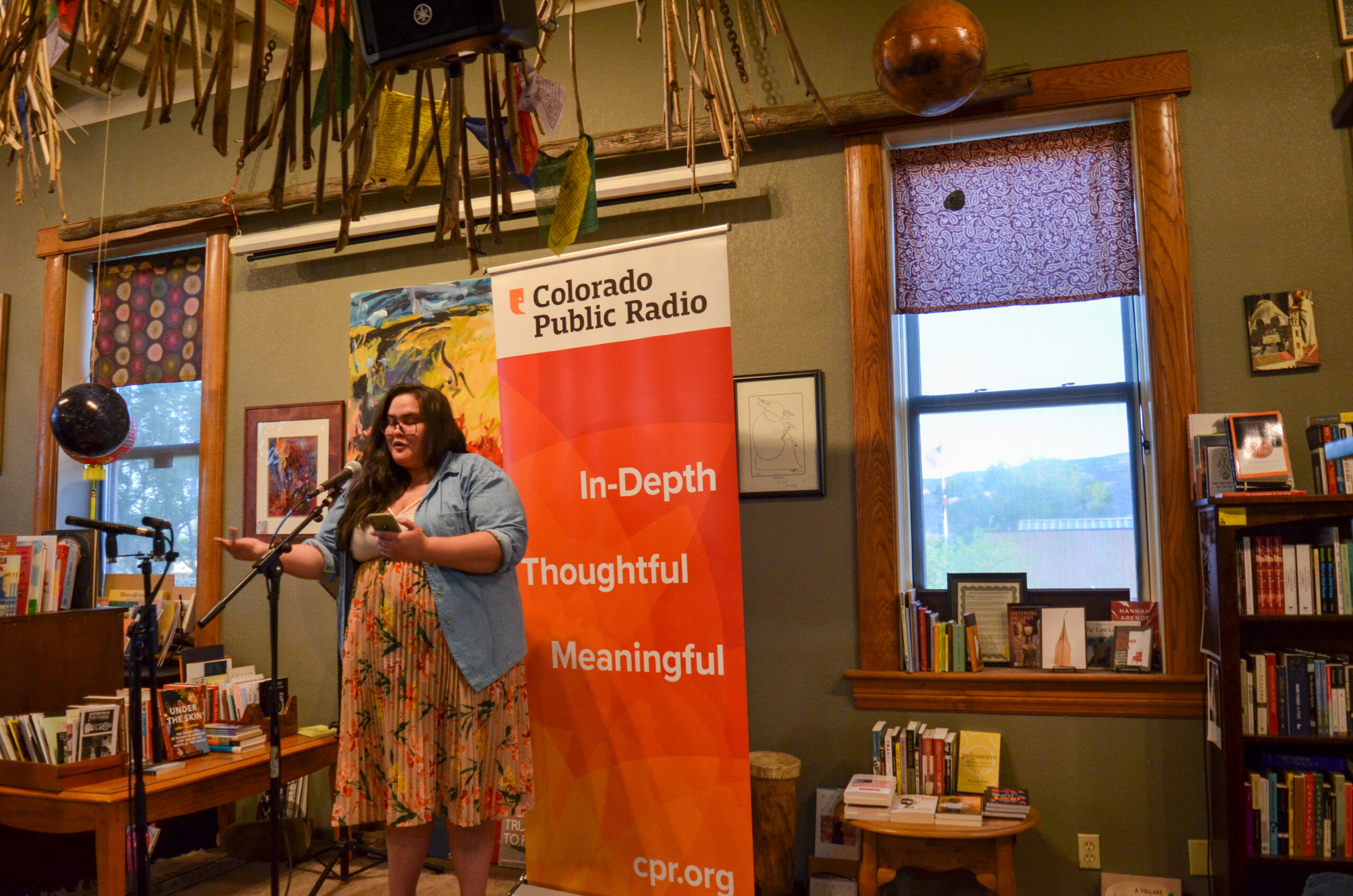 Lehua shares her story at a My Story So Far event in Fruita.
Megan shares her story at a My Story So Far event in Fruita.
We're always looking for people interested in sharing their stories onstage, and communities whose experiences and perspectives deserve more attention. Reach out to us: CommunityVoices@cpr.org
Subscribe to get email updates about storytelling events, opportunities to learn and new projects from our Community Audio team at cpr.org/communityaudio.
My Story So Far is a Community Audio project of Colorado Public Radio's Audio Innovations Studio — part of the NPR Network.
Host and producer: Luis Antonio Perez
Producer: Emily Williams
Editor: Jo Erickson
Mixing: Kibwe Cooper
Additional producers: Rebekah Romberg, Erin Jones
Theme music by Daniel Mescher; additional music courtesy Universal Production Music
Cover Art: Maria Juliana Pinzón
Executive producer: Brad Turner
Thanks also to Hart van Denburg, Jodi Gersh, Clara Shelton, Matt Herz, Pedro Lumbrano, Martin Skavish, Kim Nguyen, Rachel Estabrook, Carl Bilek, Ryan Warner, Cayla Montoya-Manzo and Brittany Werges.