Prison Dairy Serves Up Buffalo Milk
Luke Runyon/Harvest Public Media
The Four Mile Correctional Center in Cañon City, Colo ., is home to what may well be the country's largest water buffalo dairy.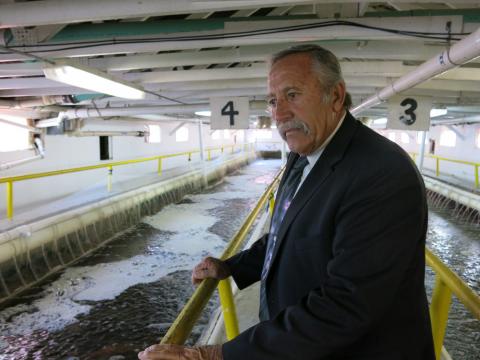 Luke Runyon/Harvest Public Media
Steve Smith, director of Colorado Correctional Industries, tours an on-prison greenhouse that houses a tilapia farm.
Luke Runyon/Harvest Public Media
Feliciano Gomez, an inmate at the prison, is in charge of the milking parlor.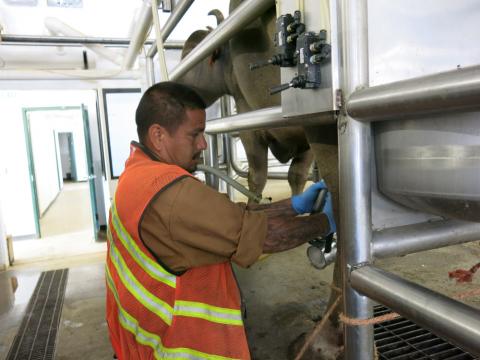 Luke Runyon/Harvest Public Media
Johnathon Gregory, 36, works at the prison water buffalo operation.
Luke Runyon/Harvest Public Media
Buffalo are hooked into a milking machine at the dairy.
Luke Runyon/Harvest Public Media
A sign warns inmates to stay away from the water buffalo pens.
Past the razor-wire fences, beyond huge metal gates, behind thick walls, you'll find one of the most unique dairies in the country. The Four Mile Correctional Center in Cañon City, Colo., is home to what could very well be the country's largest herd of domesticated water buffalo – buffalo milked for their rich, frothy milk.
At the Four Mile dairy, inmates run the milking parlor, not a farmer in overalls. And it's not black and white cows dotting the landscape, instead it's water buffalo with big, curved horns.
"I believe we have right at, probably 250 head," said Steve Smith, director of Colorado Correctional Industries, a division of the state's Department of Corrections that sets up businesses within prison walls. The plan is to keep adding buffalo until the herd totals 400.
Cheesemakers sometimes blend in buffalo milk to give their cheeses a distinctive taste. The growing herd at Four Mile is really the only place to go for a big quantity of buffalo milk in the U.S.
"People say, 'How do you milk a water buffalo?' I say 'Very carefully," Smith said.
The prison's grounds gives the dairy the pastoral feel you find on most family-run farms. This operation just happens to be run by prisoners in green jumpsuits. The sprawling campus stretches along the upper Arkansas River. Warning signs are everywhere within the prison gates, but the one at the water buffalo pen had to be custom made, given its unusual inhabitants. It reads, "Warning, water buffalo are very dangerous animals."
"We get a lot of looky-loos down here and we want them to stay away from the animals," Smith said.
Water buffalo are notoriously high-maintenance. Buffalo can feel skittish around strangers, which makes them tougher to milk. It also can take more time to train the animals to enter a milking parlor without bucking and thrashing.
Get close enough to the horned beasts' enclosure and they poke their heads between the white metal fence, snorting and huffing. If you squint you might mistake them for beef cattle, but their unmistakable, curled horns give them away. These are water buffalo. The prison is also home to goat and cow dairy operations, so why the addition of these animals?
"We had an opportunity that a customer lost their ability to get water buffalo milk from India," Smith said. "When I found out about it, we did a business plan."
The customer is Denver-based Leprino Foods, arguably the world's largest mozzarella cheese manufacturer. If you've eaten a pizza recently, there's a good chance the cheese came from Leprino. When the company lost its supply in 2011, Smith was happy to step in and offer up rich, frothy buffalo milk, with prisoner labor behind the operation.
"We have some customers with an interest in water buffalo milk, in terms of creating a certain flavor profile," said Mike Reidy, a Leprino spokesman. "We searched the world for a source, a supply, and we really struggled to find it."
The company uses the milk as an addition to their array of mozzarella cheeses, to give certain products a unique taste, Reidy said. The buffalo milk is fattier than a dairy cow's.
Leprino isn't using the milk to create the highly sought-after artisanal cheese known as mozzarella di bufala. That cheese originated in Italy, the country that still produces the majority of the world's supply. A few small cheesemakers use water buffalo milk in the U.S. to produce mozzarella di bufala, but they are few and far between. They often source their milk from tiny herds, which makes the Four Mile inmate-run water buffalo operation even more of an anomaly.
In the facility's milking parlor, half a dozen water buffalo stand in small pens, waiting to be milked. Prisoners in reflective vests affix suctioned tubes to the animals' udders. Their back hooves are bound to metal bars.
"It's so they don't kick the tubes off while we're milking," said prisoner Feliciano Gomez, who oversees the water buffalo operation. Most businesses within the prison's walls put inmates in leadership positions.
Each of the 250 animals here has a name, Gomez said. The names sometimes correlate to the buffalo's appearance, like Curly-Q for the snarled horns that point inward towards each other. Other names stem from the personalities of the animal, like Big Red, known for her temper among the prisoners.
"They got attitudes and their own personalities," Gomez said, reaching up to scratch Big Red's neck as she was almost finished being milked.
Most prisoners who work with the buffalo have stories of being horned by the temperamental animals, Gomez said, with the bruises to prove it. He started working at the dairy almost two years ago.
"Never in my life would I think I would come to prison and milk water buffalo," Gomez said. "Never in a million years."
Prisoners who work at the dairy earn $5 a day with the chance to earn more depending on how much milk they produce. Most men are sending the money to family outside the prison or to court-mandated child support, Smith said.
The prisoners have to apply for jobs; no one is forcing them to work. Critics have pointed to the fact that this is cheap labor for for-profit companies. But the important thing for Smith is these jobs give the men marketable skills when they're released.
"Ninety-seven percent of all inmates are getting out. They're hitting the streets," Smith said. "So what do you want when that guy comes in and moves next to you? Do you want him to be able to have a job and keep a job or do you want him to have the same habits as when he came in?"
A Colorado Corrections Department study showed if prisoners spent the last nine months of their incarceration working, they had a 19 percent better chance of not re-offending. Sometimes it works a little too well. Smith said one prisoner got out, started a business and ended up stealing away clients from the prison.
This prison, though, still has the control of water buffalo milk.
You care!
Southern Colorado is changing a lot these days. We can help you keep up. Sign up for the KRCC Weekly Digest here and get the stories that matter to Southern Colorado, delivered straight to your inbox.