Packed Denver race and justice forum tackles police-community friction, distrust
Residents of Denver want police to get out of their cars and build relationships with the community, instead of harboring what they say are "military-like" attitudes. That was one of many recommendations from panelists at Mayor Michael Hancock's first forum on race relations in Denver.
"We have a community that is completely fed up with being mistreated, with being brutalized, with having these incidents being caught on tape and not prosecuted," said Lisa Calderon, director of the Community Reentry Project and a panelist at the Friday afternoon gathering.
The first of a series, the forum comes on the heels of demonstrations in Denver prompted by grand jury decisions not to prosecute police officers in the killings of Michael Brown in Ferguson, Missouri, and Eric Garner in Staten Island, New York.
Hundreds of people attended the event at the History Colorado Center,  filling a large meeting room. Along with Hancock and Calderon, the event panelists included Pastor Anthony Grimes, Anpa'o Locke, Denver Center For International Studies,  Metro State University student and activist Nestor Meza-Zuniga, and Estee Dechtman, a ninth grade student at Denver School of the Arts and member of the Mayor's Youth Commission.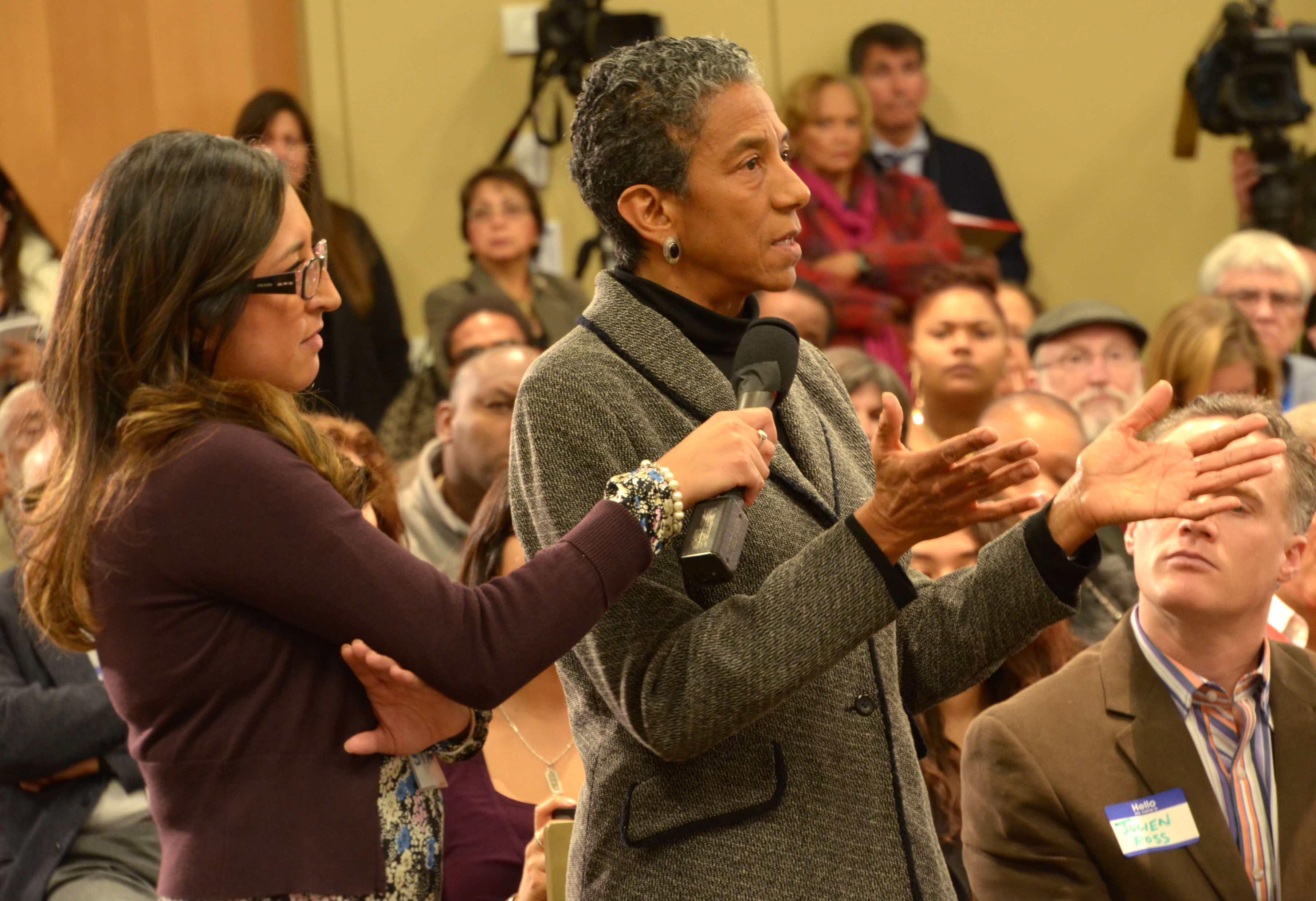 Police Chief Robert White said poor communication between police and the community also contributes to mistrust.
"Then when something controversial happens, whether it's right or wrong it explodes because of the lack of relationship and respect both entities have for one another," he said.
"When people sign up for the police department, they think they're signing up for the military, so they have military mindset. They need to learn more about empathy," Grimes said. He urged officers to learn "how to deal cross culturally in environments they don't know. I would teach them how to get out of their police cars. Connect with the people so they're not strangers, they're neighbors."
All residents deserve a right to feel safe in this city," Hancock said. "We can and must do better."
While he enjoyed praise from the audience for keeping the discussion about race and justice in Denver alive after the recent demonstrations, one questioner wondered whether Hancock was stifling the nascent political activism of students when he told them it was time to get back to class.
Students from East High School were the first to walk out of class, on Dec. 3. The following day, Lincoln, Washington, Montbello students joined in. And on Dec. 5, more than a dozen metro area schools were hit by walkouts -- including at least one middle school. Denver South High School students joined in th Demonstrations on Dec. 8.
The protests prompted the History Colorado Center, already hosting an exhibit about race, to offer special programs on the topic for parents and children. And in schools, classrooms opened their doors to similar discussions.
Hancock said Friday the students' voices had been heard clearly, and their demonstrations helped prompt city leaders and activists to plan the day's forum.
You care.
You want to know what is really going on these days, especially in Colorado. We can help you keep up.  The Lookout is a free, daily email newsletter with news and happenings from all over Colorado. Sign up here and we will see you in the morning!