What happens when old hospitals die? Turns out, for St. Joseph, there's an afterlife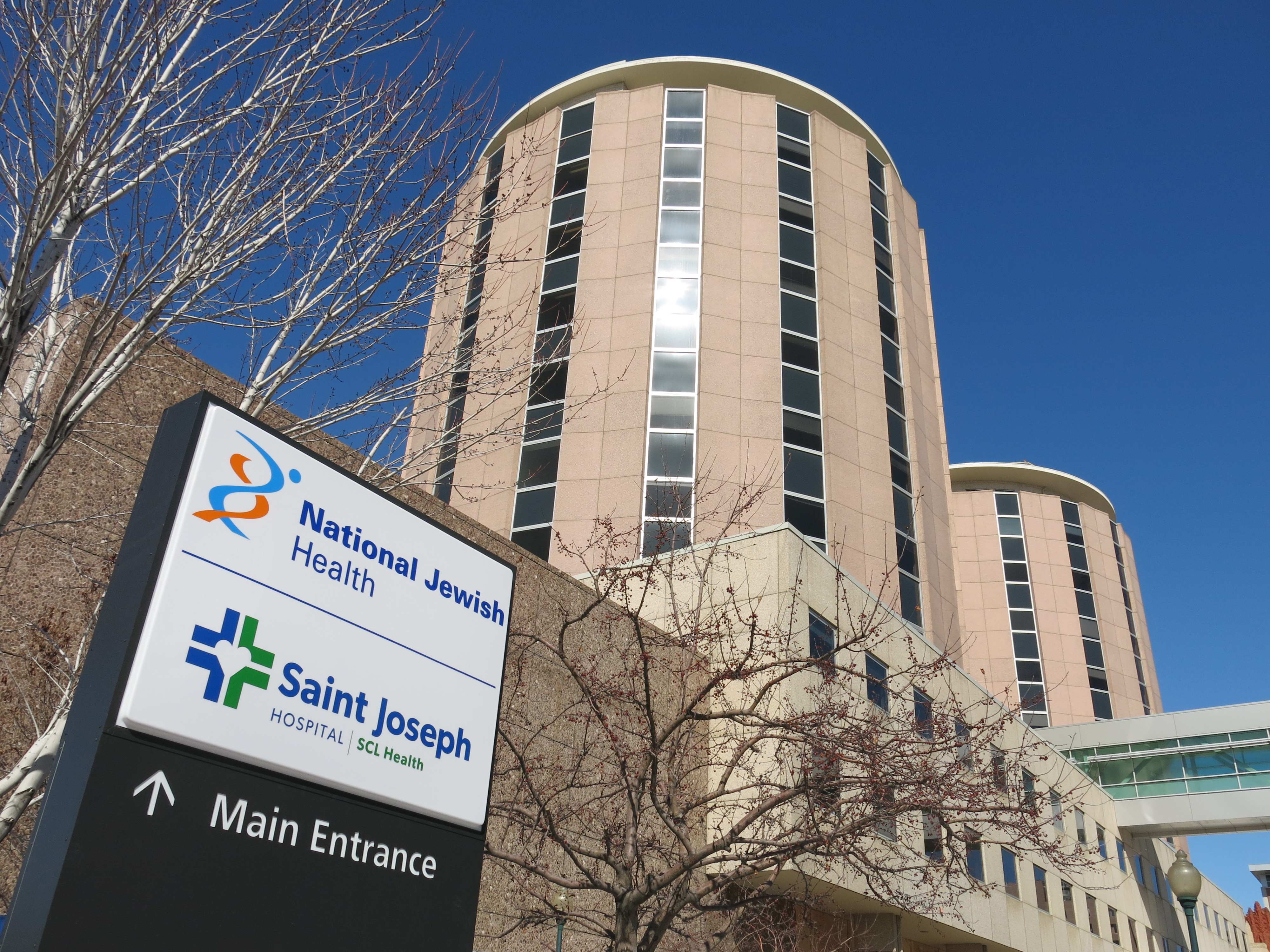 The wall in one of the hallways in the old St. Joseph hospital in downtown Denver reads like a condolence card.   Here St. Joseph's employees have scribbled thoughts, in Sharpie pen.  Rowell Bulson, who is one of the army of workers helping to decommission the 141-year-old hospital, shines a flashlight on the wall.
"Had my babies here, my granddaughter was born here, started my nursing career here," Rowell reads.  "Made beautiful friendships here, love all my memories here, Cheryl."
Down a dusty, dimly lit hall, you'll find gurneys, exam tables, lockers, wheelchairs, crutches.  All will be moved out of this complex with its iconic 13-story towers. 
"The metaphor that we're using is that if the Jolly Green Giant took the two towers and shook them like salt and pepper shakers nothing should fall out," says Mike White, a Materials Management Consultant.  His job is like organizing the move out of a nearly 800-thousand-square foot house. 
"If it's not screwed to the wall, it's leaving the hospital," White says.
Hospital construction nationwide is booming. It's fueled in part by the increase in, and competition for, patients due to the Affordable Care Act. Older hospitals now face a decision to either spruce up or move to new and improved facilities. St. Joseph's did the latter.  In December, it opened up a shining new glass and steel $623 million facility next door to the old complex.
(John Daley/CPR News)Now, says White, everything needs a new home, including surplus high-tech machines.
"I think the big ticket items are what they call 'big iron,' like the imaging equipment and the MRIs," he says.

St. Joseph's hired a Chicago-based company called bidMed to handle all that "big iron" equipment that's sellable.  It has a website where you could buy your own endoscopy tower or lab analyzer.  The company's Chief Operating Officer Joanne Frogge likens it to an Ebay for used medical equipment.
"It's actually very similar to the used car market in that you save a lot of money," says Frogge.  "We're seeing a lot more hospitals in the U.S. actually buying used product."
She says a new MRI machine would probably run $2 million.  Five to ten years later, on the used market, that same machine might fetch $200,000.
(John Daley/CPR News) The things not being sold will get donated to non-profits.  A thousand medical scrubs will go to a Colorado animal shelter to use for bedding.  Anesthesia machines, bedside cabinets, blood pressure cuffs, and a mish mash of gear will go overseas. 
Charity groups are shipping three containers to hospitals in Zambia, Sudan and Nigeria. Father Cyriacus Ajaelu says some of the supplies will go to a hospital that serves Nigerian Christian refugees who were driven out by the terrorist group Boko Haram. 
"What they are giving to us, they are saving thousands and thousands of lives without knowing it," says Father Ajaelu.
Dr. Peggy Schrieber, a general surgeon with Kaiser Permanente,  is preparing gear to be shipped to a Zambian town with no running water, no indoor plumbing, no electricity.  "This is incredibly valuable.  So much of this equipment they can't get," says Schrieber


(John Daley/CPR News)By March, all the furniture and medical gear had been removed. Now crews are taking drills and sledge hammers to hospital walls.  It's a $7 million demolition job.  The old building will come down brick by brick, room by room, floor by floor.  Two million dollars worth of copper and other metals will be stripped out.  
"Reduce, reuse, recycle has been our mantra through this project," says Sister Melissa Camardo, the Vice President of Mission Integration for SCL Health System.  She says she hoped in its final days the hospital would continue to serve the community:  
"You might look at it as an abandoned building but for us it's had so much history, we wanted to honor it in a lot of ways," she says.
So, at one point, Denver SWAT teams and fire crews used the empty building for training exercises.  The organ in the chapel was given to a nearby church.  Four hundred fifty small crosses that hung in almost every room were donated to whoever wanted one.
When it comes to an old hospital building, Camardo says, there may, in fact, be an afterlife.  "So every item in this whole process has found a new life," she says.
You care.
You want to know what is really going on these days, especially in Colorado. We can help you keep up.  The Lookout is a free, daily email newsletter with news and happenings from all over Colorado. Sign up here and we will see you in the morning!