James Holmes' notebook: What it reveals in the Aurora theater shooting trial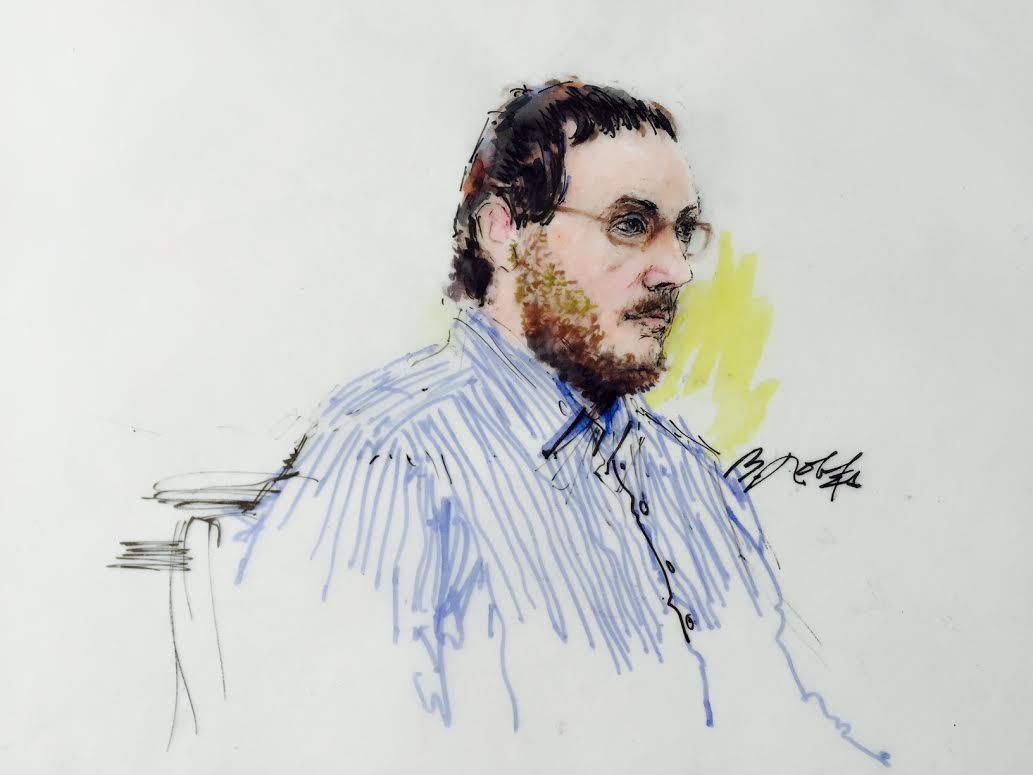 Posted 1:40 p.m. | Updated 7:30 p.m.
Prosecutors introduced a pivotal piece of evidence in the Aurora theater shooting trial Tuesday afternoon: The infamous notebook of James Holmes. 
Holmes has pleaded not guilty by reason of insanity for killing 12 people and injuring many more in the theater three years ago.  Attorneys on both sides say the notebook gives insight into his state of mind but disagree on its meaning.
This is really the first time the notebook has been presented in such detail:
It was discovered at the University of Colorado medical center after the attack. Holmes had mailed it to his former psychiatrist. Some media reports, relying on anonymous law enforcement sources, had revealed parts of the notebook, but little was confirmed until now.
What some of the details revealed: 
The prosecution had Aurora Police Detective Matthew Fyles read passages to the jury.  Here's one where Holmes seems to be debating the merits of different targets for his attack.  An airport, for example: "Then it says airport with an X, substantial security.  Too much of a terrorist history, terrorism isn't the message.  The message is there is no message."
Fyles also read notebook passages where Holmes rejects the idea of killing people in national forests using a stun gun and a knife.  He deemed attacks like that to be too personal.  Too few kills.  He eventually settles on mass murder: "Mass murder/spree, check mark. In parenthesis, maximum casualties. Easily performed with firearms, although primitive in nature.  No of fear of consequences.  Being caught 99 percent certain."
Holmes had hand-drawn diagrams of the theaters in the Aurora complex he targeted. He thought one theater had too many exits for people to escape.  Holmes also noted that the Aurora police department was close to the theater, and police would respond within minutes of the shooting.  And prosecutors highlighted passages about needing to practice shooting at a range.
Holmes' attorneys focused on his declining mental health:
 
Holmes appeared to be working on absurd calculations as to the value of human life.  Here's his attorney, Daniel King reading a passage for the jury: "To all problems death. Hyphen death. Multiplying both side of an equation by zero when mankind can't find truth comma, untruth is converted to truth via violence."
King also brought up a passage where Holmes described his obsession to kill, beginning 10 years ago, and multiple references to his broken mind: "In order to rehabilitate the broken mind my soul must be eviscerated.  I could not sacrifice my soul to have a normal mind."
His attorney pointed out passages where Holmes talks about attempting suicide, and how he would occasionally fall into catatonic states.
What's the takeaway?
Clearly both sides are using the parts of the notebook to make their case.  
The prosecution wants to leave jurors with the impression of detailed planning and understanding of consequences of his actions.  That this is the work of a troubled, but sane person.  
The defense really wanted to leave jurors with the fact that this was the work of a man who lost touch with reality.
You care.
You want to know what is really going on these days, especially in Colorado. We can help you keep up.  The Lookout is a free, daily email newsletter with news and happenings from all over Colorado. Sign up here and we will see you in the morning!