Some Cyclists Obey Laws, Some Don't. A CU Denver Researcher Wants To Know Why
Cyclists are red-light running, unpredictable, traffic cloggers. Motorists are road-rage prone maniacs that cut cyclists off in the bike lane. Or so each would have you believe in their most-heated moments. 
The relationship between cyclists and drivers is an often strained one. One University of Colorado Denver researcher is trying to help patch it up by answering a basic question: Why do cyclists break the law? 
Turns out it's likely a mix of a few factors, like safety and dealing with a transportation system that's built for cars.
"Not all bicyclists that break the law are these hooligans that are out to be sort of anti-society," said Wesley Marshall, a professor of civil engineering who recently completed a survey of more than 18,000 cyclists, motorists and pedestrians. "I think a lot of people do it for very practical reasons."
Take a cyclist who runs a red light. Consider, Marshall says, that if they don't, they will be stuck battling a 3,000-pound car for a spot on the road. If they do, they have time to establish themselves in a lane. 
Everyone breaks traffic laws, Marshall said. It's just that cyclists are judged more harshly.
"
If we want bikes to be equal road users, they should really follow the same rules as cars." 
"People speed on the way to work. And even if it's a few miles over, they are speeding; they are breaking the law. But society doesn't judge those people as criminals," Marshall said. "With bicyclists, a lot of people feel the same way. They don't really think it's a big deal to go through a stop sign when there are no other cars or pedestrians around."
As practical as that is, it's still not legal. And following the law is key to winning cases when accidents happen, said Megan Hottman, a Golden-based lawyer. A former professional racer herself, Hottman started her own firm at age 30 and represents cyclists.
"If we want bikes to be equal road users, they should really follow the same rules as cars," Hottman said. "Then the question would really then be, 'do you think it's ok if a motorist ran a red light if no one is around.' And I think most of us would agree that no, that is not acceptable."
Surviving in a system built for cars
Apart from winning cases, Hottman said following traffic laws is vital to gaining the respect of motorists. She does admit that's a tall order for cyclists who have to use a system built for cars. And Marshall said infrastructure affects how cyclists behave on the roads. 
"If we give these people a system that's built for and really meant for cars, you might see more people breaking the law," he said. Conversely, he said, cyclists are more likely to obey signs and signals when they are bike-specific.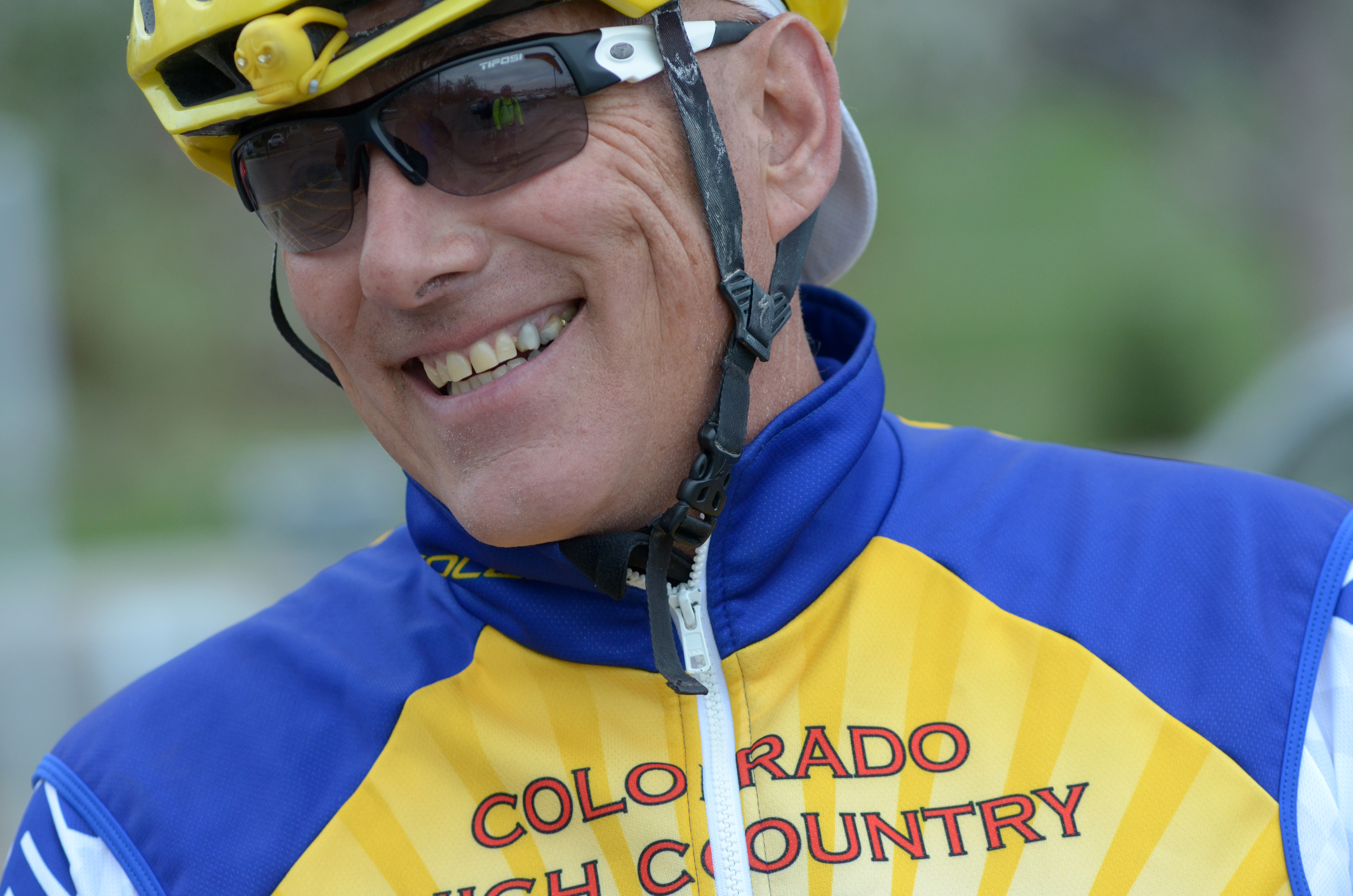 (Hart Van Denburg/CPR News)
That rings true for Brent Myers, a cyclist who rides with the Rocky Mountain Cycling Club on its weekly Wednesday ride. He said he has no choice but to run red lights that don't turn green because of weight-activated sensors in the road.
"I always look for the officers," Myers said, laughing. 
He's been hit by cars a few times in his 25 years of cycling, but has escaped injury. He said he'd like to keep it that way, but isn't about to hang up his helmet and gloves.
"I have a relationship with God. And if it doesn't work out that day, I'll have an even closer relationship with him," he said.
Advocates hope more bike-specific infrastructure will help keep riders safe. Molly North, executive director of the advocacy organization Bike Denver, said cyclist behavior improved greatly after a protected bike lane was added on 15th Street last year.
Bike Denver, and about 100 more advocacy organizations across the nation, have requested localized results from Marshall's survey that's due out this summer. North hopes they will inform her organization's goal of getting more Denverites out of their cars and onto their bikes.
A big part of that push will be for more bike infrastructure. The city of Denver is adding more than 30 miles of new bike infrastructure throughout the city, including more protected bike lanes downtown. This map shows existing bike lanes, paths and other infrastructure (in green) and where the city wants to expand (in yellow).
And with cycling becoming an increasingly popular way to commute in Denver, the additional lanes and paths should help cyclists and drivers follow the law. 
You care.
You want to know what is really going on these days, especially in Colorado. We can help you keep up.  The Lookout is a free, daily email newsletter with news and happenings from all over Colorado. Sign up here and we will see you in the morning!