How Colo. Legislators Dug Out Of A $373M Hole To Get A Working Budget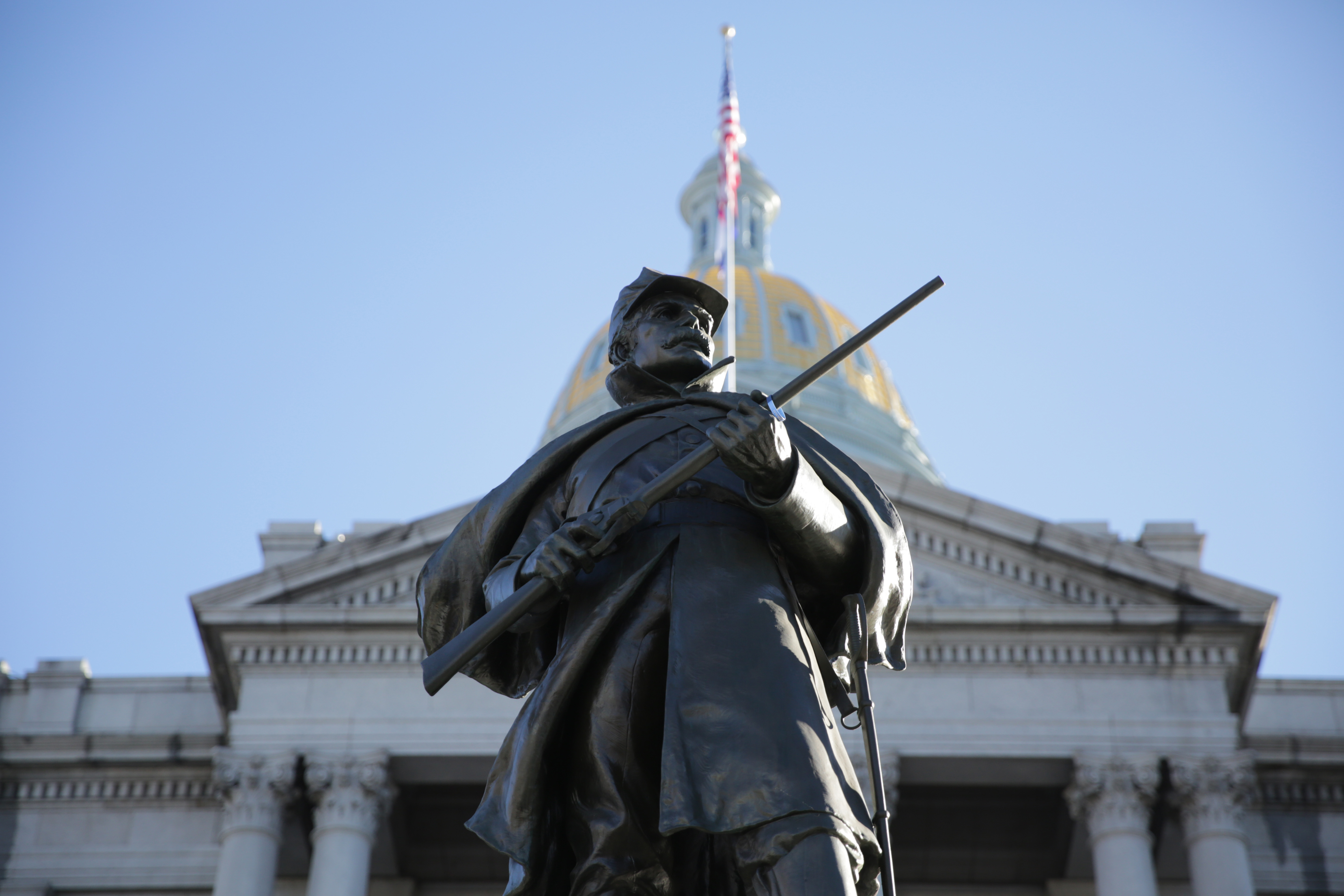 As recently as November, Colorado legislators feared they would have all kinds of budget responsibilities, but little money to pay for any of them.
Gov. John Hickenlooper warned of deep funding cuts to higher education and an even deeper K-12 funding hole than the one that currently exists. And complex spending mandates created uncertainty around transportation funding – with legislators possibly required to spend anywhere from $100 - $200 million dollars for Colorado roads depending on small differences in revenue.
To top it off, in spite of a projected $373 million budget hole, the state also faced the prospect of being required to pay tens of millions of dollars of rebates to taxpayers, as required by the Taxpayer Bill of Rights.
That was then. This is now.
An 'Almost Miraculous' Budget
"We've really accomplished something here from a starting point that is almost miraculous," said Rep. Bob Rankin, R-Carbondale, a member of the Joint Budget Committee. The committee is made up of three Democrats and three Republicans.
The $27 billion budget for the 2016-2017 fiscal year, which was introduced in the House Monday, is starkly different than the one budget writers thought they would end up with, just a few months ago. 
The JBC-crafted budget avoids many of the cuts the governor proposed – and even provides a little more funding for K-12 education. It also gives the Department of Transportation a guaranteed amount of money, providing it with some certainty.
And there will be no TABOR tax refunds for the coming year.
So, when House legislators begin debate on the so-called "long bill" Thursday, they will be presented with a balanced budget that isn't nearly as painful as the one originally forecast.
Finessing Funding In A Tight Budget
But that doesn't mean there won't be any arguments over the next two weeks. Some legislators will argue that transportation and education needs more funding, so there will be attempts to pull money from other budget areas.
Also, House and Senate leadership appear to be at a stalemate over a Democrat-backed plan to free up more money in future budgets by reclassifying how hospitals pay fees to the state to avoid TABOR limits.
And there's uncertainty surrounding funding for Colorado's Air Pollution Control Division – which is caught in the middle of a debate over the federal government's Clean Power Plan.
In the end, though, legislators on both sides of the aisle expect the budget will look about the same as it did when it emerged from the Joint Budget Committee last week.
"I don't expect to see a lot of amendments to the budget," said House Speaker Dickey Lee Hullinghorst, D-Boulder. "There will be discussions about, 'I'd rather see this money here and that money there', but we have a very tight budget. We had to do cuts. There's not a lot of wiggle room and not a lot of funding available to change that."
How Big Cuts Were Avoided
A few significant factors contributed to a budget that's free of many of the cuts initially recommended by Hickenlooper.
Legislators were able to increase funding for schools after the state collected more money in property taxes from local governments than was originally forecast, increasing per-pupil funding by $112.
This, combined with a reduction in statewide student enrollment numbers, means legislators can slightly reduce the state's so-called school funding "negative factor" – an underfunding mechanism legislators created during lean budget years, when the state could not keep up with constitutionally-mandated school funding increases.
"What the budget does, it provides additional funding for K-12," said Rep. Millie Hamner, D-Dillon, who chairs the Joint Budget Committee. "We started this whole process thinking we were going to have to increase the negative factor by $50 million. We didn't."
Budget writers also avoided $20 million in proposed cuts to higher education, which means smaller tuition hikes.
The state was also able to avoid refunds mandated by TABOR – the 1992 voter-approved constitutional amendment that requires tax refunds when revenue exceeds the rate of inflation and population growth.
Because of TABOR, budget writers originally thought they would have to plan for $59 million in tax refunds while the state made cuts. But economists are now predicting the state will bring in less revenue than previously expected, reducing the amount that the state exceeds the TABOR cap. The JBC got rid of the rest of the refund amount by reducing a fee the state collects to help offset the costs of hospital care for uninsured patients. The change will hurt some hospitals, but it frees up more money for discretionary spending.
"And so therefore, money that we would have had to rebate from the general fund could then be allocated to budget issues," said Hickenlooper's Budget Director Henry Sobanet.
Still, budget writers acknowledge it's a difficult trade off.
"I'm really worried about what the impact will be to our rural hospitals, but that was an unfortunate reduction we had to make largely because of our TABOR situation," Representative Hamner said.
This one-year adjustment to the hospital fee revenue should not be confused with more controversial legislation to turn the Hospital Provider Fee program into a TABOR-exempt enterprise fund. Democrats say the bill, which was also introduced this week, would allow the state to avoid deep cuts to education and transportation in future budget years. 
Republicans have balked at the proposal, but it has received bipartisan sponsorship. Still, there are no guarantees of passage in a Senate committee.
Roads Manage To Get $150 Million
The budget also includes a guaranteed $150 million in road funding for the fiscal year that starts in July.
The Colorado Department of Transportation primarily gets its funding from state and federal gas taxes, but relies on some money from the state. Right now, CDOT faces a major funding shortage and says it only has enough money to maintain its highway system in its current condition for the next 10 years. 
The state uses a complicated budget formula for transportation funding. Personal income growth this year was strong enough to set off five years of mandated spending on transportation. But the potential for TABOR refunds complicated things -- if the refund is large enough, the state doesn't have to spend anything on roads.
Budget writers are bypassing the complex TABOR transportation funding formula altogether, and instead proposing to give roads $150 million, no matter what happens with the other triggers. That's 25 percent less than the maximum transportation could have received, but leaves more for other budget priorities.
"It really came down to, 'Do we take that out of K-12 funding, higher education?'" said Rep. Rankin. "But transportation is still getting a $150 million transfer. So, in the total scheme of things, that's pretty good."
More Difficult Budgeting Still Ahead
But problems are likely to come back for budget legislators when they begin work next year. That's when looming TABOR refunds could wipe out discretionary transportation funding entirely.
"To those folks who don't like it," said JBC member Sen. Pat Steadman, D-Denver, on the amount of transportation money in the budget, "They're going to like [fiscal year] 17-18 a whole lot less."
While the JBC managed to stave off significant cuts in some areas, other parts of state government weren't so lucky.
There is no money in this year's budget for state employee salary increases. And service providers that contract with the state – such as health care and child care providers and community corrections – will receive flat funding. This means there will be no inflation increase to allow the state to offer competitive reimbursement rates.
"We're not always going to get everything we want and we're not going to get rid of everything we want to get rid of, but we were able to get there together and collaboratively." said Sen. Kevin Grantham, R-Canon City, also a JBC member.
While the budget bill will largely remain as is by the time work is done at the Capitol, the building is certain to host its share of political grandstanding from both sides as they debate the spending package over the next two weeks.
"No, no. That never happens in this building," Grantham said, followed by a hearty laugh.
You care.
You want to know what is really going on these days, especially in Colorado. We can help you keep up.  The Lookout is a free, daily email newsletter with news and happenings from all over Colorado. Sign up here and we will see you in the morning!