Why Esther Hernandez Is Obsessed With Turning Awkward Blind Dates Into Art
Esther Hernandez introduces herself as a "performance artist, conceptual artist, sort of multi-disciplinary artist." She leaves matchmaker off the list, even though blind dates are the core ingredient for her latest work.
"I'm kind of obsessed with relationships and creating experiences for other people," she says.
The experiences she creates for potential lovebirds are not your average first date. Here, couples play a card game called "Tooth or Dare." It's kind of like "Truth or Dare," but if you refuse to answer the question or do the dare, you have to "take a tooth," Hernandez says.
In this case, you let your partner paint one of your teeth using tooth paint.
The idea came to Hernandez from an actual date. She had first met her arts Romeo at an interactive art exhibition she participated in, during which he volunteered to let Hernandez paint his beard neon.
"Then he painted my face," Hernandez says.
But he didn't want to paint her teeth. For their second or third date, Hernandez says she brought a bottle of tooth paint, kind of as a joke.
"I had this weird idea that I was going to ask him questions and if he didn't want to answer the questions I would paint one of his teeth black," Hernandez says. "And he went along with it."
They ended up in a tent, outside an outdoor retail store in northwest Denver, playing this tooth-painting game for hours.
"To me it was one of the most romantic things I've ever done with anybody," says Stephen Daniel Karpik, himself a local artist and Hernandez's date that night. "I felt like I got to know this person a lot more than I would have with some regular date at a restaurant, the usual social norm setup."
It remains love at first brush. Hernandez and Karpik are still dating, in case you were wondering.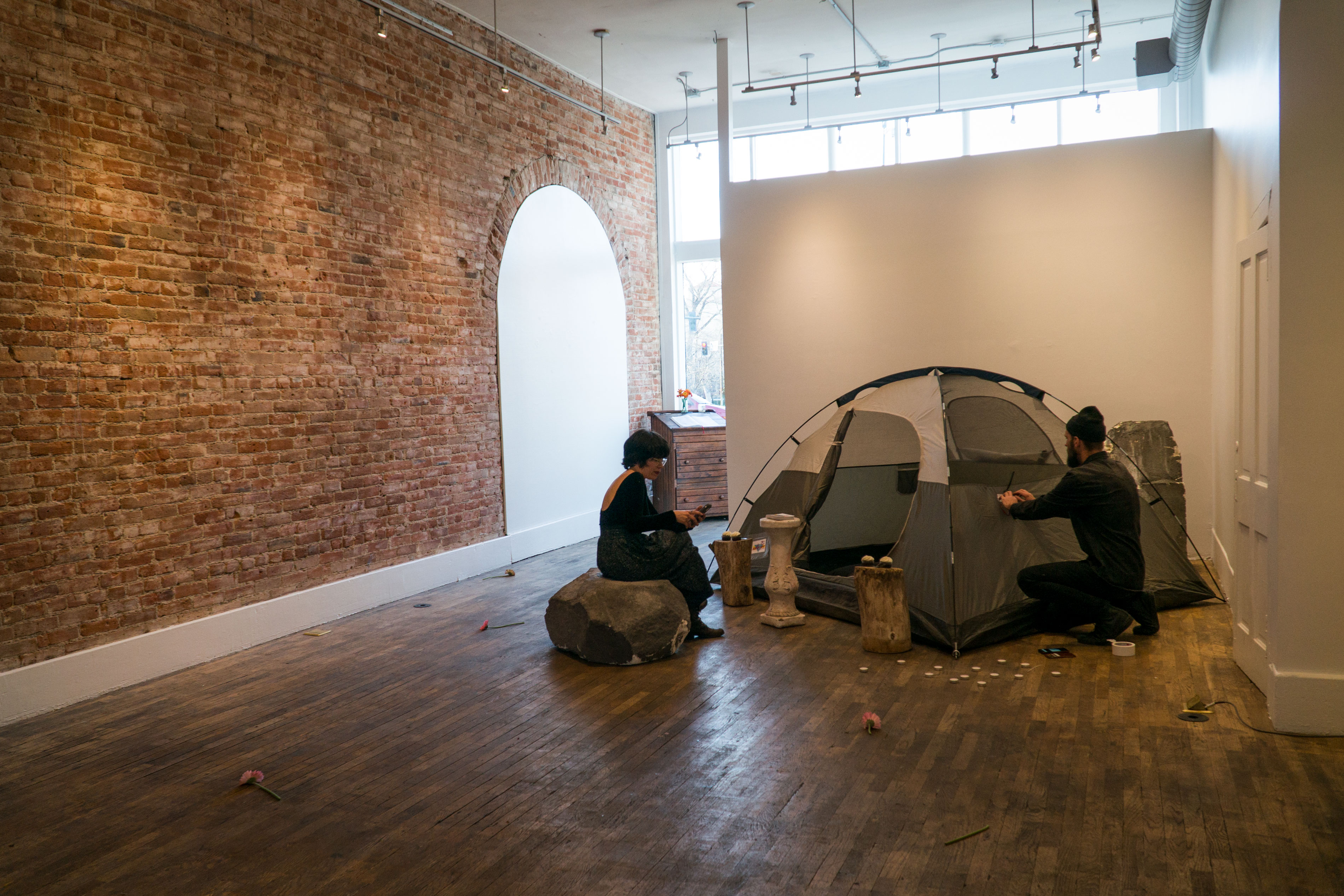 This all might sound absurd. That's perfectly OK with Hernandez.
"I have an absurdist flare about me," she says, "and the art that I make is very absurdist and out there… But I think it can open up different ways of thinking about yourself and other people, and can bring you closer together with somebody."
Hernandez and Karpik put together a Google form and sent the link around to solicit people to join in. They got close to 100 submissions, a number that surprised Hernandez.
"The interest in it makes me wonder if people are just tired of app dating," Hernandez says — Karpik agrees, adding that he thinks people are seeking out alternative ways to meet someone.
In the end, Hernandez leaves the seven couples she's set up a bit in the dark.
"I think they know that they're gonna be playing a card game where they have to answer questions and maybe do a mini-performance," she says.
But a few people did drop out when they learned teeth were involved, Karpik says.
"We're forcing this really awkward feeling about having your teeth exposed," Karpik says. "[It also creates] this intimacy of getting really close and personal with somebody."
Hernandez says it's all supposed to be playful, while "allowing yourself to be vulnerable and look bad [in front of a potential partner]."
It might seem odd to watch two people on a date, yet there's a decades-long lineage in pop culture and performance art of this voyeuristic interest in romance. Reality dating shows have been on the airwaves since the 60s — think "The Dating Game." "The Bachelor" continues to rake in ratings even today. Though, Hernandez is much more interested in the performance art history of it, citing multidisciplinary artist Leonora Carrington, who is said to have once covered her bare feet with mustard in a swanky restaurant, as inspiration.
The bigger-than-expected response to this has motivated Hernandez to set more people up. She also plans to stay in touch with the seven couples.
"Something I'm really interested in is the kind of ripple effect that a project like this could have in people's personal lives, because you're sort of blurring the lines between life and art," Hernandez says.
Esther Hernandez' game of "Tooth Or Dare" is part of "Of The Moment," a five week series of performance events running at the Leon Gallery April 21 through May 26, 2018. The live blind date performance will be Saturday, April 21 at 7 p.m.
You care.
You want to know what is really going on these days, especially in Colorado. We can help you keep up.  The Lookout is a free, daily email newsletter with news and happenings from all over Colorado. Sign up here and we will see you in the morning!