Superior Just Got Its First-Ever Piece Of Public Art, A Towering Trio Of Figures That Watch Drivers Go Around A Busy Roundabout
Drivers who circled the roundabout at McCaslin Boulevard and Main Street in Superior on Friday morning got a bit of a show. 
The town began installing its first-ever commissioned public art piece. Some drivers slowed down to take a peek as three 12-foot-tall abstract figures were hoisted into the air by a crane and placed atop pedestals standing about eight feet tall in the middle of the roundabout. 
The statues, made of aluminum alloy rings that have been welded together, look windblown as they arch their chests up to the sky with arms extended toward each other. 
Kentucky sculptor Douwe Blumberg said he wanted to "communicate a vision of community" with the artwork.
"To me that means harmony, learning to live together and learning to respect our differences," Blumberg said. "When they join hands, it becomes a tripod, which is extremely strong. Whereas individually the piece would be less strong."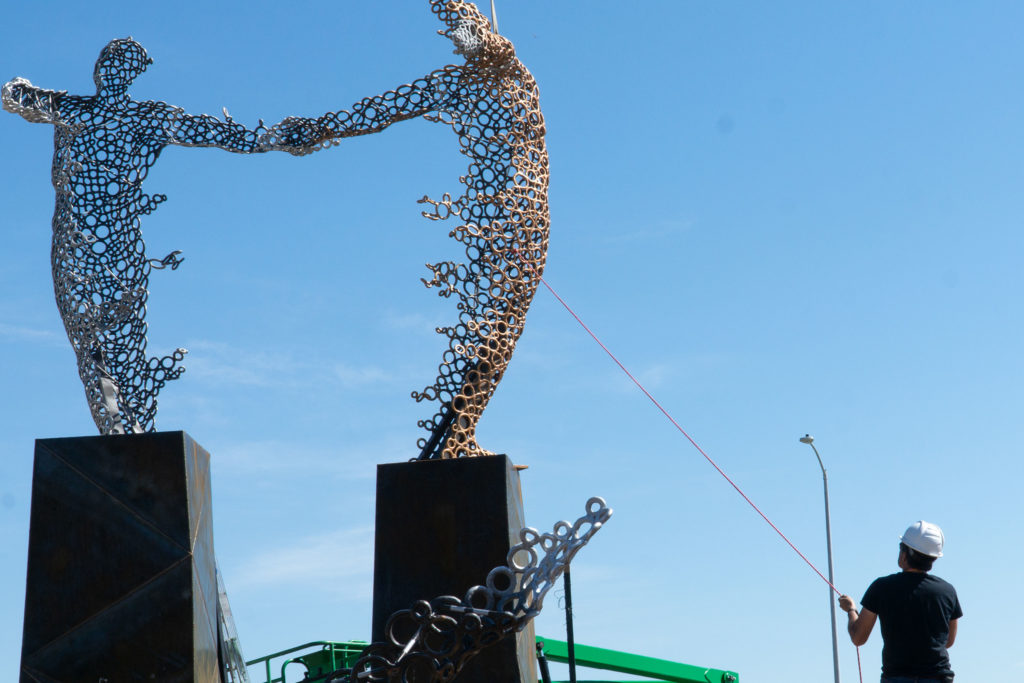 One of the figures of "Zephyr in Triptych" is a natural silver color, another a "beautiful gold Patina" and the third is a dark bronze. 
"They're in these poses of just ecstasy like in the way I feel like right now cause it's just a beautiful, sunny breezy day," he said.
Blumberg has made public art sculptures and monuments in other Colorado cities, including the Aurora theater shooting memorial "Ascentiate."
The Town of Superior Cultural Arts and Public Spaces Advisory Committee reviewed 122 applications from around the country and presented three finalists to the Town Board of Trustees. The town Board made the final selection in 2018. CAPS started their request for proposals and selection process in late 2017.
Superior is in the midst of building its own downtown. Arts and culture will be a huge part of that, said Deana Miller, Superior's cultural arts and events supervisor.
Money from the town's downtown development project was used to fund this $185,000 sculpture. Blumberg's sculpture is just one of many projects the town's art committee is working on, including the buildout of a Creative Placemaking Master Plan. The town hired Happy City, a Vancouver urban design consulting firm, to help with the latter. 
Miller said a push for more arts and culture came from residents several years ago.
"They were so energized about using arts in the town that the town board of trustees decided to form an official arts committee," she said.
The town will continue to seek feedback from residents on public arts and cultural events, Miller said, including conducting an online survey that should come out this month. 
As the master plan is built out, that will mean more money for arts and culture in Superior, she said. The town approved a five-year funding plan of a little more than $100,000 annually from the general budget for the next five years, though funds have to be reappropriated each year. 
During the install, a driver shouted "What a waste of money!" from his car window.
But for Blumberg, public art is invaluable. 
"It speaks that our leadership views community as more than a place to sleep, eat and work," he said. "That there are other qualities that are necessary for life — art, music and things like this are integral to a high quality of life."
Editors Note: This story has been updated to correct the spelling of McCaslin Boulevard. Additionally, the town of Superior provided additional information that clarified their selection process and how the arts fit into the city's downtown project.
You care.
You want to know what is really going on these days, especially in Colorado. We can help you keep up.  The Lookout is a free, daily email newsletter with news and happenings from all over Colorado. Sign up here and we will see you in the morning!