To Parents, Teachers and Lovers of Music Discovery:
Your child's need for a creative outlet only grows stronger as the pandemic lingers on. Science shows there's nothing that keeps their brain as fully engaged as learning to play music.
CPR Classical has scoured Colorado's music education landscape, so that you and your child can easily access the many, awesome, virtual ways to stay engaged and Learn Music! Think of it as CPR Classical's online Music Education Lifeline during the pandemic. Whether you're looking to help your child (or children) explore the magic and power of music, build upon their skills and school music program, or learn a new instrument, you'll find resources right here from Colorado and beyond.
Search age-appropriate opportunities below for virtual and in-person learning (as safety restrictions allow) for the beginner through to the advanced student. Best of all, many online resources are free or have some free content. And many of those with fees have low cost or scholarship programs. ~ Explore and enjoy!
What are you looking for?
Music movement videos, family classes, and music related activities.
Video learning, virtual and in-person music lessons, and self-paced courses.
Classical concerts in Colorado and online.
Single classes, workshops, auditions and music education events.
In-person and virtual lesson plans, activities, music ed. software and visiting musician school programs from groups like the Colorado Symphony.
Opportunities for youth who already play or sing to advance their musical skills.
Delve deeper into musical subjects with CPR Classical podcasts, articles and videos from the performance studio.
CPR Classical Spotify and YouTube playlists based on a composer or theme.
---
Music Fun For Kids
Learn to Play or Sing
Teaching Tools
Challenge Me - Advanced Music
Learn with CPR Classical
Podcasts, articles and videos from CPR Classical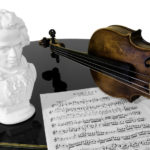 Journey to Freedom: The Spirituals Radio Project
Classical music, and in fact American history is incomplete without understanding the story that spirituals tell. M. Roger Holland II explores the meaning and significance of these succinct, power-packed, extraordinary musical works, and how they speak to the current age. Holland is Teaching Assistant Professor of African American Music and Theology at the University of Denver's Lamont School of Music, and Director of DU's Spirituals Project Choir.
Behind the Baton
What does a sunrise sound like? What does Mozart have to do with Motown? How did Elgar paint a portrait of his wife with music?
Conductor Scott O'Neil uncovers the hidden stories of the great works every week from Behind the Baton. Listen to these stories on-demand or on the air.
The Music Room
On CPR Classical every weekday morning at 10:30 a.m. Karla Walker presents classical music around a theme like Autumn Leaves, the French Horn, Movie Scores, Legends and more! Tune-in to hear all the surprising and exciting connections that classical music can make.
Listen and Learn
Hear great music on CPR Classical by clicking "Listen Live" on this website. You can also hear CPR Classical at 88.1 FM in Denver, at radio signals around Colorado, or ask your smart speaker to "Play CPR Classical."
Spotify and YouTube Playlists
Bravo!
You read another CPR classical story to the end. We have got just the thing for classical music lovers like you: a weekly email newsletter! Sign up here to stay up-to-date on CPR Classical programming, events and stories from the world of classical music.