As Impeachment Process Heads To Senate, Two Coloradans Prepare To Make The Case
Editor's note on Feb. 10, 8:37 a.m.: The second impeachment of former President Donald Trump is underway. Our original story continues below.
Two Colorado Representatives will have a front row seat to the historic, second impeachment of former President Trump, who faces the charge of incitement to insurrection.
Democratic Reps. Diana DeGette and Joe Neguse were selected by House Speaker Nancy Pelosi as two of the nine impeachment managers who will argue the case against Trump in the Senate. 
"I always tell people we're punching way above our weight in little Colorado," DeGette said. Three Coloradans will have served as impeachment managers. Rep. Jason Crow was part of the team that argued Trump's first impeachment trial held just over a year ago. He was tapped to argue the national security aspects of the case.
Pelosi selected nine impeachment managers this time, all of whom are lawyers, and all whom have had experience investigating the Trump administration. She intends to send the single article of impeachment approved by the House to the Senate on Monday. Senate leaders have agreed the trial will start in two weeks, on February 9.
DeGette said Pelosi called her about 30 minutes before she released her choices for impeachment managers, asking DeGette to take on the job. The Denver Democrat was surprised, and honored.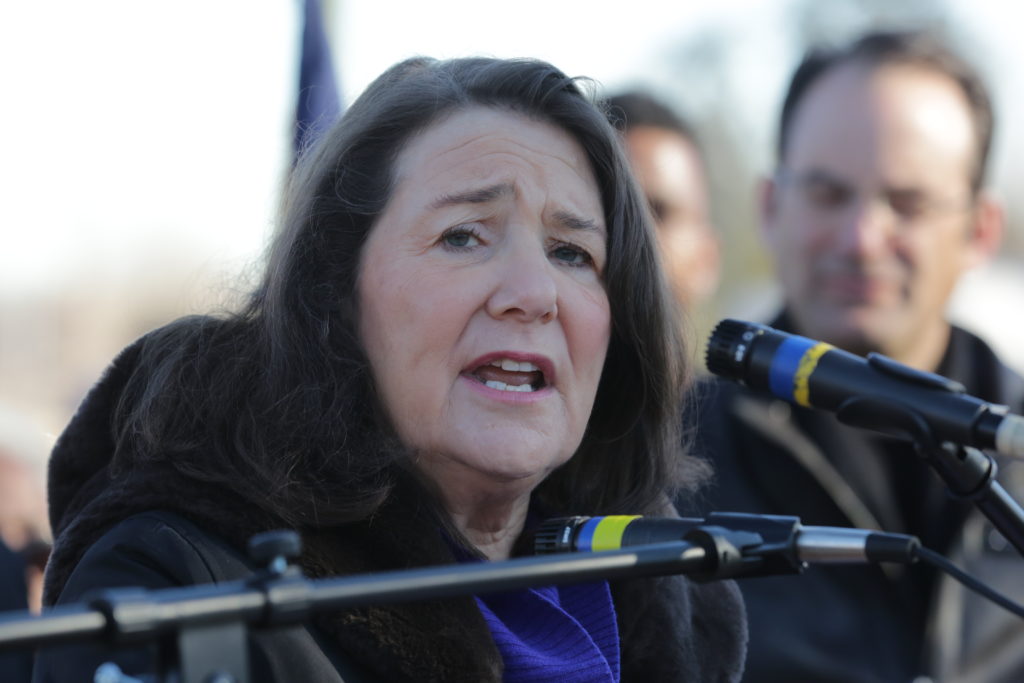 Before coming to Congress, she had a trial practice for 15 years, covering issues from civil rights to criminal defense. And she has sat on the House Energy and Commerce committee's oversight and investigations subcommittee since she entered Congress in 1997.
'I think being able to question those witnesses and bring out the facts has really continued since I've been in Congress," she said.
It's not the first time DeGette has been tapped by Pelsoi for a high profile job. DeGette often presides over the Chamber during important debates, including the first time the House took up articles of impeachment against Trump. During the marathon session, she'd gavel down members on both sides of the aisle when they went over time or, more often, when tempers flared.
During the Clinton impeachment, DeGette said she watched some of the debate in the Senate chamber. And she knows arguing a case there will be very different from a Denver District courthouse.
DeGette and the other managers are not talking trial strategy, but she said  she views her role as an impeachment manager as straightforward: lay out her portion of the case and ensure Senators know what the elements of the offense are. "We take these things very seriously, with a somber view and frankly with some sadness," she said. "We wish we did not find ourselves in this situation, but we do so we're going to execute our duties."
The youngest impeachment manager
The dean of the Colorado delegation will be joined by one of its newer members. 
Rep. Joe Neguse is starting his second term. His budding political career is one many in Washington, D.C., are watching. The lawyer has been part of the Democratic leadership team since his first days in Congress. And he's had an aggressive legislative agenda, introducing 55 bills so far, the most of any freshman, and seeing nine of them signed into law. 
He sits on the Judiciary Committee, which has jurisdiction over impeachment not just of the president but of all federal officials. Five other impeachment managers, including Lead Manager Rep. Jamie Raskin of Maryland, a constitutional lawyer, serve on the Judiciary committee. The members already have previous impeachment experience, and they're also used to questioning high-profile witnesses from Robert Mueller to Mark Zuckerburg,
"The ability, the opportunity rather, to hone your cross examination skills during those proceedings I think is important," he said.
The 36-year-old is also the youngest person to ever serve as an impeachment manager. "It's a job I'm taking very seriously," he said. "I'm humbled that the speaker asked me to do it. And I intend  to do everything I can to secure a conviction."
Neguse was part of the team chosen to lead the fight against the Electoral College objections on January 6. He said he went in knowing that "it was going to be a very solemn day. Of course, I did not realize just how historic a day January 6th would ultimately culminate in being."
Like many of his colleagues, he was in the House chamber when a pro-Trump mob stormed the capitol, trying to stop the Electoral College count that would certify Joe Biden the winner of the election.
"This violence was an assault on our very democracy. In the United States of America, this is not how we settle political disputes," Neguse said that evening when Congress resumed debate and the count. "We respect the rule of law. We accept the results of free and fair elections. We do not ignore the will of the voters and attempt to install a preferred candidate into power."
'Vindicating' the constitution
Impeachment managers have been meeting daily, going through evidence and forming their case. DeGette said one thing Pelosi told her about why she chose these nine members is they're "team players."
Both DeGette and Neguse have gotten advice from Crow. And Neguse added he's also spoken with other former impeachment managers that serve on Judiciary with him, like  Rep. Adam Schiff and Rep. Hakeem Jeffries, a mentor to Neguse.
"They've all been very helpful, I think, in relaying to me and my fellow managers various lessons learned: what went right, what went wrong and what they gleaned from their experience," he said.
But no two trials are ever the same. And one unique aspect of this case will be that the jury; the senators were also witnesses, and victims, of the mob that day. Neguse expects that they'll have a "very visceral reaction" to the evidence the managers present, which will include videos of the riot and storming. 
The experience hasn't stopped Republicans from criticizing a rush to impeachment — with no committee hearings or votes.  Other Republicans have also argued it's unconstitutional to impeach a president out of office. Many legal experts say it's allowed, and both Coloradans say there is precedent to back up that point. Lastly, Republicans have argued that impeachment trials are divisive, and that it undercuts President Joe Biden's call for unity.
But DeGette said impeachment is a step that should be reserved for the highest crimes, and she would count inciting a mob to insurrection in that category. 
She counters by asking what message it would send to Trump and his successors in the White House if Congress didn't take this step. "You can just run amok in your last month as president? You can commit as many high crimes and misdemeanors if you want, but because you've left office Congress can't do anything about it? That's not the right signal."  
DeGette still has a hard time believing that Congress has conducted three impeachments during her tenure. She's hoping this will be the last for "many, many, many years." 
As for Neguse, he's also looking down the road to a question he asked himself in December 2019, when the judiciary committee was holding impeachment hearings spurred by a presidential phone call to Ukraine. What does he hope his young daughter, Natalie, will glean from all this if she watches the C-SPAN clips 15, 20 years from now?
"I'm hopeful that one day she will look back and appreciate the fact that there were members of both political parties, people of good faith, Americans of good faith, who tried to do the best they could to defend the constitution and the constitutional republic," he said. 
It's something that is personally important to him. As the son of immigrants, he explained he was raised not to take for granted the freedoms America provides. It's a value he and his wife are trying to impart to their daughter.
"I can think of no better way, perhaps, to do that than to serve my country in this capacity as a manager with the hope that we can vindicate the Constitution and continue with this incredible form of government that has endured for the better part of the last 232 years."
To convict Trump would require the support of 67 senators. In an evenly split Senate, that means persuading at least 17 Republicans, a number that is likely impossible to reach. In the House, only 10 Republicans crossed party lines to vote for the article of impeachment. 
In a letter to the Democratic caucus, Pelosi saluted the impeachment managers for their love of country, dedication to democracy, and loyalty to their oath, as "they ensure that no one is above the law."
CPR's coverage of Colorado's congressional delegation focuses on accountability and on providing information constituents need to live their lives. Read more about our priorities here.
You care.
You want to know what is really going on these days, especially in Colorado. We can help you keep up.  The Lookout is a free, daily email newsletter with news and happenings from all over Colorado. Sign up here and we will see you in the morning!