Cash-Strapped School Districts Pin Their Hopes On A Statewide Ballot Measure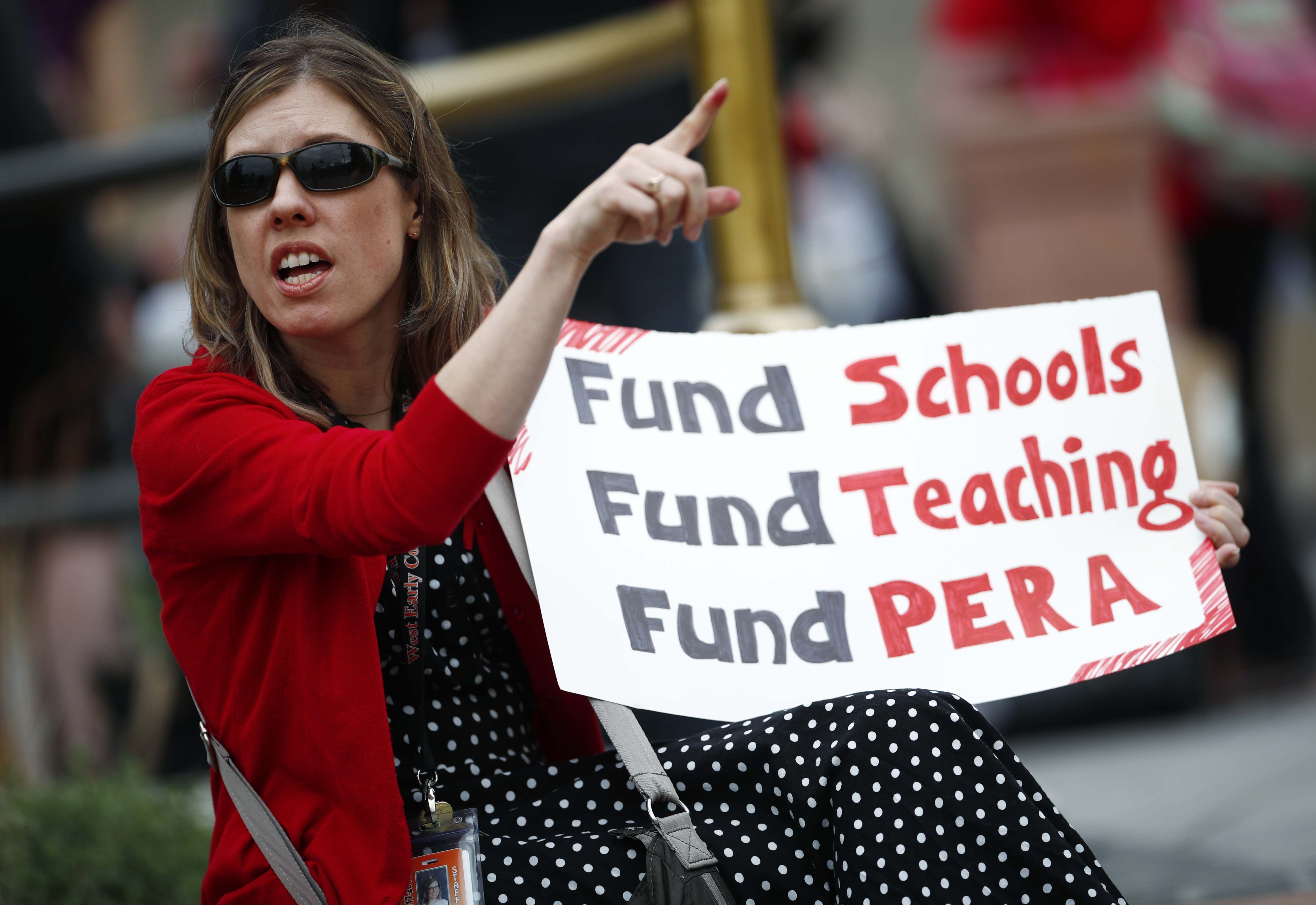 This Election Day promises to be nerve wracking for Colorado's financially strapped school districts as they pin their fiscal hopes on a big statewide ballot measure: Amendment 73, which would raise $1.6 billion for 178 districts if it passes. At the same time, many districts are also considering whether to go for local tax increases in case the statewide measure fails.
The context: Right now, Colorado spends about $2,800 less per student than the national average. And public schools here are down $7.4 billion in state funding since the recession. That's because of a mechanism lawmakers created that allowed cutting school funding each year in order to prop up the rest of the state budget, essentially an IOU to schools.  That debt has had a profound effect on school districts.
According to districts, salaries are markedly below the national average, a situation that's given rise to a teacher shortage. Academic programs that had to be cut never came back. Nearly 60 percent of districts have moved to a 4-day week to cut costs. Many districts have a bus driver shortage. The buses are ancient. Districts report leaky ceilings and aging boilers, as well as outdated textbooks and technology.
The districts also say they can't effectively keep up with changing student body demographics, and there a lot more students with mental health needs and not enough social workers or psychologists.
Amendment 73—a constitutional amendment—would give each school district millions of more dollars by raising income taxes among Coloradans making more than $150,000 a year and increasing the corporate tax. Ninety-two percent of filers would see no change in their taxes. The corporate tax rate would go up, but the measure drops and freezes residential property and business property tax rates levied by school districts. Supporters of the measure say that's a boost to farmers, ranchers, homeowners and small business owners.
But some large districts, including Jefferson County, Aurora, Westminster, Thompson and Douglas County, recently announced they are also putting local tax and bond measures on the ballot that would show up alongside Amendment 73.
Those bigger districts are aware that voters have rejected the last two statewide ballot measures for school money, so they're not taking any chances in case Amendment 73 fails. Some districts also say even if 73 passes, they'll still be underfunded.  In Jefferson and Douglas county districts, principals have testified at recent school board meetings about not being able to recruit and attract teachers.
Colleen Owens, principal of Green Mountain High, spoke to the Jefferson County School Board Aug. 23 on the vote to put the local measure on the ballot.
"I still have an English and a math position vacant. I have substitutes in the classrooms. I am trying everything I can to hire. I am not getting good candidates and the candidates I am getting, first thing they asked me is, 'How much does it pay?'" said Owens. "I've had two candidates shut me down because we aren't paying what we need to."
Teachers, cafeteria workers, and others testified that they're exhausted from working multiple jobs to make ends meet and they said students deserve better. Many testified about aging equipment. One high school has a new performance art learning program, but an auditorium speaker system dates back to 1961, rendering the learning experience substandard. Others spoke about buildings overdue for repairs.
"The floods this summer … we had to redo drywall. We found asbestos. We had holes in our roof. We have mice all over our building and we are in desperate need of some support," Owens said.
Even students testified. Joey Quintana, a junior at Thunder Ridge High School in Douglas County, talked about how many of the students' favorite teachers have left for other districts because of low pay. He's been in the district since pre-kindergarten and has noticed fewer class choices, and bigger class sizes.
"Sitting in a class with 30 or more students, it makes it hard for me, students including me to get one on one time with my teacher to be able to fully comprehend this subject that I may be struggling with," he said.
Districts are nervous about having more than one money request on the ballot.
JeffCo resident Frank Vandeley asked Jefferson County board members at the Aug. 23 meeting to hold off on a local ask.
"Too many requests for tax increases will result a lot of voters just being confused and saying 'ah…. I'm just going to vote no on all of them.' Please keep your eye on the prize [Amendment 73]."
Jefferson County raises locally about half what Denver raises per pupil from local property taxes. Douglas County raises less than a quarter. So what teachers are paid in JeffCo will continue to lag if a local measure doesn't pass, teacher Erin Murphy said.
"We'll still be losing teachers to Denver, to Adams, to Littleton, to Boulder," Murphy said.
While Jefferson County's board unanimously decided to put the local tax measures on the ballot, other districts, especially in rural Colorado, are putting their eggs in the Amendment 73 basket.
Take Montezuma Cortez in Southwestern Colorado. As CPR News previously reported, starting salaries there were $29,995 and the average salary is around $37,000. Teachers could make $7,000 more by moving one district over. But last year voters rejected a ballot measure that would have raised pay. So the school board this year just decided not to run the measure again. The drought has brought a lot of economic hardship there and they felt it would be too much for their voters. They're banking on Amendment 73 passing.
Telluride, in the San Juan Mountains is considering trying to explain to voters that the property tax request won't go forward if 73 passes. If 73 doesn't pass, the local measure would go into effect if it passes.
Telluride's Superintendent Michael Gass says in a small resort town, they have to be mindful of other local tax dollars needed for emergency services, fire and medical needs. The Garfield School District No. RE 2 has already said it's mill levy override won't go forward if Amendment 73 passes.
Other districts placing measures on the ballot include Pueblo City School District 60 and the Adams 12 Five Star district, which will each ask for a property tax increase, Littleton Public Schools, which is placing a bond on the ballot, and the Harrison School District 2 in the Pikes Peak region which will ask voters to approve a bond, the first time in 18 years.