DougCo Commissioners Want To Invest $10 Mill In School Security. Students And Parents Say Thanks, But It's Not Enough
If it takes a village to raise a child, Douglas County parents are worried their village is falling apart after a fatal school shooting left one student dead and eight injured.
In a three-hour hearing before the Douglas County Commissioners on Monday, students, parents and community members shared their fears and worries.
"Parents and kids are in fear that every day their kids go to school now, something's going to happen," said RJ O'Connor, who has two kids in the district. "Kids shouldn't be fearing that they're going to be shot when they go to school."
Last week's shooting at STEM School Highlands Ranch was the second in the area in less than a decade. In 2013, a shooter killed one student at Arapahoe High School a few miles away. At the meeting, residents proposed ideas ranging from arming teachers to groups of fathers patrolling schools to aggressive mental health support for students.
Douglas County commissioners proposed budgeting $10 million security in the district. The allocation will be formalized at the commission's meeting May 28. It's unclear how commissioners will spend the $10 million. It is a one-time disbursement that likely can't be spent on personnel, such as more school resource officers.
Parents praised the move but said it's not enough.
"This is an ongoing issue," said Anastasia Hadwiger, who has children in the district. "We need to get something in place to stop the bleeding. This is a Band-Aid."
The question of how much to armor and fortify schools divided parents. Some parents said it's time for metal detectors. Others pointed to research suggesting metal detectors and beefed up security has shown little to no evidence of stopping school shootings.
"Unless as a country we're prepared to lock down the whole country and live in a state of extreme security, aggressive mental health has got to be a huge piece of this," said Dan Smith, a Douglas County parent.
Smith said if the district decides to pour all the money into "hardening" schools with more security, it would probably just redirect would-be shooters to soccer games, swimming pools or recreation centers.
A group connected to law enforcement, called Keep Our Douglas County Schools Safe, asked the commissioners to place a measure on the ballot to renew a .13 percent sales tax and convert it to school safety funding. It would a fund school resource officer in every school, said Kory Nelson, a member of the Douglas County Sheriff's Office's Public Safety Advisory Committee.
One school resource officer said they serve a much bigger role in school security than people realize. She said they become part of the school community, act as a sounding board for students and hear about problems like cyberbullying or threats.
A feeling of safety, rather than intense security, interested students.
The students in attendance were far more concerned with the sense that mental health was rapidly becoming a crisis among their peers.
"There has been an increase in depression and suicide and the main punchline of the average teen being something about how much they want to die," said Mattysen Short, a student at Castleview High School. "These kids are hurting and they need help. They need help before they snap and kill their classmates."
Several students said that this is a really hard time to be a young person, and thoughts of suicide, self-harm or harming others is something kids struggle with far more than adults realize.
"I do not feel safe at my school," Short said. "My friends do not feel safe at school. My peers do not feel safe at school."
Noah Buckley, 15, described similar worries. Buckley recently transferred to an online school because he didn't feel safe at his previous school in Aurora. At the beginning of the year, he said a student threatened him with a gun and told him he would kill him.
Buckley suggested setting up clubs at schools overseen by a counselor.
"As a teenager, sometimes I feel really uncomfortable speaking with a school counselor," he said. "If they're talking to their peers in a safe environment where they could get help, it could really help them out."
Senior Anna Keesen echoed the need for mental health classes in high school.
"When we get to high school, which is one of the most stressful times in our lives, why aren't you taught what to do when we get overstressed at school, what to do if our friend is in a mental crisis, what to do when everything seems to fall apart?" Keesen said.
Parents also talked about the rise of parent-on-parent bullying on various Douglas County Facebook groups, and the impact that has on children by promoting, "hostility, stress, anxiety into the psyche of our society."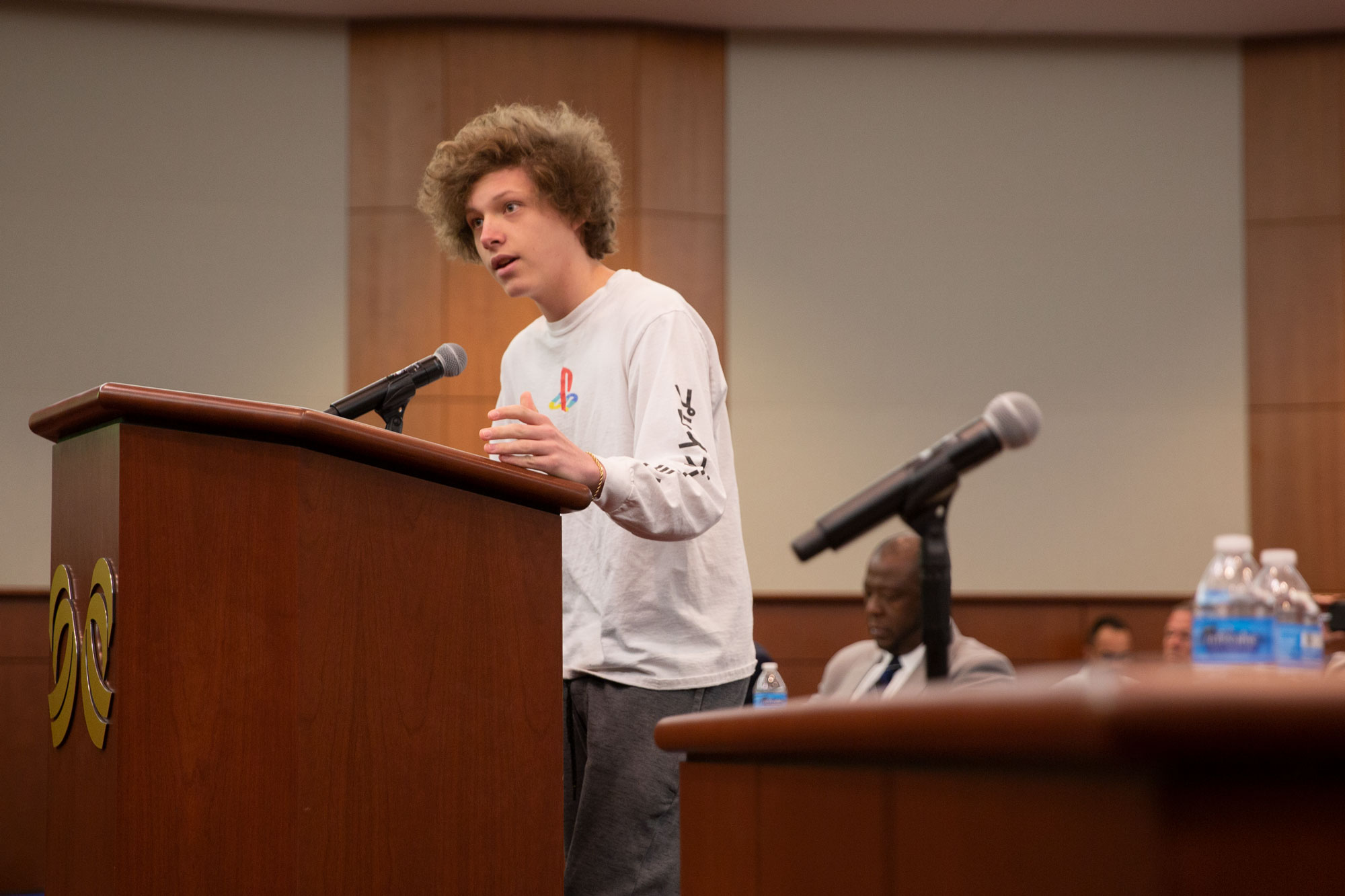 How to hold schools accountable was a big question.
The question of schools' responsibility and accountability surfaced repeatedly. STEM School administrators have faced accusations that the school was at times intense and failed to support students. And at nearby Arapahoe High School, parents say a culture of bullying has gone unaddressed.
Buckley said in his case, school administrators did not take sufficient steps to keep him safe. The incident where another student threatened him with a gun was captured on video and shown to school officials, but Buckley and his mom said the boy with the gun was suspended for only one day. They were unable to secure a restraining order to prevent the alleged perpetrator from continuing to threaten him.  
School officials are often too slow to respond to threats, said Jessica Broadbent, a Parker mother of three who is also a behavioral health specialist who works with adults and children in crisis. One of the things she advises kids who face "relentless bullying" is to talk to school officials. But nothing happens.
"They're being dismissed," Broadbent said. "They're being told, 'It will get better.' It doesn't."
The problem is far more widespread than the community realizes, she said.
"I see kids that want to kill themselves every single day at work," Broadbent said. "I see kids that feel they want to kill other people, every single day at work."
What stops them, she said, is they say something or someone else intervenes.
Broadbent said school climates need to be more open about bullying and mental health, and supports more regulations to hold schools accountable for bullying.
Others raised concerns that schools have a incentive to not report violent incidents or legal actions. Former county commissioner and school board member Jill Repella said administrators worry doing so "makes their school look unsafe" to prospective parents and parents won't enroll their children.
Instead, a system needs to be created where schools are rewarded for, "helping the kids are having trouble rather than scored negatively upon the school if their school has any problems," Repella said.
Brooke Maurer Brooks said schools have been too slow to respond to the risks mass shootings pose. She moved to Douglas County from New York City, and said that after 9/11, there were immediate changes in security across the country. But that's not happening in schools, Brooks said.
"Let's put the officers in our classrooms, in our schools to protect our kids tomorrow, the next day," she told the commissioners, her voice quavering. "Let our children see something concrete change. They deserve that."
You care.
You want to know what is really going on these days, especially in Colorado. We can help you keep up.  The Lookout is a free, daily email newsletter with news and happenings from all over Colorado. Sign up here and we will see you in the morning!