DougCo Commissioners Consider More Training, More Security To Keep Schools Safe
In a meeting Tuesday night, Douglas County commissioners heard recommendations for how to spend more than $13 million they had allocated for school safety and mental health. The commissioners approved the funds after the May shooting at STEM School Highlands Ranch that left one student dead.
John and Maria Castillo, parents of Kendrick Castillo, the student who died, told the commissioners they hoped Douglas County's efforts could be a model for other communities.
"Our devastation is eternal," said John Castillo. "But there are families, parents in this room, who are going to walk with this the rest of their lives with their kids in a different way. No 17-year-old kid should have to crawl into bed with their parents because they're afraid to sleep in their room. We need to challenge ourselves to do better."
The county will create a special community response team to serve youth with mental health issues. It will be the first such team in Colorado and involves law enforcement addressing school-based mental health issues with a clinical psychologist and mental health. The commission also allocated $3 million in ongoing funding to help schools pay for additional school resource officers.
The commissioners heard from two groups of experts, focused on school safety and mental health in schools, on how to spend an additional $10 million in one-time funding.
One in six children have a mental health disorder, said James Baroffio, a committee member and licensed psychologist. Experts say students with mental illness are far more likely to be targets of violence, than perpetrators.
"Mental illness, behavioral dysfunction, emotional desperation are very, very real and affect all of us in one way or another," he said. He said society talks around mental illness, uses vague terms, blames the problems away or ignores the problem until it's too late. He said intervention systems too often focus on symptoms, ignoring complex social-psycho issues underlie "maladjustment" in youth.
Committee members urge a new approach
The mental health committee had eight recommendations, beginning with expanding social and emotional skills instruction and having every school conduct a mental health assessment to evaluate the school's strengths and gaps. 
"We heard loud and clear from students that they don't know where to start when they need mental health support," said mental health committee chair Sarah Ericson, who is director of diversion at the Arapahoe County District Attorney's Office.
The committee recommended expanding the Douglas County Sheriff Department's "Text-A-Tip" program to include enhanced mental health response. That would include adding a "mental health navigator" program to help students know their options.
Committee members recommended including funding to help families who can't afford mental health treatment access it. Ericson said families told the committee that high deductibles and co-pays prevent them from accessing mental health treatment for their children.
Other recommendations include funding youth mental health first aid training in all middle and high schools, trauma-informed training for parents, teachers and other school staff, and an age-appropriate public awareness campaign on de-stigmatizing mental health and raising awareness about "Text-A-Tip."
"We want to let our community, especially our young people, know that we don't have to whisper when talking about mental health."
Finally, the mental health committee recommended implementing "Handle with Care" protocols, which enable schools to be notified when a student has been exposed to violence or other traumatic events. Schools wouldn't receive details but would be aware something happened in the student's past, so they can respond appropriately. 
A focus on common training across schools
Experts on the school safety and security committee recommended consistent instruction for all sheriffs, municipal police officers and school security staff, no matter the school type. 
They recommended practices like a single, common entry for all schools, the same video security system in all schools in the county, an annual review of school threat assessment systems conducted by the Department of Homeland Security and data sharing between law enforcement agencies.
The security committee also said school culture was essential to safe schools.
"How do we shift culture to a healthy place?" asked Clinton Dorris, chair of physical school safety committee. "How do we ensure that when there's a student that knows something, they say something?"
The committee recommended modified closed campuses. Open campuses, he said, pose "a significant safety risk."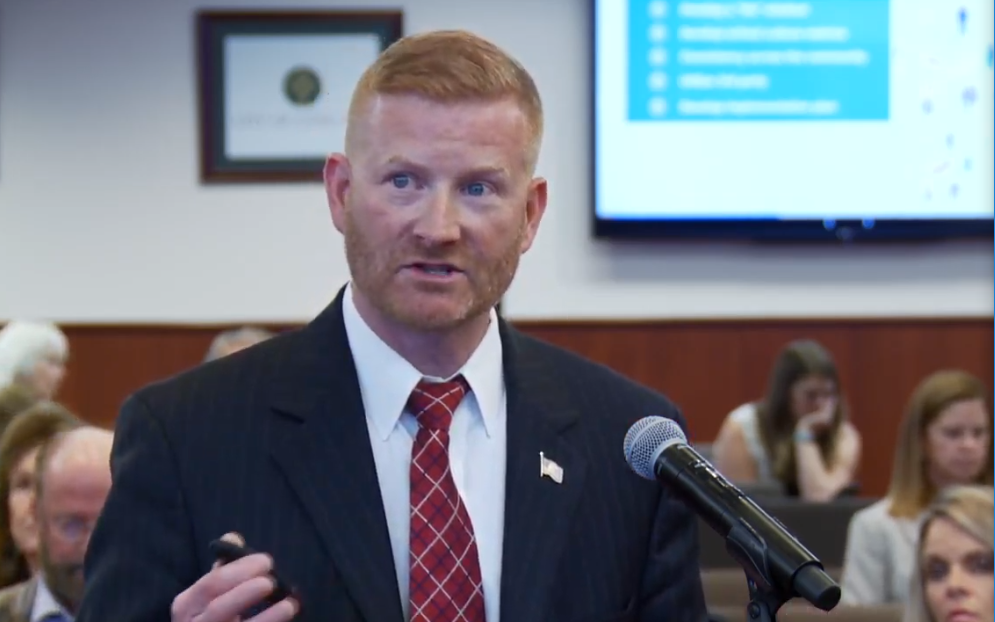 Dorris also said making schools safe is an issue that has to be addressed beyond the Douglas County Commission.
"The safety of our community is a choice," he said. "What choice will the community make?"
Parents, staff, students and community members will all have to take responsibility, he said.
Editor's note: This story has been updated to correct the spelling of Sarah Ericson's name.
You care.
You want to know what is really going on these days, especially in Colorado. We can help you keep up.  The Lookout is a free, daily email newsletter with news and happenings from all over Colorado. Sign up here and we will see you in the morning!