Cycling Deaths Haunt Denver, Women Hook Each Other On Flyfishing, The Last Soul Food Restaurant On Welton Street And More Photos Of The Week
A vigil for Alexis Bound, after the Denver Cruisers arrived July 31, 2019 where Bounds, 37, was struck and killed on South Marion Street last week by a dump truck taking a right turn.
On a sunny morning in May 2016, Ali Clerkin strapped on her helmet and pedaled up the South Marion Street Parkway in Denver. She had used the popular bikeway near Washington Park to reach the Cherry Creek Trail and her job downtown since 2013, when she moved to the city. That's when her bike and a truck collided, and "I remember every second of it, every millisecond of it," Clerkin told CPR News reporter Nathaniel Minor from her living room this week.
In the tight quarters of the state Capitol's third floor rotunda, lawmakers and fans of the president crowded in front of the presidential gallery Thursday to see a painting of President Donald Trump placed in a vacant space beneath former presidents Bill Clinton and George W. Bush, and next to Barack Obama. Though the absence of the portrait and lack of funds made headlines last year, it took about the same amount of time for the portrait of Obama to reach the wall during his administration.
But the flag was still there — despite a hellacious summer storm between Florence and Fort Carson — last Friday July 28.
Guides with Echo Canyon rafting in Canon City load up trailers early last Friday morning July 26 2019, ready for a day on the Arkansas River. Watch for a story by Haley Sanchez (and a lot more photos from Hart) soon about the rafting industry, safety and regulations.
Cascade, Colorado, flyfishing guide Kaitlin Boyer at South Cascade Reservoir behind Pikes Peak on Thursday, July 18, 2019. CPR's Alison Borden is putting the finishing touches on a report about a scholarship program that aims to get more women flyfishing.
The three-day Denver music festival Underground Music Showcase brought hundreds of performances to South Broadway over the weekend. Large crowds of music fans formed at the three outdoor main stages and packed inside venues like Hi-Dive and 3 Kings Tavern. From top, Chicano Batman, hula hoop dancer Christina Sachi, and everyone Kevin met at the Underground Music Showcase in two hours. More photos from Hart for Indie 102.3 here.
As Cookie Lockhart sat in a park in Steamboat Springs and reminisced about her more than 50 years as a groundbreaking female auctioneer, she stopped mid-sentence to reply to a friendly "Hi, Cookie!" from a guy walking down the bike path. "Hi!" she hollered back and she cracked a huge smile, waved and shrugged. "No idea who that was." You see, as Stina Sieg reports, everyone knows Cookie. It's been that way since she was 5 years old.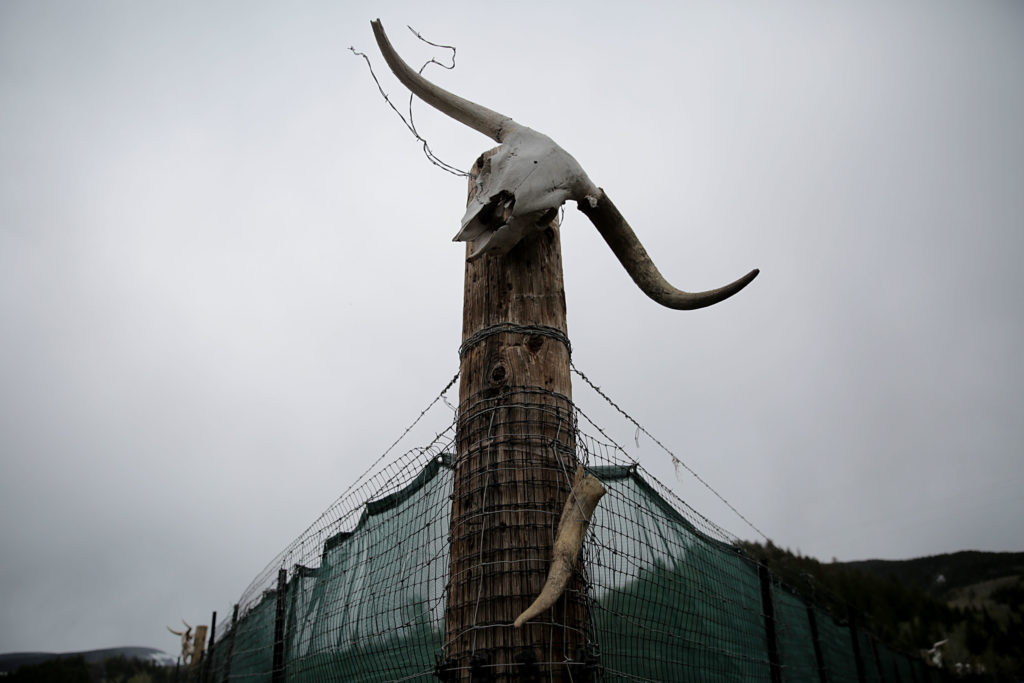 Up on a Colorado mountainside, Rob Trotter grows marijuana with a goal of producing as little waste as possible. It's not easy. Cannabis cultivation tends to be a wasteful industry with a fairly large carbon footprint. Colorado Public Radio's environmental reporter Grace Hood tells our On Something podcast about Rob's quest to make weed sustainable.
The home-style African-American and Caribbean cooking that Denver's Welton Street Cafe in Five Points dishes out to longtime regulars and newcomers was once as ubiquitous in the neighborhood as jazz. The cafe that has been at 2736 Welton St. for 20 years and is the last soul food restaurant on the block. Instead of lamenting what's been lost, many hundreds gathered at the cafe Tuesday said the two-decade milestone was a chance to reflect on culture as well as lessons of resilience and relationships. Top, Flynn Dickerson speaks to a reporter in Welton Street Cafe, the restaurant he founded more than 35 years ago. And Jarvis, 7, Alayah, 11, and Dhamir, 5 ask for portraits.
AEG Presents Rocky Mountains co-president Don Strasburg speaks to a reporter inside a Mission Ballroom dressing room in Elyria Swansea, RiNo, July 30, 2019. Eight days before the Aug. 7 grand opening starring The Lumineers, the space is still a hubbub of construction. Two cranes rise on either side of an enormous disco ball, which Denverite's tour guide said features interior lights, two halves that can rotate independently and large mirrored panels that create a light effect more like a kaleidoscope than the traditional sparkle. Workers swept up debris and hauled in parts and equipment. The stage is only partway built but the murals are finished and bright.
Megan Cattau and Alysha Perrin on a dance trapeze during a tech rehearsal for Frequent Flyers dance company's Aerial Dance Festival at the Dairy Arts Center in Boulder on July 30, 2019. Nancy Smith started the international Aerial Dance Festival in 1999 because she was "a little lonely." She had founded Boulder's Frequent Flyers aerial dance company about a decade prior. Back then, the few other aerial artists out there were scattered around the globe. More from Stephanie Wold here.
Not everyone is the kind of person who arrives at the Mesa County Fair at 9 a.m. on a Saturday just because of the promise of a Humane Society cat show. But Stina Sieg is one of those people. This is Chile, by the way.
Inspired by conversations with people in the community, we're taking a week to produce a short series of stories about Colorado through the lens of languages used here. Top, Beatriz Navarro holds her newborn daughter, Ainhoa, before being discharged from University of Colorado Hospital in Aurora. She speaks no English, but her hospital was ready with a suite of options to help Spanish-speaking patients: in-person interpreters, phone services and a new state-of-the-art video interpretation line. It allowed her to communicate with her doctors through the rest of her pregnancy. Her mother, also Beatriz Navarro, sits beside her.
And above, FLOW sign language interpreter Cherish on the right side of the stage at Red Rocks as String Cheese Incident play a concert. "There are a lot of hearing people who seem to think that deaf and hard of hearing people can't enjoy music," said Rachel Berman, a concertgoer who is deaf.
Bluegrass legend Del McCoury greets a festive crowd of fans at Red Rocks Sunday July 21, 2019.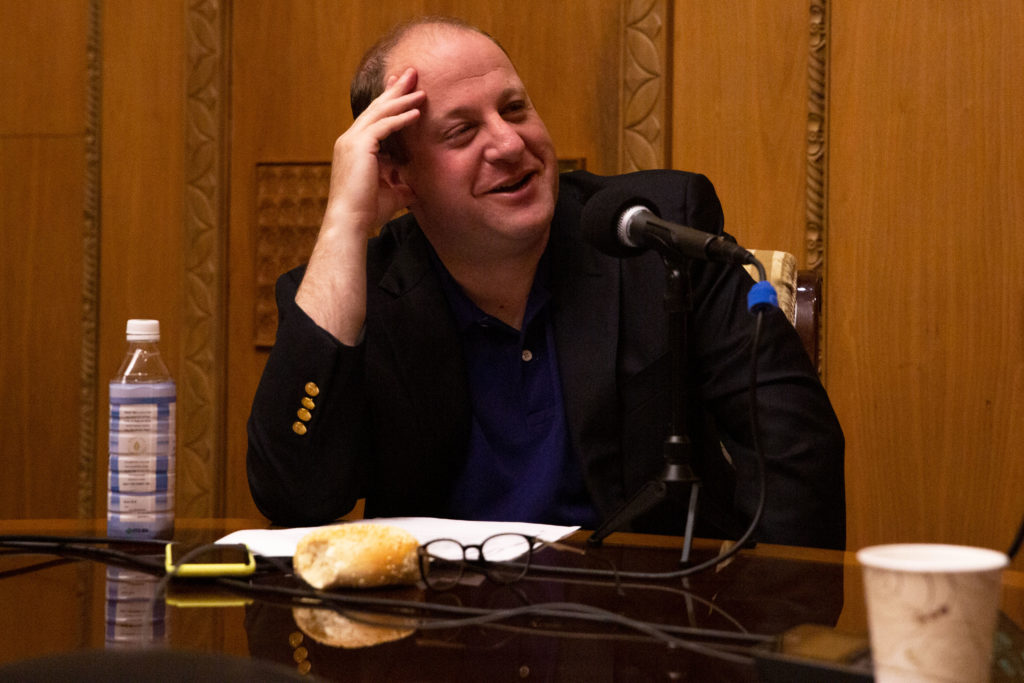 Gov. Jared Polis in his office at the state Capitol on July 31, 2019. Polis was on Colorado Matters to answer questions about changes to healthcare and issues such as local control of oil and gas drilling, cleaner air, behavioral health needs — and who has the best green chiles.
You care.
You want to know what is really going on these days, especially in Colorado. We can help you keep up.  The Lookout is a free, daily email newsletter with news and happenings from all over Colorado. Sign up here and we will see you in the morning!