Some parents want to use the school choice system to desegregate Colorado schools
Andrew Lefkowits calls going to Stedman Elementary in the 1980s as one of the few white kids in the largely Black school a big influence on his upbringing in Denver. It was not always easy, he said, but shaped who he is.
"It taught me about the value of diversity," he said. "The richness of being in relationships with people from different backgrounds.  It gave me a degree of comfort in multi-racial spaces that has greatly enriched my life."
Years later, Lefkowits moved back to Denver to raise children. But something was odd about the school system.
"There is something going on there that doesn't feel quite right," he said.
His house is in the boundary of Park Hill Elementary, seen as a highly coveted, well-resourced school – with only 22 percent students of color. Yet several elementary schools close by had student bodies that were 70 percent to 90 percent students of color. "It's because their test scores are high, and why are their test scores high? Because most of their student body is white and wealthy," he said.
Across the country in fact, dozens of studies have found that test scores correlate to whiteness and wealth. But he thought, surely white, wealthy kids aren't smarter? He started researching. He listened to journalist Nikole Hannah-Jones' podcast episode "The Problem We All Live With." It was about how all of the efforts to get children of color living in poverty to perform as well as white kids in school don't work. But the one thing nobody tries anymore despite evidence it works is integration. 
"I heard that and I was like, 'Oh, OK, this actually still is a problem."
Lefkowits hadn't realized that segregation in schools is actually worse than when he attended. So, he used Denver's school choice process to enroll his two daughters into Stedman Elementary.
"At the time we did that, by all of those same metrics, looked like a terrible school, by all measures a quote unquote failing school," he said. "And it's been amazing. It's a great place."
He says his children are thriving at the school. As his mother picks up the girls from school one chilly afternoon, Black, white, Hispanic and biracial kids tumble out of the school doors.
"They're making relationships with kids who aren't like them," Lefkowits said. "They are finding shared humanity with kids from other backgrounds whether that's racial or socio-economic or kids living in foster care, and that feels like such a more important thing for them to get in this phase of their development."
Lefkowits is one of a growing number of white families who believe integrated public schools are crucial to building a multiracial democracy.
Several studies highlight that schools are more segregated now. The research of economist Rucker C. Johnson, who drew on longitudinal studies going back to the 1960s, shows that students of all races who attended integrated schools were more successful in life than those who did not. His research looked beyond test scores. It shows that Black students experienced dramatic improvements in educational outcomes, enjoyed better health and earnings – and that did not come at the expense of white students. Those outcomes held for the children of those who went to integrated schools.
Some argue the way the school choice system is set up now has had the unintended consequences of concentrating wealth and creating enclaves of whiteness. Jefferson County parent Katie Zaback, who has spent her career working with school data, believed in the theory that if people had better data about their schools, they could make good decisions, resulting in more equitable schools.  
That's not what happened, surprising many data crunchers like Zaback. Some researchers say there is little evidence that standardized testing has led to greater equity.
"This culture around choosing schools using this data has actually served to segregate a lot of our schools. Rather than arming parents who weren't being served by their schools with new information to make new choices, we were encouraging well-resourced families to make the choices that concentrate power, and we actually may have accelerated segregation."
When families apply to attend any school in Denver, for example, a 43-page guide offers them a dizzying array of choices. (The first round of school choice runs until Feb. 15.) But not all families have access to things like transportation that would let them choose a "good" school, said Zaback.
"Good schools" quickly became synonymous with high test scores, which closely track with how white and wealthy a school is. Housing policy, power and control dynamics, and the way culture, stereotypes and implicit biases are embedded into the education system were also at play, scrambling the theory that families armed with data would choose "good" schools for their kids, said Zaback.
For example, one study shows the likelihood that white parents will choose a hypothetical school for their children drops significantly as the proportion of Black students in the student body increases.
Parents like Lefkowits and Zaback aren't necessarily criticizing choice – it allowed them to choose more integrated schools —  or data, but they see a problem with the way districts measure school quality, which influences how families choose schools, and when there are other factors that are much more important.
In the summer of 2020, the two were part of a group of metro Denver parents to launch a local chapter of Integrated Schools.
The organization raises awareness about how white and other well-resourced parents use their privilege to access more heavily resourced schools. That not only isolates their children from learning from classmates who have different life experiences but leaves high concentrations of students of color in under-resourced schools, according to the organization.
The group also provides the space, through book clubs, one-on-one chats and forums, for white parents to process how their choice of schools can perpetuate inequities – and how to change certain privileged behavior patterns if their children attend schools that are majority minority. The group offers parents a new framework for choosing a school.
Instead of checking the boxes for high test scores, academic rigor and lots of extracurriculars, they ask parents to consider a school that's more reflective of the demographics of the district and consider the collective good in making a school choice.
In a culture where parents are inundated with messages about if their child doesn't get into their right preschool, they'll never succeed, the decision, "it feels hard, it feels like you're stepping outside the norm," said Zaback, who chose an integrating school for her children in Jefferson County.
"So often we have asked communities of color to bear the burden of desegregating our schools, like they need to look at the data and go to a good school," she said.
"White people can actually help to change this scenario by making sure that all of our schools offer high-quality options for our students and by coming together in community and getting to connect and know each other."
The parents emphasize that the schools white parents choose is just one piece of the work of integration. Once their children are enrolled in an integrating school, their job is to listen and learn and integrate into the community, not to fix or solve any problems they think matter. The new Denver chapter is focused on organizing and creating a space for conversation first.
Then it will shift to building relationships with local BIPOC-led organizations before working on policy-related issues together. Other more established chapters across the country have worked with community groups of color on redrawing school boundaries, for example. Nationally, Integrated Schools has an advisory board that is almost entirely people of color as well as supporting advisers who are BIPOC (Black, Indigenous, People of Color.)
Zaback said integration work needs to be done in a way "that doesn't center on whiteness" nor "depend on free labor from the BIPOC members of our school communities to do that."
For some parents, it could be simply changing conversations at the playground about what constitutes "good" and "bad" schools. For others, it means enrolling their children in schools that are majority students of color.
Brandy Beck has two children who attend Valdez Elementary, where about 68 percent of students are Hispanic.
She said the benefits to her children are immeasurable. She said it's a privilege that other cultures are willing to share their sacred celebrations and important events at school.  One small example, she said, is a beautiful altar that families built for Día de los Muertos.
"They include all families. It's really special," Beck said. "And for my kids to have learned just one example about death in such a healthy way, in a way that as a white American in this society, I've never been taught a healthy, loving, really accepting way to handle death."
She said her children are friends with children of different linguistic and socio-economic backgrounds. "And they see differences in cultures. And I think in seeing those, they get to embrace it and know that difference is a positive."
Her daughter hopes to choose into Lake Middle school during the choice process, which is 90 percent students of color. After a school tour, Beck said her daughter  told her "I walked in there and I could feel the energy and I could feel the students were happy and it was a community."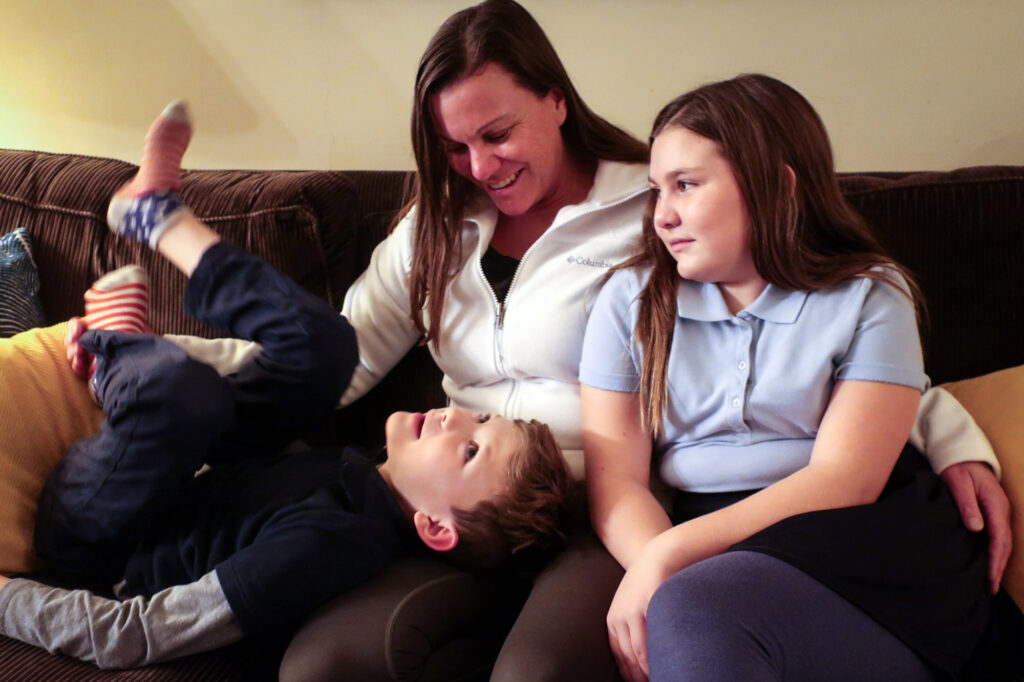 Beck's goal for her children is for them to learn what it is to be a good human.
"Treat people well. Be there for each other. Learn from one another."
Beck said she's noticed a difference in school values, where white parents in other schools focus on fundraising, Valdez focuses on connection.  
Being a parent at the school and through her involvement with Integrated Schools, through reading and listening, has deepened Beck's own understanding of the country's history.  
"As a white child educated in the '70s, '80s, '90s, I'm floored at the history I'm learning that I should have already known….so understanding the systemic racism and discrimination in this country, I feel so ignorant to say, but I was very naïve."
That's another goal of Integrated Schools – changing the behavior of white parents – how they show up in their new schools.
The Integrated Schools podcast, co-hosted by Lefkowits of Park Hill, takes parents deep into issues of integration, segregation and how to change white or privileged parents' behavior.
Parents sometimes recognize themselves in a particular episode called "Vicky and the Saviors," a discussion with a mom — Vicky from Los Angeles who identifies as Mexican. She talked about what she called an attitude of white saviorism at her children's school in a gentrifying neighborhood.
"It's those same people who want to save us because we 'don't know any better' and that want to come in with all their influences," she said. "We don't need saving."
Some white parents show up at a new school, decide what's wrong with it and how it should be fixed. The mantra of Integrated Schools is show up, shut up and stay put. 
Denver parent Amy Murin recalls listening to that episode.
"I actually relistened to it this summer in preparing for starting at Trevista," said Murin, whose daughter attends a northwest Denver school that is 90 percent students of color.
She said she doesn't want to be that person, that white mom. She's doing a lot of listening, getting to know and learning about the community, and helping when asked. She also said the school feels very different from her daughter's previous school where the parent organization was focused heavily on raising money.
"This PTO, this school is just much more focused on supporting each other and finding a way to work with what we have in order to make it work for all the kids," she said.
She's learned through the support group of Integrated Parents that white parents need to earn trust by making relationships with other parents one at a time. Some parents say getting to know, for example, Spanish-speaking parents works better not a meeting – but working together side by side, on a volunteer project at school. Parent Brandy Beck sometimes uses Google translate.
"I'm not going to say it right, but if I can get my point across in Spanish, so they know what I'm talking about, that's a success. It's not about being perfect. It's about taking that risk," she said.
White parents in the group Integrated Schools know they'll make mistakes – cultural mistakes, mistakes rooted in class differences – but they learn to apologize and move on.
As Colorado schools are in the school choice process now, the Denver chapter of Integrated Schools is hosting forums for parents about choosing a school. There's a virtual one at 7 p.m. Monday.
The issues around race and schools are complex and challenging. Murin said it's a long process of learning for many white parents. The group has members whose children attend mainly white schools but she said, they're learning to show up in a different way, "that they work on amplifying the voices of color, that pay attention to the fact that the parents of color aren't as well represented at parent team meetings."
Murin said a societal shift won't come from policy. It will come from parents and others making different decisions.
"The face of the matter is that our democracy is broken. And it's broken because we have lost the ability to communicate with people who think differently than us. And if we can't come together and have dialogue and learn how to learn together and live together, how are we going to govern together?"
You care.
You want to know what is really going on these days, especially in Colorado. We can help you keep up.  The Lookout is a free, daily email newsletter with news and happenings from all over Colorado. Sign up here and we will see you in the morning!