The end of Roe v. Wade has Colorado's Western Slope prepping for more people seeking abortion access
On Friday, a crowd of more than 100 people gathered in downtown Grand Junction. Some held handmade signs, others wore face paint; there was more than one reference to wire hangers. They had come to protest the Supreme Court's abortion ruling. 
Though Colorado allows abortion, the procedure is now illegal in many of the states surrounding it. And that is changing the landscape of abortion access inside the state.
Jeriel Clark was one of the event's speakers. A mom to two teenage daughters, Clark worries that the new patchwork of laws across the country will restrict where her kids feel comfortable moving when they're older. She attended the protest to hand out information about abortion care in Colorado. 
"Today, we're going to be sharing some information about where you can find the closest abortions near you," she said. "But it is really going to take someone who has the means and technology available to access that information to be able to make it to those locations."
Even before the Supreme Court decision, getting access to an abortion was difficult for many people, including for those who live on the Western Slope. Like many communities here, Grand Junction does not have an abortion clinic. The closest is 90 miles away in Glenwood Springs.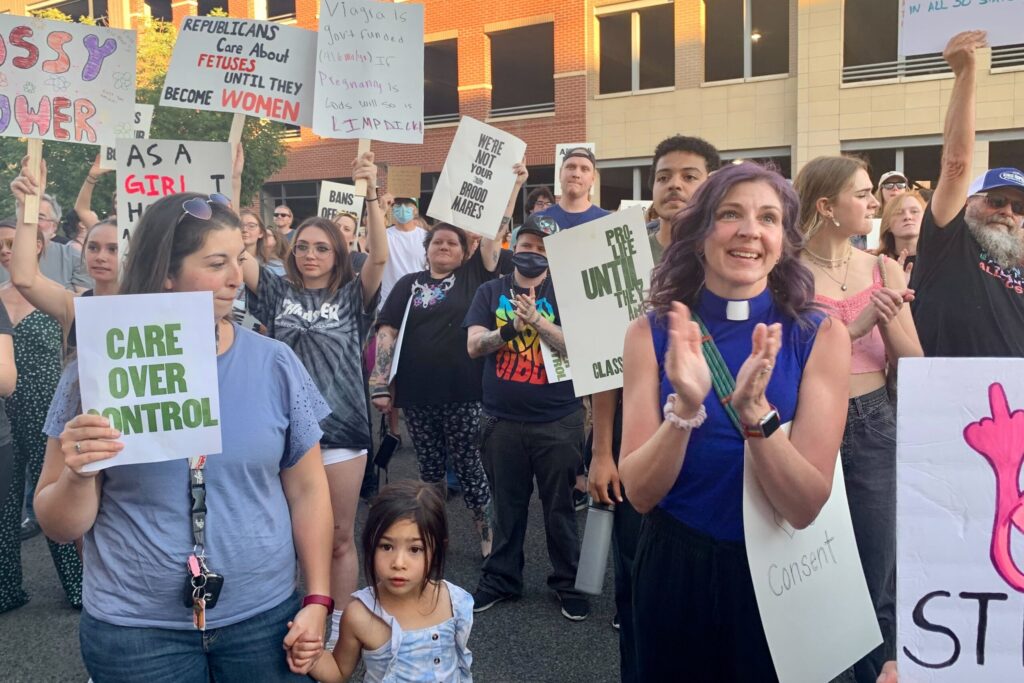 Clark worried that people coming from Utah won't be able to find their way to the handful of clinics that perform abortions in western Colorado, including in Cortez and Durango. 
Abortion became illegal in Utah with the reversal of Roe v. Wade on Friday, though a judge temporarily blocked the state's "trigger ban" on Monday.
Even so, Planned Parenthood of the Rocky Mountains expects an influx of out-of-state patients seeking abortions in Colorado. Vice President Dr. Kristina Tocce explained that could make it hard for anyone to get a timely appointment. 
"Things are going to look different for every single reproductive-age individual in this country," she said.
For Carl Malito, a retired doctor, that's a good thing. Malito leads Mesa County Right to Life, an organization that opposes abortion and hopes the ruling will help chip away at acceptance of legal abortion in Colorado.
"Our task is to educate our family members, our sisters, our daughters [and] our granddaughters that life is sacred and that life in the womb should be protected," Malito said. "We're not only interested in making abortion illegal, we're interested in making it unthinkable."
Not everyone on the Western Slope had a clear-cut reaction to the Supreme Court's decision. 
Valerie Mangrum runs Durango Pregnancy Center, which offers parenting and adoption resources instead of abortion referrals. Mangrum has been the executive director of the center for 12 years. When she started the job, she said she saw things more in black and white, but now she sees them as more nuanced and had a lot of "mixed feelings" about the ruling.
Mangrum shared a story about a client who couldn't make it to a prenatal class because she didn't have enough gas in her car. She said people against abortion should also be asking how these families are going to find affordable housing and childcare.
"One of the questions I'm asking myself today is, who is gonna step into the gaps that are going to be created because of this?" she said.
You care.
You want to know what is really going on these days, especially in Colorado. We can help you keep up.  The Lookout is a free, daily email newsletter with news and happenings from all over Colorado. Sign up here and we will see you in the morning!