Sanders Rallied Thousands In Denver Monday Night. For Many, He's Their Only Real Choice
Democratic presidential candidate Bernie Sanders celebrated his birthday in Colorado on Monday with a rally in downtown Denver.
The estimated crowd of ten thousand waved Bernie signs and sang "Happy Birthday" before the 78-year-old Vermont senator spoke. 
"I'm here tonight for two reasons," Sanders shouted to his fans. "First, I'm here to ask your help to win the Colorado primary. And with the turnout I see here, I think we're going to do just that. I'm asking your help to help me win the Democratic nomination. And then I am asking your help to make sure that we defeat the most dangerous president in modern history."
Sanders earned major applause as he ran through his populist pledges to end the corporate "gravy train," ban fracking and eliminate student debt. He also thanked Colorado for helping to end "the war on drugs" by leading the way on marijuana legalization.
In 2016, Sanders handily won Colorado's caucuses. But he faces a different system this time around, after Colorado voters approved moving to a presidential primary and allowed unaffiliated voters to participate. The state will hold its vote on March 3, Super Tuesday, with a number of other states including California and Texas.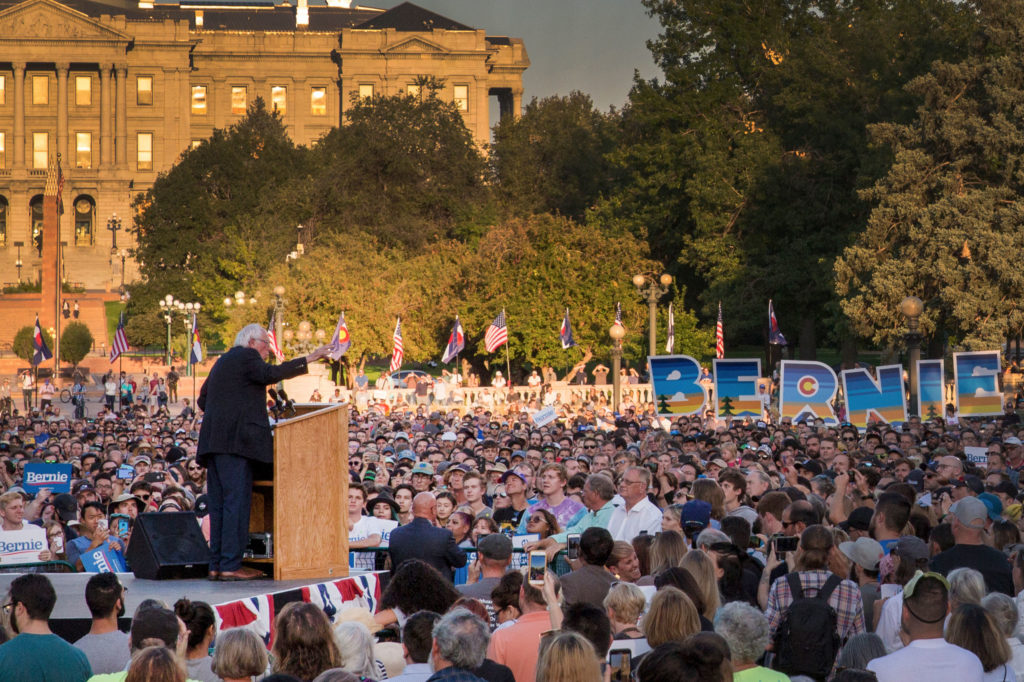 The Vermont senator was the most popular 2020 candidate for Coloradans in August according to an Emerson College poll.
Another message from Sanders, about the need to take bold action on climate change, especially resonated with Amy Davis, a mother from Castle Rock. 
"I'm here basically for my children's future," Davis said. "I'm almost 50, so it won't affect me as much as them. And 'Medicare For All.' I work in the healthcare industry and I think everyone should be covered."
Davis said her second and third choices in the crowded Democratic primary field are Sen. Elizabeth Warren and Rep. Tulsi Gabbard. Davis is also willing to vote for Vice President Joe Biden, the leading Democratic candidate in national polls, but doesn't think he could defeat Trump. 
"Would I vote for him above Trump? Probably. Am I going to campaign for him? No," she said. "He's not going to get the youth vote. They're not coming to come out and vote for someone who's not going to change their lives and make their lives better."
Others in the crowd said they're especially motivated to participate in the Democratic primary race because of what happened in 2016, when they feel the Democratic establishment tipped the scale for Hillary Clinton.
"We felt forced to vote for someone we didn't want to vote for," said Eric Medina from Denver. Medina ultimately backed Clinton for President, "because she was the less worse option over Trump." But this time around he's hoping to be able to vote for a candidate who he really wants to see win the White House. 
For Medina's friend, Erubiel Hernandez, it's Bernie or nothing.
"He doesn't take any corporate money, shows no signs of corruption," Hernandez said. "It's incredible how just some senator from Vermont just happened to resonate with a lot of people. And he's back to reclaim what was supposed to be his."
Like many at the rally, Hernandez and Medina aren't interested in the rest of the Democratic field. Both said Elizabeth Warren would be their second choice, but neither is excited about her. Hernandez said he doesn't trust that Warren is progressive enough and called her "disingenuous."
As for Biden, the frontrunner in the polls, Hernandez told CPR "not in a million years" would he vote for him. But later in the interview, he said if it came down to it and Biden gets the party's nomination, he actually would. 
"The point is to get rid of Trump, get him out of the White House. He's a bigot," Hernandez said.
While few in the crowd were enthusiastic for other Democratic candidates, Colorado's Republican establishment did its best to link Sanders' views with other frontrunners in the field. 
"There was a time when Democrats would hesitate before embracing fringe ideas like banning fracking or 'ending' fossil fuel, but 2020 Democrats are showing those days are over," Colorado Republic Party spokesperson Kyle Kohli said. "Democrats like Bernie Sanders, Joe Biden and Elizabeth Warren would devastate Colorado's energy industry and kill countless working class jobs."
First time voter Mohammed Gaal also attended Monday's rally. Gaal, originally from Somalia, said he immigrated to the U.S. in 2012 and became a citizen six months ago. He said he likes Sanders and Warren equally.
"We need change," Gaal said.
Yet if Biden is the nominee, Gaal said he won't vote for president at all.
"If my vote is not going to change anything. I'm not going to waste my time," he said.
And as for the only Coloradan still standing in the presidential race, Sen. Michael Bennet, who is running a centrist campaign, he didn't appear to be on anyone's radar here.
You care.
You want to know what is really going on these days, especially in Colorado. We can help you keep up.  The Lookout is a free, daily email newsletter with news and happenings from all over Colorado. Sign up here and we will see you in the morning!