First Lesson Of The Year: How To Attack A School Shooter
Originally published on September 20, 2019 11:28 am
As kids across the country head back to school for the year, the question of how to keep students safe is constant and ever-evolving, especially when it comes to mass shootings. One recent active shooter training at Pinnacle Charter School in northern Colorado focused on three actions: evacuate, barricade, and fight.
Standing on blue gym mats, under bright fluorescent lights, a trainer and a student lean in, heads close.
"Nice and low, get your body weight into it." said Joe Deedon, "Slap, bear hug, straight down." Deedon is the founder of TAC*ONE, a consulting company that runs active shooter trainings around the country.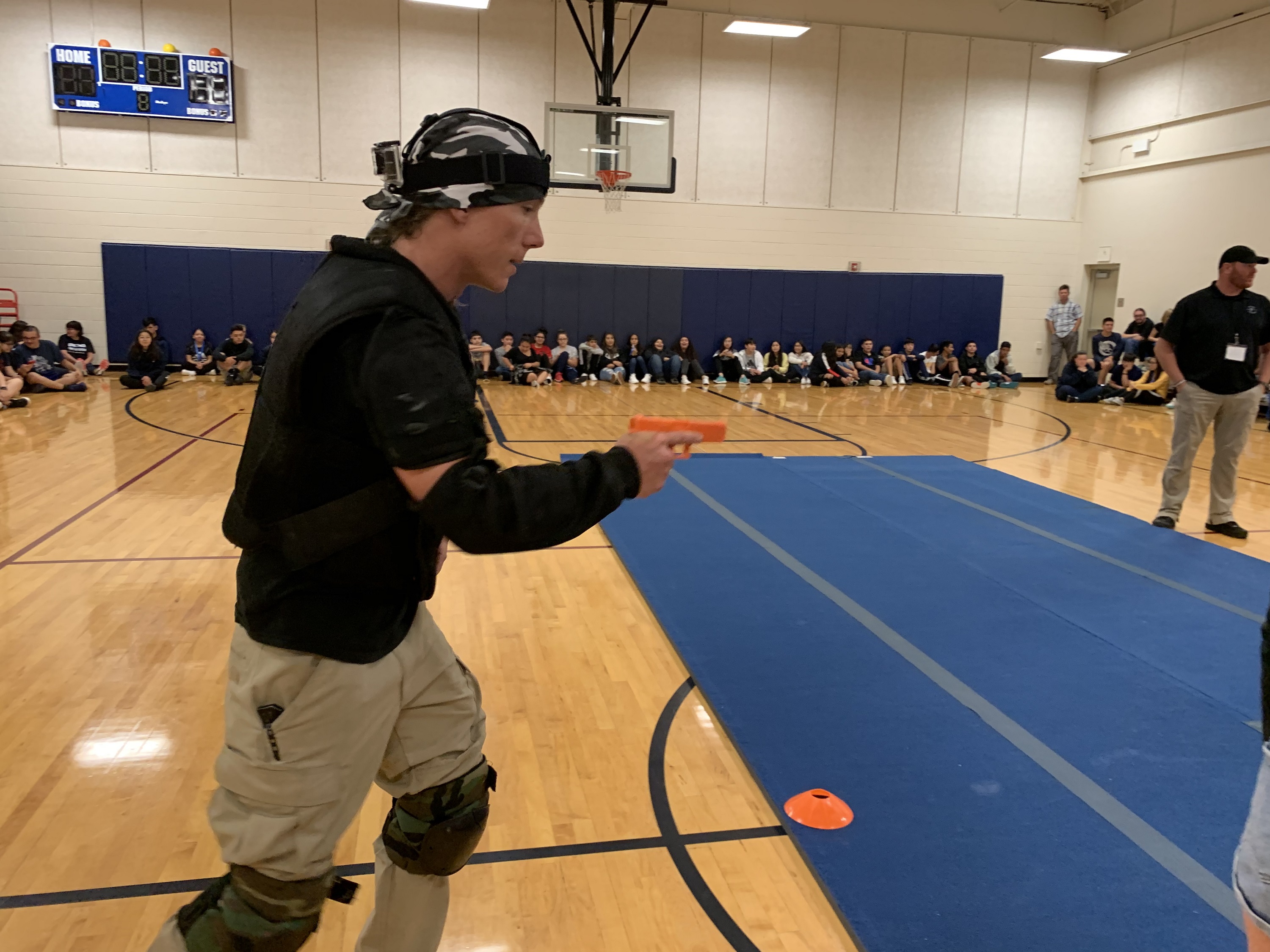 TAC*ONE instructor John Green plays the role of active shooter during a recent training at Pinnacle Charter School in north Denver
Leigh Paterson / KUNC
The student nods. Others watch from the bleachers and the gym floor. Then, a man wearing knee and chest pads steps onto the mat holding a fake orange gun. The student grabs him and takes him down; a bunch of other boys pile on top as the trainers, many of whom are former SWAT team members, give instructions.
The gym fills with cheering and clapping as though the action unfolding is a wrestling match. But these high school students are preparing for a nightmare scenario: that there's an active shooter in the building. This particular exercise represents the "fight" part of "evacuate, barricade, fight."
'After The STEM Shooting, That Really Changed Things'
Later that day, Chad Miller, the CEO of Pinnacle Charter School, sat on a small student's chair in a classroom, described how his thinking on preparedness has evolved over the years. Students are exposed to community-level violence involving guns, drugs and gangs. In 2017, three people were killed during a mass shooting at a nearby Walmart.
"After the STEM shooting, that really changed things. That changed the game," Miller said. "When students went after the active shooter, that really hasn't happened before. So that really brought it to our minds to say, 'What are we doing for our students if this happened to them?'"
In May, two students were charged with opening fire at the STEM School in Highlands Ranch, a Denver suburb, injuring eight and killing one. Kendrick Castillo, the 18-year-old student who died, had tried to take down one of the shooters.
"There are some heroes in that situation," Miller said. "How many lives did they save by doing that?"
Just days before the STEM shooting, a student at the University of North Carolina at Charlotte was also killed while trying to stop a gunman. Given what happened in Colorado, that the young man ultimately died rushing the shooter, Miller laid out why "fight" is an option in his mind.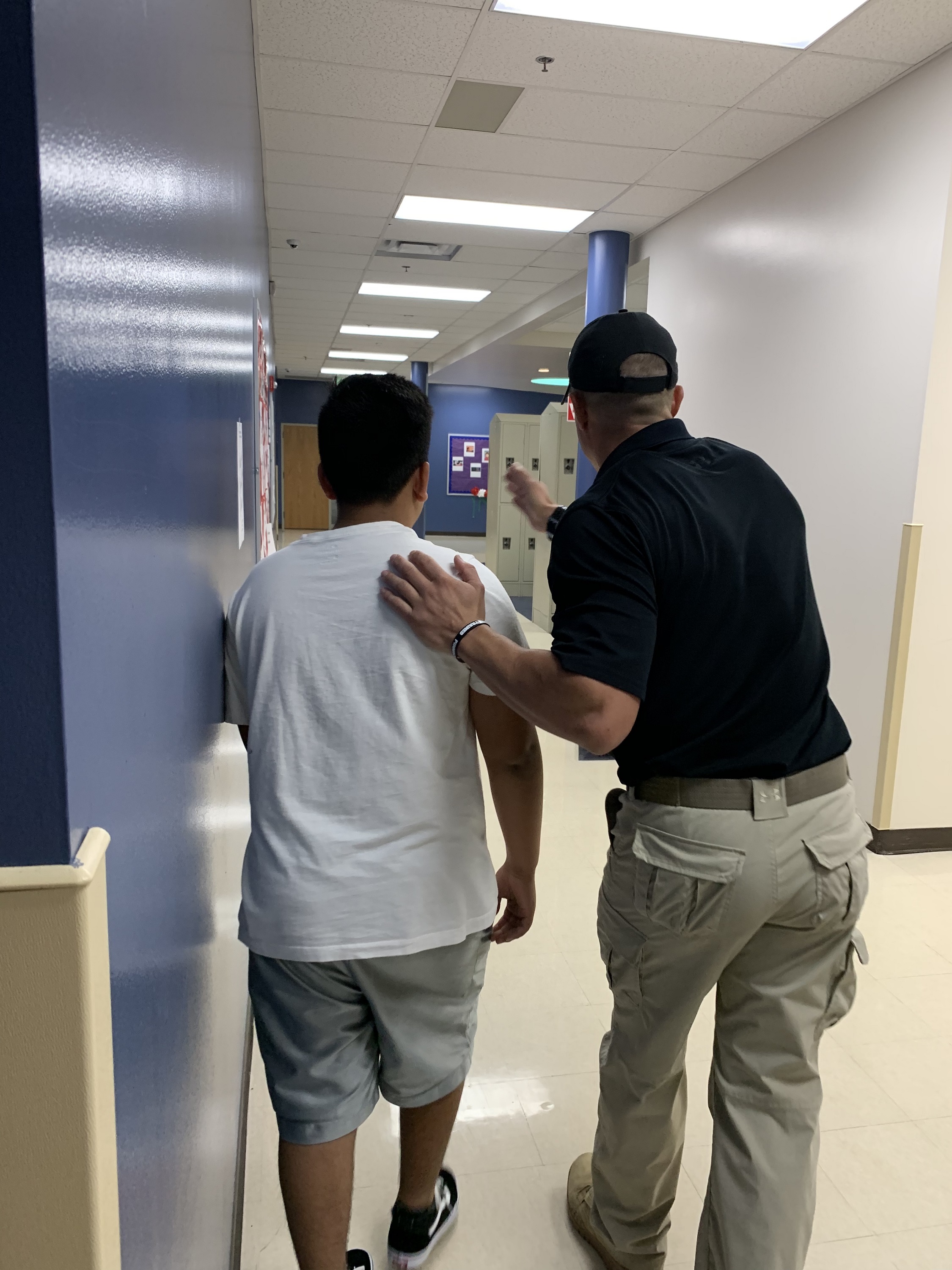 A student at Pinnacle Charter School practices evacuating with Joe Deedon of TAC*ONE during an active shooter situation.
Leigh Paterson / KUNC
"Hopefully the kids have options. Hopefully the kids can run away. Hopefully they can hide, hopefully they can barricade," Miller explained. "But if they're in close proximity and they have no other options, here's what you're probably going to have to do, and here's how to do that."
TAC*ONE has taught the 'evacuate, barricade, fight' classes in four other schools in Wyoming and Arizona. Founder Joe Deedon says that none of those students have then used those skills in an active shooter scenario but have in other security-related situations. Moreover, there is not a large body of research examining how well these tactics actually work.
'I Would Lay Down My Life'
"Is fighting the best thing to do? Is evacuating the best thing to do? Is barricading the best thing to do?" asked Mike Walters, a TAC*ONE instructor. Students in the gym mumbled back a variety of answers. "I want you to have choices," Walters replied. "There's no one best thing to do."
After that 'fight' training, two seniors, Brianna Centeno and Giovanni Medina Rico, said they liked the session, that it was fun and empowering.
Compared to other types of gun violence, mass shootings are rare, but according to an analysis by Guns & America, they are becoming more frequent and more deadly. For these two students, the possibility of having to fight is absolutely real.
"If it was life or death and I'm the leader, it's definitely something I think would have to do morally, according to me. I feel the obligation to do it," Centeno said. "I feel like since we are the oldest in the school, I'm a senior, it's my job to stand out. Also, I'm in leadership positions in my school. I've been here for so many years. I feel like I should look out for those that are younger than me and weaker than me."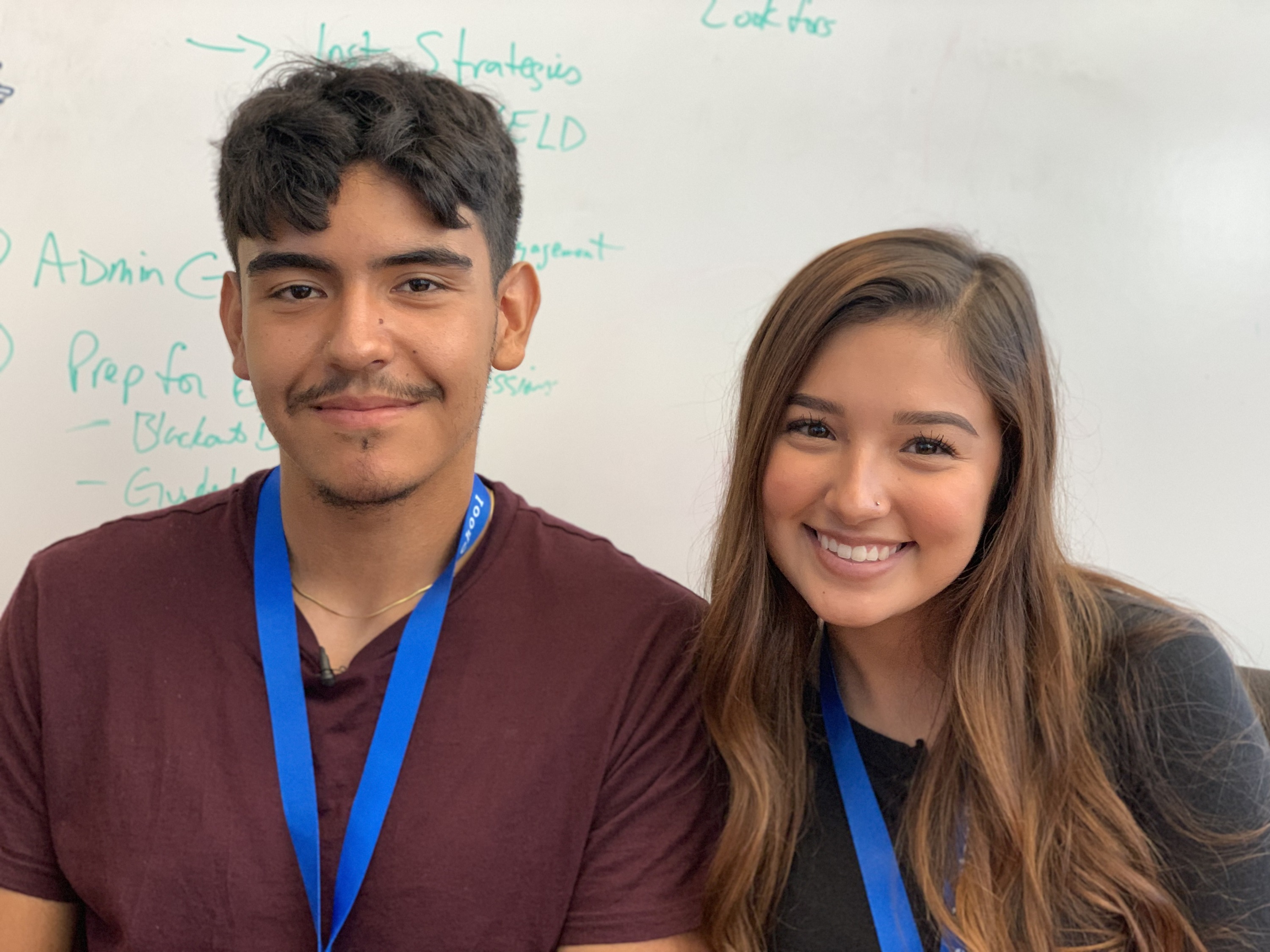 Seniors Giovanni Medina Rico and Brianna Centeno both say they would be willing to fight if a shooter ever came into their school.
Leigh Paterson / KUNC
Both Centeno and Medina Rico recall hearing about what happened to the young man who tried to stop the shooter at the STEM school, 30 miles south of their own school.
"It's kind of hard to say but I would lay down my life if I had to protect my classmates," Medina Rico said. "Because it shows that I'm responsible in some way. It takes a lot of courage and braveness to lay down your life just to protect someone, even if you have to go away. And it just makes me emotional knowing that somebody had to take their life just to protect everybody else."
Update 9/9/2019: This story has been updated to reflect that a student was killed while trying to stop a gunman at the University of North Carolina campus at Charlotte.
This story was produced by the Mountain West News Bureau, a collaboration between Wyoming Public Media, Boise State Public Radio in Idaho, KUER in Salt Lake City, KUNR in Nevada and KRCC and KUNC in Colorado in partnership with Guns & America, a public media reporting project on the role of guns in American life.  
Copyright 2019 Guns and America. To see more, visit Guns and America.
You care!
Southern Colorado is changing a lot these days. We can help you keep up. Sign up for the KRCC Weekly Digest here and get the stories that matter to Southern Colorado, delivered straight to your inbox.