Some Fort Carson Troops Come Home, A Monet Moment, Lizzo, Inmates In The 'Cuckoo's Nest' And More Photos From The Week
Well, maybe photos from the past few weeks, actually. But let's start with a few more from Fort Carson, where about 120 members of the 183rd Support Maintenance Company, 4th Infantry Division returned Tuesday Oct. 15, 2019 after a nine-month deployment at various locations in the Middle East.
Brighton Boulevard Week
Every year, Denverite holds a street week. And at the end of every street week, we post up along that street to interview random passers by about their observations of the neighborhood. This year: Brighton Boulevard, which was once industrial, once nearly declared blighted, once very arty, now home to hundreds of homes, still home to a giant oil refinery, still home to many homeless men, now friendlier to bikes, shaped by two big-personality developers, on the forefront of green infrastructure that may clean the river and the place where a once anonymous mosaic artist was found. Here's everyone Denverite met there in two hours:
A Moment With Monet
For its massive blockbuster exhibition, "Claude Monet: The Truth of Nature," which runs Oct. 21, 2019 - Feb. 2, 2020, the Denver Art Museum has culled paintings by the French Impressionist from across the globe. Each has landed in Colorado, all accompanied by couriers specialized in moving this kind of delicate cargo. We got a sneak peak at the museum.
Samaritan House Reopens
Samaritan House closed its family floor for construction in April. The renovations included a reconfiguration that created four new rooms, bringing the total to 25. Two of the new rooms were larger than had been available before the renovation to accommodate big families. Even before the renovation, Samaritan House was the largest provider of family shelter in Denver. Now it's back. Rev. Michael Suchnicki led a Mass to mark the moment.
Weed Voters
Will recreational and medical marijuana voters have more political clout in 2020? The Cannabis Voter Project hopes so. The project made inroads identifying voters during the 2018 midterm election and now they're turning their recruitment efforts to pot stores in Colorado and across the country.
Climate Voters
"There are a lot of people who are incredibly devastated and fearful about the climate," said Diana Bray. She knows she's a longshot candidate in the Colorado U.S. Senate race. But at a small campaign event at a park in Broomfield, the clinical psychologist and environmental activist said, "I don't think the people of Colorado want a governor who has been the best friend the oil and gas industry has ever had."  -- A comment directed at what she and some others see as John Hickenlooper's Achilles heel.
Lizzo!
Lizzo is a singer, writer, rapper, producer and classically trained flute player -- and she's having a moment. She told NPR earlier this year, "I say this on-stage to everybody: "I'm not gonna sell you the commercialized self-love. I'm not gonna sell you the hashtag self-care." I'm not into that. I feel a responsibility as a pioneer in this wave of body positivity to push the narrative further."
"Now that everyone's caught up, and now that it's mainstream, the pioneers have a responsibility to take it further. And I'm taking it even further with self-actualization and how to use our emotions constructively to better deepen our relationship with self-love and ourselves." She brought her show to Fillmore in Denver:
Inmates In A "Cuckoo's Nest"
"Gather round, ladies," said a man in a lab coat, flanked by a woman dressed as a nurse and two men in white scrubs. "You are about to enter Sterling Ward, our therapeutic community. I am Dr. Spivey, ward psychiatrist. This is our head nurse, Miss Ratched, Nurse Flynn, aides William and Warren. Please follow all rules and regulations while on the ward. Remain seated, and please, try not to disturb the patients." -- at the Denver Women's Correctional Facility, with direction and assistance of the University of Denver Prison Arts Initiative.
Greta Thunberg In Denver
Swedish climate activist Greta Thunberg drew thousands of people to Civic Center Park last Friday, mostly young people "on strike" from school. Local issues owned the stage for 90 minutes, though. Colorado activists fighting climate change wanted to make things clear: Thunberg is a force, but her celebrity is the only thing that distinguishes her from local activists doing similar work.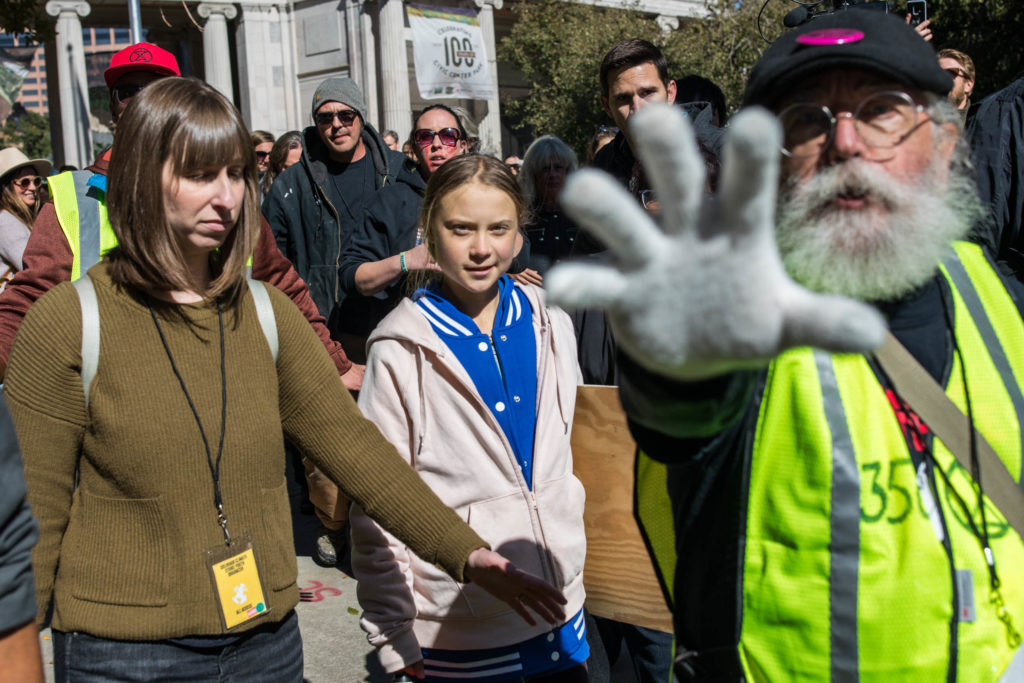 That View
If you live along the Front Range, you know the view. The Rocky Mountains everyone can see from almost everywhere along the Front Range at some point or another during their day. Kevin saw it the other day too. It never gets old, does it?
You care.
You want to know what is really going on these days, especially in Colorado. We can help you keep up.  The Lookout is a free, daily email newsletter with news and happenings from all over Colorado. Sign up here and we will see you in the morning!