Colorado Coronavirus Updates For March 16: Closures, Testing, Cases And More
This post collects all of our updates and reporting on the coronavirus in Colorado for March 16, 2020. Looking for the latest updates? You can find them here. Our original play-by-play reporting continues below.
---
8:53 p.m. — Signing off for today
Here are some stories that have nothing to do with coronavirus.
Stay safe, and continue practicing social distancing, even when it's no fun and you feel like Denverite reporter David Sachs' cat.
8:11 p.m. — Things are different now. They look different, too
Hart Van Denburg/CPR News
A man and his dog enjoy the sunshine at Denver's Confluence Park on Monday March 16, 2020.
Hart Van Denburg/CPR News
A runner passes the REI flagship store in downtown Denver's Confluence Park on Monday March 16, 2020. REI announced Monday it was closing its stores in response to the coronavirus outbreak.
Hart Van Denburg/CPR News
Signs in the door of a Starbucks on East Colfax tell patrons they can get drinks and food to go starting Monday, March 126, 2020, but they can't sit down in the restaurant — part of nationwide trend in the face of the coronavirus outbreak.
Hart Van Denburg/CPR News
The Denver Museum of Nature and Science announced on Monday March 16, 2020 that it was closing in response to the coronavirus outbreak.
Hart Van Denburg/CPR News
A runner and a scooter rider in Confluence Park on Monday March 16, 2020.
— Hart Van Denburg
7:20 p.m. — Coronavirus is seriously changing Colorado's economy. Here's how
In January, Colorado was reporting a healthy unemployment rate at 2.5 percent and employers added about 900 private-sector payroll jobs and 400 government jobs.
Coronavirus could change all that, though we won't know the exact impact for months. But Brian Lewandowski, an economist with the University of Colorado Boulder, expects job growth to deteriorate to an extent over the next few months.
"Some of the negative impacts will start to show up in our restaurants, hotels and our tourism industries like our ski resorts," he said.
The state's restaurant and ski industries have already taken a hit after orders from Gov. Jared Polis closed ski resorts and ended dine-in service at restaurants and bars.
At the village at Winter Park Resort, the streets were eerily quiet and mostly empty.
"I was crying this morning," a lift attendant said. "Everyone's just heartbroken. Nothing like this has happened in 80 years plus."
Now, state economists are saying Colorado should prepare for a temporary economic decline after COVID-19 is done paralyzing businesses, shredding paychecks and trapping people at home for weeks or months.
The forecast slashes projected revenues for the next fiscal year, beginning July 1, by about $750 million. A nearly flat budget poses a major challenge to Democrats' hopes of passing new laws and creating new programs.
— Taylor Allen, Jessica Yarmosky, Bente Birkeland and Andrew Kenney
6:04 p.m. — Another mountain county puts extra restrictions on day-to-day life
Summit County released similar plans to Gunnison County aiming to limit the spread of the virus, including closing restaurants, bars, retail stores, lodging and public transportation.
The county did not release guidelines on permitted group sizes, but previously postponed government events of 50 people or more.  
"We absolutely realize how difficult and painful these restrictions are," Amy Wineland, Summit County public health director, said in a press release. "But we feel strongly that these steps are necessary to head off the worst-case scenario. We are actively working to flatten the curve – which means reducing the peak number of COVID-19 cases we see in Summit County."
As of Monday morning, Summit County had two presumptive positive COVID-19 cases, one in isolation in Denver, the second in isolation in Frisco. The county has tested nearly 50 people and is waiting on results for the majority.
— Claire Cleveland
6:00 p.m. — Polis orders suspension of dine-in services at restaurants and bars
At a press conference Monday afternoon, Gov. Jared Polis announced a 30-day suspension of dine-in services at restaurants and bars.
The order, effective immediately, allows restaurants to continue to serve meals for delivery or carry-out, but not for in-person dining.
Polis also ordered the closure of Colorado Division of Motor Vehicles offices where drivers licenses are issued. Renewals can still be done online.
4:43 p.m. — Gov. Jared Polis will speak any moment now
CPR is carrying Gov. Jared Polis' address live on air. Click "Listen Live" above or asking your smart speaker to "Play CPR News." Watch live here.
We reported this afternoon that the governor was considering an array of aggressive statewide measures to slow the spread of the coronavirus, including shutting down bars, restaurants, gyms, casinos and theaters. It's not clear what this press conference will be about.
4:22 p.m. — Colorado will give unemployment benefits to those laid off due to COVID-19
The Colorado Department of Labor and Employment (CDLE) announced Monday that it will give assistance for workers and employers during temporary closures as a result of the COVID-19 pandemic.
Workers who have a reduction in hours or wages may file an unemployment claim at coloradoui.gov. The department is also taking steps to reduce the impact of these claims on employers who have had to temporarily lay off staff due to closures or slowdown.
CDLE is promoting paid leave, remote work and its programs like work-share as alternatives to lay-offs.
— Taylor Allen
4:16 p.m. — 29 new cases of coronavirus in Colorado
State health officials announced 29 new confirmed cases of COVID-19 on Monday. That brings Colorado's total to 160.
The number is based on overnight test results reported through 3 p.m. Monday.
Colorado has conducted 1,216 tests since the state started running tests on Feb. 28.
— Alex Scoville
4:13 p.m. — 50 crisis-trained nurses will help staff testing sites and facilities in the High Country
Dozens of nurses trained to provide care in crisis situations are stepping up in response to the coronavirus.
Colorado's health department says 50 new nurses will help expand capacity. The nurses, from the Freedom Health Care Staffing Company, will initially staff testing sites and health care facilities, including in mountain communities, which have been hot spots for the virus.
The effort is funded by a portion of the $3 million from the Disaster Emergency Fund set up by a recent executive order by Governor Jared Polis.
On Tuesday, the state health department, along with local health agencies, will open a testing site outside Telluride. It will serve about 100 high-risk patients, pre-selected by area health care providers. The site will not accept walk-up or drive-up patients. 
Last week Polis announced state regulators will allow medical professionals licensed in other states to immediately start practicing.  He said the state planned to bring in contract nurses from out of state to help the hardest-hit communities. Colorado will also enlist students and faculty at the University of Colorado School of Medicine. Polis also asked former health workers to consider coming back to work in an effort to ease the burden as some workers may get sick from the virus.
4:04 p.m. — School District 51 in Mesa County to close schools
School District 51 in Mesa County will close all schools through April 10 effective Wednesday, March 18.
Remote learning will start on March 30 for the district's 22,000 students.
The district is working on a drive-thru meal pick-up program for families that will provide breakfast and lunch.
— Alex Scoville
4:01 p.m. — CU Boulder encourages students in dorms to go home
After moving classes online likely through the end of the spring semester last week, the University of Colorado Boulder is taking an additional step to combat the spread of the new coronavirus.
Chancellor Philip DiStefano is asking students who live in university housing to head home if they are able. The school is also working to phase nonessential staff into remote work, and closing the university recreation center.
— Alex Scoville
3:55 p.m. — Regal Cinemas will close theaters
The first major movie theater chain in the U.S. has made the move to close its doors due to the new coronavirus.
Regal Cinemas will shut down all 543 of its U.S. locations. The chain has 13 theaters in Colorado.
Other theaters have said they will stay open but will reduce capacity and increase cleanings.
Earlier today, the Sie FilmCenter in Denver announced it would close.
— Alex Scoville
3:44 p.m. — Even before Denver mandated the end of in-person dining, delivery was booming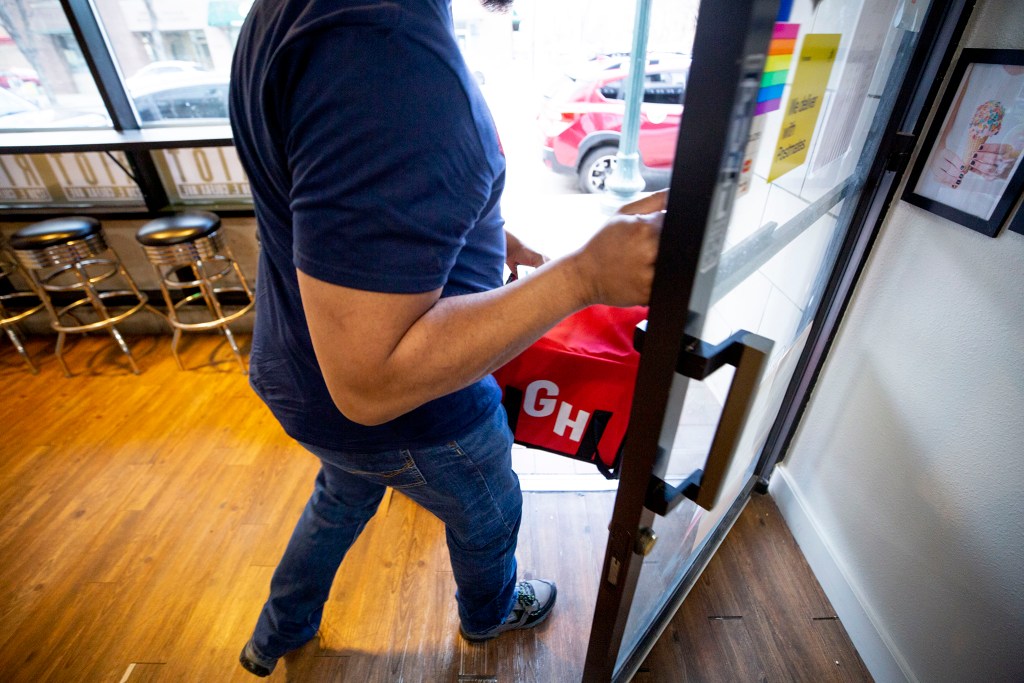 Delivery app driver Julian Rai estimated food delivery requests are as much as double the normal volume. And he's noticed his customers have used his services because they're either sick or afraid to get sick. Some have sent him messages that they may be contagious and asked him to leave their meals on the ground by their doors. One guy said he was diagnosed with COVID-19 and was quarantined at home.
Read the full story on Denverite.
— Kevin J. Beaty
3:30 p.m. — We ❤️ you too, Bluebird
Coronavirus FAQ: What You Need To Know Toda
3:27 p.m. — DPS parents collect free lunches as grocery shelves run dry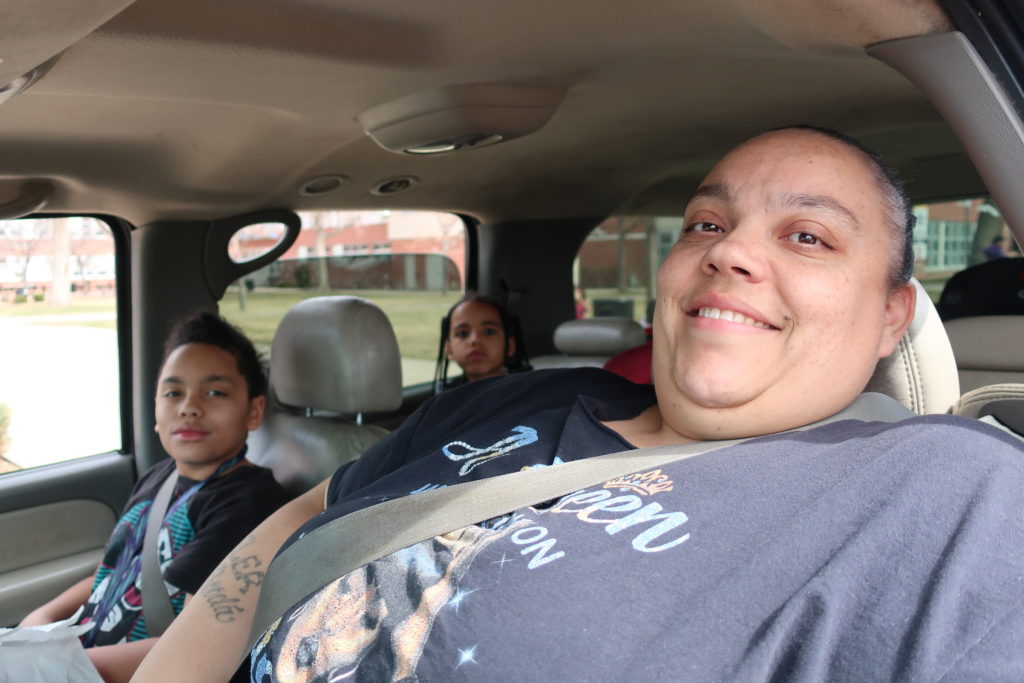 As Alicia Hawkins drives up to Manual High School to get a free sack lunch for her three children, she's chatting on speakerphone with her friend Kendra.
Manual is one of 11 locations across Denver Public Schools handing out free "Grab and Go" breakfasts and lunches to students in need through April 3.
"There is no cereal in the stores," Hawkins tells her friend. "There's no meats. You know, people are really panicking, like it's serious, but it's not that serious."
Kendra said that while it is serious because people are losing their lives, hoarding supplies won't save anyone.
"I feel like it's not in our control. There's nothing we can do about it," Kenda said over the phone. "People going crazy about it. I mean if we're all gonna die from it, then what good is it going to do you to have 25 rolls of toilet paper and all that extra meat? You can't take it with you. So it's just an unnecessary panic."
Like the other parents driving or walking by to pick up lunch, Hawkins is frustrated by shortages of basic supplies in grocery stores. The free meals help. Without the meals, she says a lot of people would come up short at the end of the month.
In DPS, nearly 68 percent of students qualify to receive federally assisted meals, according to the Denver Public Schools Foundation. The organization is soliciting financial contributions to allow DPS to extend the meal program for adults in need, as well as provide meals to children and adults over the weekend.
Kendra would like DPS to extend the age for free meals to 21, because she has a 20-year-old and 17-year-old at home.
Gina Jones, who came with her three children and her mom, says she's also frustrated she can't find basic supplies at the stores. She says the free meals will help with her budget.
"They won't be eating me out of house and home," she laughs.
She also can't find baby formula at the stores. She only has two cans left at home.
Kimberly Flowers walked up to collect lunches for her three kids and her niece and nephew, who she's keeping an eye on since the outbreak started in Colorado. She says there are about 15 kids in her small apartment building.
"It's like, where are they gonna be able to eat if this wasn't here?" Flowers said.
Like many people, she's confused and unsure of how worried to be.
"I can't get anything at the store. I was like, 'Oh my God, there's nothing here,'" Flowers said. "So should I start panicking? Like everybody is out here panicking. I'm like, 'If we would've just took it all calm, like we do any other virus, we might've been okay.' But now we're running out of everything."
— Jenny Brundin
3:08 p.m. — Gunnison County is essentially shutting down
Gunnison County today released a public health order prohibiting groups of 10 or more from gathering in public spaces including bars, restaurants, child care centers and a host of other places as officials try to stymie the spread of COVID-19. Read the full story.
— Claire Cleveland
2:53 p.m. — Gov. Jared Polis will speak at 4:30 p.m.
The governor will hold a press conference at 4:30 p.m. at the state Capitol.
CPR will carry Gov. Jared Polis' address live on air. You will be able to hear it by clicking "Listen Live" above or asking your smart speaker to "Play CPR News."
— Alex Scoville
2:48 p.m. — Energy companies are suspending nonpayment disconnects
Xcel Energy and Black Hills Energy both announced Monday that they won't shut off electric or natural gas services to a residence if a customer cannot pay their bill.
The two companies both acknowledged that long-term isolation and other disruptions caused by the new coronavirus outbreak could cause financial stress for customers. Xcel and Black Hills also offered to set up alternative payment plans.
— Alex Scoville
2:43 p.m. — The 4/20 festival in Denver has been called off
Euflora confirmed to Denverite that the FlyHi 420 Festival in Civic Center Park has been canceled.
Mayor Michael Hancock on Monday said the city was banning gatherings larger than 50 people.
— Esteban Hernandez
2:32 p.m. — The Denver Zoo is closing
The Denver Zoo will close Tuesday, March 17 to help slow the spread of the new coronavirus. Essential animal care and operations staff will continue to work.
All upcoming events and camps are also canceled. The zoo did not provide an estimated reopening date.
Hey, remember a happier time when they had that new baby rhino?
— Alex Scoville
1:53 p.m. — Peace Corps suspends operations and recalls all volunteers
The Peace Corps is suspending operations worldwide and evacuating volunteers back to the United States.
The organization had already called back volunteers in China and Mongolia.
— Alex Scoville
1:36 p.m. — Film industry makes big changes
The Sie FilmCenter in Denver, run by the nonprofit Denver Film, will suspend operations until April 3.
People with tickets for a showing during that time can use them as a credit to a future screening in the next 12 months, but the FilmCenter offered another solution too.
"As a not-for-profit organization, we would also ask that you please consider your existing ticket purchase a donation to our organization," the statement announcing the close read.
The move comes as other theaters, like Alamo Drafthouse and Landmark Theatre locations, limit capacity and increase cleanings. Some major studios, including Universal, are releasing their movies on-demand the same day they are being released in theaters.
— Alex Scoville
1:23 p.m. — Colorado Springs declares state of emergency
Colorado Springs Mayor John Suthers is the latest Colorado mayor to declare a local state of emergency to help their city better access resources.
Suthers explained the decision in a statement:
"I declared a local State of Emergency because it gives the city its best ability to respond to the COVID-19 virus. The declaration does two things; first, it makes the city eligible for federal relief funding as it becomes available; second, it provides authority for mayoral regulations that can be put into place rapidly to address the situation as needed. This should not be cause for further alarm, but a signal that our city continues to monitor the situation and respond in a prudent, efficient and effective manner in constant coordination with our partners at El Paso County Health and El Paso County."
Colorado's first — and as of Monday afternoon, only — death attributed to coronavirus was in El Paso County. A woman in her 80s died in a Colorado Springs hospital on Friday.
— Alex Scoville
1:19 p.m. — The state's federal courthouses get stricter about who's allowed in
Colorado's chief federal judge has put several restrictions on people entering federal courthouses in Colorado.
This includes people who have traveled in the last two weeks to a handful of heavily affected countries, including Italy and China; anyone who has been asked to self-quarantine by any doctor or health care organization; or those showing signs of illness, including shortness of breath and fever.
— Allison Sherry
1:17 p.m. — Colorado State University will keep classes online through the end of the spring semester
The university had originally just planned on staying remote through April 10. CSU president Joyce McConnell announced the extension through the end of the semester on Monday.
— Alex Scoville
1:12 p.m. — Bennet wants to ensure internet access to K-12 students at home
As schools shutter and classes move online due to the coronavirus, Democratic Sen. Michael Benent is urging the FCC to ensure students have adequate internet at home.
Bennet and 15 other Democratic senators have written to the Federal Communications Commission to ask the agency to use e-Rate funds to help schools provide wifi-enabled devices or wifi hotspots to K-12 students who lack internet access at home.
"This swift, immediate action would help ensure that all students can remotely continue their education during the current public health emergency," Bennet said.
Several Colorado school districts will be closed until early April. Bennet also joined 17 Democratic senators in asking major internet providers to provide free or at-cost options for students who would otherwise lack access.
— Caitlyn Kim
12:35 p.m. — A message from our favorite horse
12:16 p.m. — Perlmutter and DeGette to host tele-town halls
Colorado's members of the House of Representatives are back in state this week and trying to answer questions their constituents have about the coronavirus.
Democratic Rep. Ed Perlmutter will hold a COVID-19 telephone town hall Tuesday evening. Representatives from Jeffco Public Health and Tri-County Public Health are expected to join the call to answer questions. Rep. Diana DeGette has a telephone town hall scheduled for Monday night to provide constituents with an update on what's being done and to answer questions.
Rep. Joe Neguse said last week he was also planning a telephone town hall with public health officials. He'll hold his telephone town hall on March 18 at 6:15 p.m. Several other Colorado congress members have put information about the coronavirus and the government's response on their websites.
— Caitlyn Kim
Coronavirus FAQ: What You Need To Know Toda
11:15 a.m. — Denver to close on-site eating at bars and restaurants
Mayor Michael Hancock is briefing the media on new actions meant to limit the spread of the coronavirus. Here's the latest:
Denver bars and restaurants ordered to close for on-site eating for 8 weeks. Drive-thru, delivery and carry-out are still OK. The order goes into effect at 8 a.m. Tuesday.
All Denver DMV locations are now closed till further notice. A grace period will be offered through April 9.
Hancock said the city will temporarily call off evictions. Sheriff deputies will be redeployed from their enforcement. The eviction ban will go indefinitely, per the mayor.
— Esteban L. Hernandez
11:09 a.m. — Sen. Bennet calls for employment protections
Colorado Sen. Michael Bennet wants to make sure workers are protected as more people self-quarantine due to the coronavirus. Bennet has co-sponsored a bill aimed at ensuring workers who are quarantined or caring for a family member who is quarantined due to the coronavirus have a job to return to.
The Democrat said it's about providing peace of mind as people grapple with the pandemic's wide-ranging impact. "This bill protects workers' economic security and public health," he said. Colorado is an "employment at will" state, which means an employer can fire an employee at any time for any reason, with the exception of anti-discrimination and anti-retaliation laws.
— Caitlyn Kim
10:52 a.m. — The National Guard is on the move to the Western Slope
Around 50 Colorado National Guard troops will deploy today to help set up mobile testing centers for novel coronavirus across the state. Their first stop is the resort town of Telluride. A spokesperson said testing will begin there on Tuesday.
After that, the group plans to move through Gunnison and Steamboat Springs. The National Guard said it has plans to move to other areas with higher infection numbers like Pitkin and Eagle counties. No specifics have been released.
Meanwhile, as reported by the Telluride Daily Planet, San Miguel County commissioners have approved a local disaster emergency that will last until April 3. Restaurants and bars are to close for 48 hours starting at noon today (March 16). All public gatherings of 50 or more people are also prohibited.
— Natalia Navarro
10:27 a.m. — Recommendations for parents and guardians
Public health officials have released a quick guide for parents now that schools are closed and many are likely to be working from home in order to take care of their children
"This is not just about keeping kids safe, which is absolutely important; it's about keeping the whole community safe by limiting and slowing the spread," said Dr. Rachel Herlihy, the state epidemiologist, in a statement released by the Colorado Department of Public Health and Environment.
Among the suggestions:
Don't take children into social settings if they are sick
Frequently clean doorknobs, toys, keyboards and mice and other high-touch surfaces
Teach children to cover their mouth and nose when they cough or sneeze, toss the tissue and then wash their hands
You can check out the full list of recommendations here.
Denverite has a few ideas about keeping your kids entertained. There's also been a call from state agencies to ask child care centers to stay open even after dozens of school districts announced their closures.
— Jim Hill
9:52 a.m. — The annual BOLDERBoulder is rescheduled
Usually, the 10k race is held on Memorial Day, which this year is May 25. The race will now be pushed back to the fall. No date has been set yet, but organizers said in a release they are working with the city of Boulder and the University of Boulder to finalize when the race can take place.
The race is a huge draw and probably one of the staple things you can expect out of Memorial Day weekend. According to the BB's website, the race is the "3rd largest running race in the United States and the 7th largest in the world."
— Jim Hill
9:40 a.m. — BREAK TIME
Many Coloradans are practicing social distancing, bunkering at home and/or working from there as well. Besides taking a deep breath and getting some outside time, there's another thing to keep in mind. How about a little fun? In that vein, we've got a few interesting stories this morning on subjects close to our hearts: namely Colorado fun facts and dinosaur bones.
— Jim Hill
9:12 a.m. — Update from the state Capitol
8:10 a.m. — There will be no drive-thru testing today
CDPHE will not open Denver's drive-thru testing center on March 16. However, they said they will open an appointment-only drive-up testing site on Tuesday. No location has been decided on yet. The drive-thru originally opened in Denver's Lowry neighborhood before it was moved to the Denver Coliseum on Saturday, where it closed early due to high volume.
— Jim Hill
7:55 a.m. — Markets show their Monday morning jitters
7:21 a.m. — Denver to further curtail gatherings
The City and County of Denver is expected to issue a public health order later Monday morning to align with the CDC's revised guidelines on events and public gatherings.
The CDC's updated position is that for the next 8 weeks, organizers should cancel or postpone in-person events of 50 people or more throughout the country. Anthony Fauci, the nation's top disease expert, appeared on major Sunday talk shows in order to preach that Americans hunker down and keep their distance from others to help limit the spread of coronavirus.
We expect to learn more about this means for Denver around 11 a.m. In the meantime, delivery drivers might become a whole lot busier.
— Jim Hill
6:55 a.m. — The ski industry is overtaken by closures
The weekend's biggest news was related to one of Colorado's economic drivers: the ski industry. On Saturday, Vail Reports announced it was shuttering it's North American resorts temporarily. Gov. Jared Polis later issued an executive order to close ski hills for a week to limit the spread of coronavirus.
The ski train out of Denver's Union Station also followed suit. The train ended service early after the Alterra Mountain Company, which operates Steamboat Springs and Winter Park, announced that they would shut down all North American resorts until further notice. The closures and the end to ski train service began on Sunday.

Amtrack canceled westbound service scheduled for that morning but allowed one eastbound train to transport customers who already arrived at Winter Park. The regular end to the ski train season was to be March 29.
— Natalia Navarro
6:35 a.m. — Here's were cases stand as this week starts
New cases in Colorado were announced over the weekend. As of Sunday afternoon, there are 131 presumptive positive cases across 17 counties. On Sunday, the Colorado Department of Public Health and Environment announced that the Centers for Disease Control and Prevention is no longer performing confirmatory testing. The state lab has tested 758 people since testing started on Feb. 28.
There has been one death, a female in her 80s from El Paso County.
You care.
You want to know what is really going on these days, especially in Colorado. We can help you keep up.  The Lookout is a free, daily email newsletter with news and happenings from all over Colorado. Sign up here and we will see you in the morning!