Colorado Coronavirus Updates For April 7: Closures, Testing, Cases And More
This post collects all of our updates and reporting on the coronavirus in Colorado for Tuesday, April 7, 2020. You can find our latest updates for Wednesday here. Our original play-by-play of reporting continues below.
---
6:12 p.m. — Nearly 100 small towns in Colorado held elections today. They had to get creative to do it
Ninety-nine towns and cities across Colorado held local elections today — and some had to improvise a bit to get it done. 
The Arapahoe County town of Foxfield's regular polling place, the fire station, is closed to the public right now in an effort to protect first responders from being exposed to COVID-19.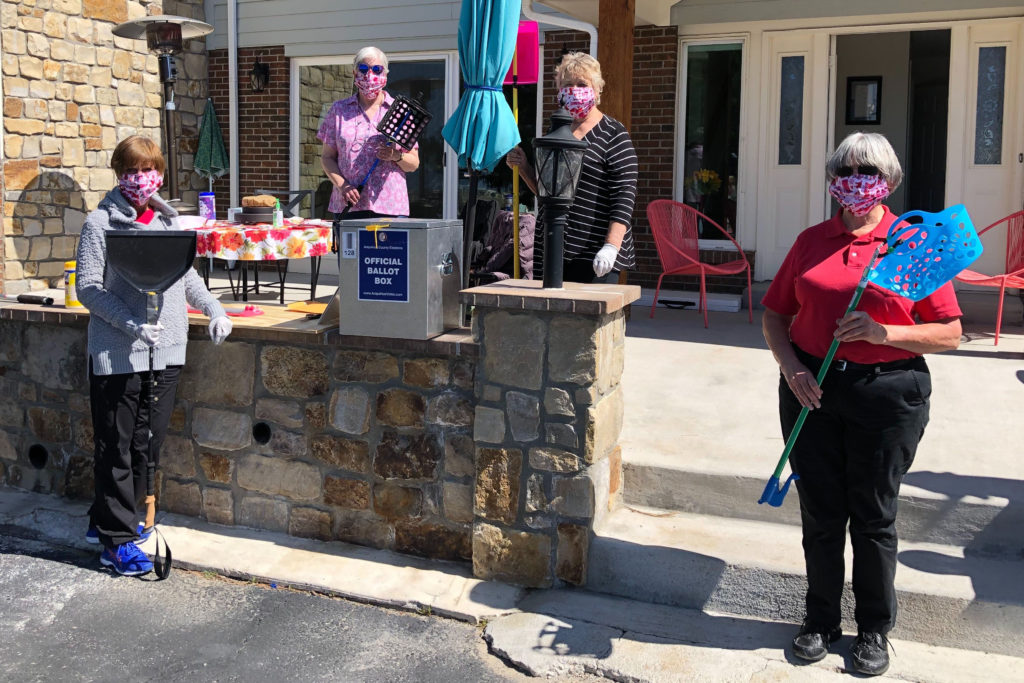 Instead, the town of 800 set up a drive-through vote center in a resident's driveway. 
"We created what we call 'reachers' — baskets on polls — that we [use to] hand the paperwork out and they hand it back in, so we can maintain our social distancing," Town Clerk Randi Galliway said.
Galliway would have rather delayed the election, but that would have required a law change by the state legislature, which is currently on hiatus because of the pandemic. Home-rule municipalities do have the power to set the date for their elections and some, like the Eagle County town of Gypsum, did choose to delay several months.
During statewide elections, clerks are required to mail ballots to all registered voters. But smaller local elections are often still conducted through polling places, with mail ballots only going to those who request to vote absentee.
Election processing may also take longer for this election. Galliway plans to let ballots sit for several days before tallying them, in the hope that any viruses on the paper will be inactive by the time they're processed. Staff will also wear gloves and take other hygiene precautions.
Many of the communities voting today are electing their local leaders. Three, Elizabeth, Ordway and Wiggins are also conducting recalls. 
Around Colorado, a dozen rural communities are asking their voters for higher sales taxes, and a few others are considering taxes on lodging and tobacco. Six small towns will also vote on whether to allow marijuana stores and cultivation facilities. 
Among the more unusual ballot items, voters in Rangley on the Western Slope will decide whether to continue fluoridating the town's water. In southwestern Colorado, Dolores is considering whether to allow off-highway vehicles on some public streets.
— Andrew Kenney
5:59 p.m. — At Denver Public Schools, school's back in session, online
Jessica Erickson no longer has a stick of chalk or a Sharpie in her hand when she teaches.
Instead, she's cradling her 3-month-old baby girl as she does a live Google video session with her students.
For the district's 92,000 students, Tuesday was the first day of remote learning after a three-week break. Erickson said her staff at Smith Elementary has been communicating about the plan of action for today and the rest of the school year since the school closures were announced.
Read the full story on Denverite.
— Jenny Brundin
4:35 p.m. — This was a tough photo assignment, but darn it, somebody had to do it
"A state of darers, dreamers, and doers suddenly boxed in by four walls, a floor and a ceiling," thanks to coronavirus, Gov. Polis said last night. "We all want a timeline. When will this nightmare be over?"
Well, along the South Platte River and into Chatfield State Park today, under an impossibly blue sky and temps in low 70s (hello, April!) some Coloradans had their own timeline. It wasn't totally deserted, but it sure was quiet.
— Hart Van Denburg
4:04 p.m. — The latest coronavirus numbers
There are now 5.429 confirmed cases of COVID-19 in Colorado, an increase of 257 from yesterday, according to the latest numbers from state health officials.
More cases have been hospitalized across the state, growing from 994 to 1,079 since the day before.
Twenty-nine more people have died due to COVID-19. Colorado's total is now 179.
There are now 44 outbreaks in residential and non-hospital health care facilities. We have more on how the state is grappling with those outbreaks among vulnerable populations here.
The state has tested at least 28,094 people.
— Alex Scoville
3:23 p.m. — UCHealth has treated a coronavirus patient with plasma, the first in the state to do so
One of the most talked about possible treatments for COVID-19 is using a transfusion of the plasma from a patient who has recovered.
UCHealth University of Colorado Hospital announced Wednesday it had done just that with a coronavirus patient, making it the first hospital in the state to do so.
Plasma from a recovered person theoretically works on COVID-19 patients because their body developed an immune response to the disease, and their plasma now contains antibodies. Those antibodies help fight off the virus. This is how vaccines work.
While plasma treatments for COVID-19 are exciting, they are not yet approved by the FDA.
"We know from previous outbreaks of infection, that convalescent serum (plasma) might have helped people," UCHealth infectious disease expert Dr. David Beckham said. "We don't know if this is true for COVID-19 patients yet, but we are hoping that we can provide this and obtain it relatively quickly, and then distribute it quickly to patients who are sick."
People who have recovered from COVID-19 and are interested in donating plasma can check with blood banks at the Red Cross, the UCHealth Garth Englund Blood Center in Fort Collins, Children's Hospital Colorado and Vitalant. They must meet these requirements:
Documented proof of prior COVID-19 disease
Negative test proving recovery
Be symptom-free for at least 14 days
— Alex Scoville
3:02 p.m. — Coronavirus temporarily closes Brown Palace Hotel to guests for the first time in 128 years
First, the pianos went quiet. Now the famed Brown Palace Hotel in downtown Denver has stopped hosting guests.
A sharp drop in bookings because of COVID-19, the respiratory disease caused by the new coronavirus, prompted the hotel to stop renting rooms, said general manager Nick Moschetti.
"Our demand has really dwindled to almost nothing," Moschetti said. "We tried over the last few weeks to lower rates and capture whatever demand we could in the downtown market."
Moschetti is aiming to reopen the inn June 1, but said it could happen sooner — or later.
— Dave Sachs
3 p.m. — Denver Health asks hospital staff to use paid time off and reduce hours due to COVID-19
Denver Health is asking hospital staff to consider using paid time off, reduce hours or take leave without pay as the hospital braces for the financial fallout from the novel coronavirus pandemic, according to an email obtained by Denverite.
Denver Health CEO Robin D. Wittenstein writes that "employees in areas that have seen a decrease in the need for their services, or who are unable to fulfill their normal job duties due to the situation," should consider using PTO, reducing hours or taking leave without pay. It doesn't specify certain positions or jobs.
Read the full story on Denverite.
— Esteban L. Hernandez
2:53 p.m. — Howl at the "super pink moon" tonight
It may sound like a "Sailor Moon" character's special power, but the super pink moon is real, and it peaks — and peeks — Tuesday night.
April's full moon, known as "the pink moon" is expected to be the largest full moon this year. The moon won't actually be pink. The moniker is linked to the color's association with spring.
Learn more about tonight's astronomical treat here.
— Taylor Allen
2:08 p.m. — The National Western Center will help ~600 men experiencing homelessness social distance in Denver
Up to 600 men experiencing homeless will be able to social distance like everyone else during the coronavirus outbreak at a large shelter that will be erected at the National Western Center complex in Denver's Globeville neighborhood, Mayor Michael Hancock said Tuesday.
The announcement comes a day after lawmakers representing the city asked Gov. Jared Polis for the assistance of the National Guard in setting up a new shelter. The guard will not be involved with the Western Center project, but Hancock says he understands.
"They're going to be pulled in a lot of different directions and we recognize that," the mayor said.
A similar shelter for women was also planned.
Get the full story on Denverite.
— Donna Bryson
12:04 p.m. — Driving is down; some auto insurers offer relief
Amid the coronavirus pandemic, driving around the country is down — meaning accidents are, too. In response, some auto insurers are giving back to their customers with refunds or discounts.
According to a Marketplace report, American Family Insurance and Allstate have both so far offered relief to their customers.
Driving is down 35 to 50 percent across the country, Allstate CEO Tom Wilson told Marketplace.
Chief Operating Officer Telisa Yancy told NPR that American Family is acting "out of responsibility to our customers."
Allstate offered its customers a 15 percent rebate in April and May, while the smaller American Family is offering a flat $50-per-car refund to its customers.
— Daniel J. Schneider
11:43 a.m. — Colorado restaurant industry lost 150,000 jobs in first three weeks of March
The Colorado restaurant industry lost roughly $465 million in sales and more than 150,000 jobs during the first three weeks of March as social distancing put a freeze on dining out, according to the Colorado Restaurant Association.
About three-quarters of restaurant operators have already laid off employees and reduced the number of hours worked, while more than half anticipate doing so during the next 30 days, according to a survey conducted last month.
So far, just two percent of restaurants have closed permanently, but 14 percent said they are considering doing so over the next 30 days.
Forty-four percent of operators have temporarily closed, while 66 percent have changed the business model to off-premise only, the survey found.
— Sarah Mulholland
11:05 a.m. — What podcasts are you listening to? Tell us! On Instagram!
So, a few things.
First, do you like podcasts? If the answer is yes, we have a bunch of them you can listen to:
Next, what podcasts are you listening to? We've got a bunch of suggestions on our Instagram story, but we want to know which one's we're missing.
— Francie Swidler
10:27 a.m. — End-of-life planning and getting documents notarized
End-of-life planning is a difficult subject at the best of time, but as the novel coronavirus rages through Colorado, officials are urging people to make sure they have what they need in case a family member falls ill.
Specifically recommended are powers of attorney or Colorado's easy health care directive. A variety of other documents also help you direct your course of treatment before it begins and name people to speak for you if you are unable.
Taylor Allen has a lot more details and guidance here.
Bonus: Worried about getting legal documents notarized during the stay-at-home order? Fear not — that can be done remotely now thanks to a March 30 executive order from Gov. Jared Polis that is in effect through April 26.
The order temporarily suspends the requirement that people must be physically present for notaries to perform their functions and empowers the Secretary of State to set rules by which notaries can do their work remotely.
— Daniel J. Schneider
9:52 a.m. — Some changes to how things are working over at DIA
Denver's airport reported a 94 percent decline in traffic from March 30 through April 3, which is about 4 percent less than the previous week. Valet service will close permanently on April 10, and terminal trains will continue to run every 8 to 10 minutes instead of every 2 to 3 minutes. Find more updates below:
DEN has closed one of its six runways. With five runways available, DEN is able to handle current arriving and departing aircraft loads
The East Economy parking lot has closed to the public and is now being used for employee parking. This helps DEN eliminate some of the need for employee busing, encouraging social distancing
The North Security Checkpoint remains closed. The South Checkpoint remains open 24/7 and the A Bridge Checkpoint is operating normally from 4:30 a.m. to 6 p.m.
The bag check at the Transit Center is temporarily closed. The bag check on 75th Ave. near the Pikes Peak lot will close permanently on April 17
All airline lounges including the USO are temporarily closed except the United B-East Lounge
Many of DEN's concessionaires are making their own business decisions to close or reduce hours. An updated list is available here
The DEN Interfaith Chapel and Prayer Hall in the Terminal is closed
Final Approach is closed except for drive-thru services at Wendy's and Phillips66/Conoco
Need more Denver-specific updates? Check out the latest on how the coronavirus is playing out in the Mile High City over at Denverite.
— Ana Campbell
9:36 a.m. — Health care workers feel the outpouring of support
Health providers see the response to the coronavirus pandemic in Colorado as a communal one, what Dr. Richard Zane, chair of the Department of Emergency Medicine at the University of Colorado School of Medicine, calls "a very real esprit de corps." The state's hospitals "really are viewing this as the single most important thing our generation of providers will ever do," he said. "And there is little ambiguity that this is why we exist." 
That professional clarity comes even as providers show up to jobs that feel like brand-new positions.
"For many of us, we are doing entirely different jobs today. The work from a month ago seems like years," said Konnie Martin, CEO of San Luis Valley Health in Alamosa. "The amount of learning that an organization can do in a short period of time — so much new information to absorb, adjustments to make — the human capacity to adjust, learn and survive is incredible."
Ordinary residents are stepping up to help. Dave Ressler, who leads a hospital in one of the ski country communities hardest hit early on, said the Pitkin County community has offered food for staff and doctors, acquired supplies and PPE, made masks, and helped the hospital raise over $500,000 in donations to assist the COVID response.
"Our staff and physicians are heartened and inspired by these generous offers, the outpouring of support, and the many expressions of appreciation for our community," he said.
"On a personal level, I've appreciated every email, text, or social media message I've gotten," said Dr. Emmy Betz, an emergency room physician at hte University of Colorado School of Medicine. "And I love seeing homemade masks on community members, because it feels like they're in the fight with us, but also not taking real PPE away from us." 
Last Friday, dozens of people turned out to express their support for frontline health workers in Fort Collins. They showed up outside UCHealth Poudre Valley Hospital in cars, parked with the lights on, and six feet apart according to the dictates of social distancing. They greeted nurses and other frontline workers with cheers and posters reading "thank you" during the shift change. Some providers stood in windows inside waving and giving thumbs up.
"It just felt great that it made them realize, we know you're in there, we know what you're doing and we really love you and appreciate you because right now that's all we can do," said Pat Marotta, the Fort Collins resident who organized the effort. "I wish I can hug them and tell them how much we love them, but I can't because of what's going on. So we can go to the hospital and thank them. So this is our way of thanking them." 
It was an emotional moment for Carly Rice, a 23-year-old registered nurse who moved from Kentucky just eight months ago and has started her career in the midst of the worst pandemic in a century. She and a pair of co-workers walked out of the hospital and saw the posters, the people honking and blowing kisses and kids hanging out of the moon roofs of cars. 
"It feels weird getting the kind of attention that we're getting right now because usually, nursing isn't a job that on a daily basis people thank you and really show their support," she said. After 13 hours of being on her feet, she welcomed it. 
"I mean it was kind of surreal. It brought me and my other two coworkers, all three of us, to tears." 
— John Daley
9:00 a.m. — Neguse wants more help for smaller local governments
The cost of fighting the new coronavirus is taking a toll on city and county budgets across the state. Democratic Rep. Joe Neguse has introduced a bill that would provide $250 billion in stabilization funds for local governments struggling with the COVID-19 response.
In particular, it would help the small- and mid-sized communities unable to access stabilization funds for local government in the $2 trillion CARES Act that Congress passed in March. Only cities and counties with populations over 500,000 are able to get those dollars.
Neguse says that leaves out many hard-hit Colorado communities, including Boulder and Eagle County, in his district. 
"Like their larger neighbors, these smaller counties, cities, and towns have faced enormous costs while responding to the COVID-19 pandemic," Neguse said. "We must ensure each of our communities receives direct stabilization funds to address the outbreak and recover when this public health emergency has passed."
He also wrote to House leaders requesting the 500,000 population cap be removed, as well as additional local funds be approved, in any future coronavirus stimulus bill. Congress and the White House are eyeing a fourth possible coronavirus stimulus package.
— Caitlyn Kim
8:23 a.m. — 😍📷
8:04 a.m. — Can'd Aid sends water to aid the Navajo and Hopi
Water is at a premium in the southwest, even more so as the spread of the novel coronavirus hits the Navajo Nation and the Hopi Reservation. Can'd Aid, a Longmont-based nonprofit, notes that both are extreme food deserts with only 10 grocery stores on Navajo land to serve around 180,000 people and just a single store on Hopi land for 3,000 people.
Drinking water is often in the same category as groceries for these communities.
"The communities that are especially susceptible at this time have a high number of people with underlying health issues caused by abandoned uranium mines," said Jessica Stago, Director of Native America Economic Initiatives at the Grand Canyon Trust, in a released statement. "They live in very rural areas making it difficult to access healthcare and basic necessities and they rely on water resources that are used community-wide, increasing the risk of exposure. We are trying to deliver food and water to these families to reduce these risk factors and stop the spread of COVID-19."
Can'd Aid, alongside Oskar Blues Brewery, Ball Corporation and Coyote Logistics have sent 50,400 cans of water to the Navajo & Hopi COVID-19 Relief Initiative. Additionally, they are delivering water to the Food Bank of the Rockies.
— Jim Hill
7:38 a.m. — State continues to watch for outbreaks at nursing homes
Colorado has reported 41 outbreaks of COVID-19 at residential and non-hospital health care facilities. At a Monday briefing for the media, the state said it's taking some steps to try to curb those outbreaks.
Doctor Eric France, the chief medical officer for the state health department, said more official site visits to nursing homes and long-term care facilities are underway.
"In particular, looking at infection control and making sure these facilities are learning and … and where they should be when it comes to their practices," he said
France said the state has also looked through records to find any facilities that have been flagged for infection control violations over the last 3 years and therefore may be at higher risk.
— Corey H. Jones
7:00 a.m. — "Stay Home" order extended to April 26
In a statewide televised speech on Monday, Gov. Jared Polis acknowledged that the spread of COVID-19 has slowed, but called on residents to continue to keep social distance and to wear homemade face masks when running essential errands allowed under his order.
He said he shares the public's frustration with the economic havoc the isolation measures have caused.
"But if the choice is between a temporary shutdown and a catastrophic loss of life, the choice is clear," he said in his speech.
The initial stay-at-home order was set to expire April 11. The governor said if people are diligent about staying home and slowing the spread of COVID-19, it may be possible to lift the order earlier.
Polis will participate in a statewide town hall today. If you have questions for the governor, you can submit them here.
— Megan Verlee, Associated Press
6:48 a.m. — Where cases stand this morning
Colorado's social distancing efforts may be starting to slow the spread of coronavirus. The number of positive cases is currently doubling every six days, down from every couple of days during parts of March.
As of Monday night, there are 5,172 known positive cases in Colorado and 150 deaths. Nine-hundred-and-ninety-four have been hospitalized.
In his address on Monday night, Gov. Jared Polis called the slowing "remarkable" and urged Coloradans to continue doing their part to avoid catching or spreading the disease.
— Megan Verlee, Jim Hill
You care.
You want to know what is really going on these days, especially in Colorado. We can help you keep up.  The Lookout is a free, daily email newsletter with news and happenings from all over Colorado. Sign up here and we will see you in the morning!