Colorado Coronavirus Updates For April 30: Reopenings, Testing, Cases And More
This paragraph collects all of our updates and reporting on the coronavirus in Colorado for Thursday, April 30, 2020. You can find Friday's updates here. Our original play-by-play of reporting continues below.
---
6:38 p.m. — What's worrying teens about coronavirus? Mostly their families' health
Teens were stressed out before the pandemic. We've been covering the strain they feel from cell phones, school, and even the existential dread of climate change in our series Teens Under Stress. So how are they now? We got four high school students who have been a part of the series on the phone for a conversation on Colorado Matters.
Online school, losing after-school jobs, and canceled sports seasons and milestones have been tough. 
Olivia Moench, 17, is from Fort Collins.  She said, "I think I'm just mainly missing the community I had at school. Especially in my student council, we had a really close-knit bond and planning events. I really just miss that group of people. And you can do these virtual meetings, but it's just not the same. And in my karate dojo, we have these classes and I haven't been able to see those people and have the same level of interaction that we had before."
They're also worried for their family's health. Rodrigo Villalobos, 17, is a junior from Denver. His parents are both essential workers.
"It scares them because they don't want to get sick, but they kind of have to work. My mom, she works as a cleaner. She works in really crowded areas because she cleans a lot of apartments. She's actually really scared of getting sick, and they're also both scared of getting hurt on the job because they don't want to have to go to a hospital for any other reason. We all are kind of holding our breaths at the moment," he explained.
But the teens we talked to are gleaning hope from people who are banding together to sew masks or even share dance classes on Instagram, and from looking forward to seeing their friends and playing sports again.
Listen to the whole conversation here…
— Avery Lill
5:59 p.m. — Mounted Color Guard parades through Fort Carson neighborhoods to lift morale
With families on Fort Carson Army Base just as confined as those across Colorado, Fort Carson is offering a new form of diversion. Soldiers on horseback will ride through residential parts of the base on Tuesdays and Thursdays for at least the next few weeks.
The Fort's Mounted Color Guard consists of 21 soldiers that normally take part in nearly 200 military ceremonies and community events each year, such as parades, rodeos and holiday activities. 
Captain Michael Quintana is in charge of the guard. He said since their regularly scheduled events aren't taking place right now due to coronavirus closures, the twice-weekly rides give families on base a chance to see the horses.
"This is a really great opportunity for the kids to get out of the house, in their front yards. A lot of them had sprinklers out and pools set up and everything. So it's really a community event," he said of the first ride, which took place today.
Families are asked to stay 12 feet from the horses during the rides. A truck follows the riders displaying a banner promoting a website of COVID-19 related information for the base.
— Dan Boyce
4:20 p.m. — Hospitalizations drop in latest coronavirus report
The number of Coloradans hospitalized by COVID-19 fell to its lowest point in nearly a month.
The state Department of Public Health and the Environment reported that 756 people are hospitalized statewide with the coronavirus. That's the fewest since there were 739 hospitalized on April 3. Another 210 patients are hospitalized and being monitored for symptoms similar to coronavirus in cases not yet confirmed.
The number is based on reports from 88 percent of Colorado hospitals.
The number of facilities anticipating a shortage of equipment to protect healthcare workers from COVID-19 fell to four, the smallest number in at least a week.
The state reported that 777 people have now died in Colorado from COVID-19.
— Chuck Murphy
4:10 p.m. — Overcrowding has caused damage at some outdoor areas in metro Denver
Because you can only binge so much TV and because spring has sprung and because we live in Colorado, more people are flocking to the great outdoors. Now three metro area counties are urging visitors to respect and protect their public lands.
Officials with parks and open space agencies in Denver, Boulder and Jefferson counties have reported more visitors than usual and that the extra foot traffic has caused increased damage to trails and natural resources. Social distancing guidelines have resulted in more people walking off designated trails, officials said.
"Open space rangers are encountering more people in wildlife closure and other sensitive closed areas, which can cause significant disturbances to local wildlife," according to a joint statement.
At the same time, efforts to fight the spread of COVID-19 have led to a drop in tax revenue. And officials said that will likely mean less maintenance being done at these sites.
— Corey H. Jones
2:32 p.m — Denver cleared an encampment today at Champa and 22nd
The city's practice, since the new coronavirus outbreak began in mid-March, has been to clean encampments but not clear people from them.
Nancy Kuhn, a spokeswoman for the city, said the cleanup was prompted by concern that the public right of way was being blocked and that health and safety were being undermined as the area became "increasingly hazardous."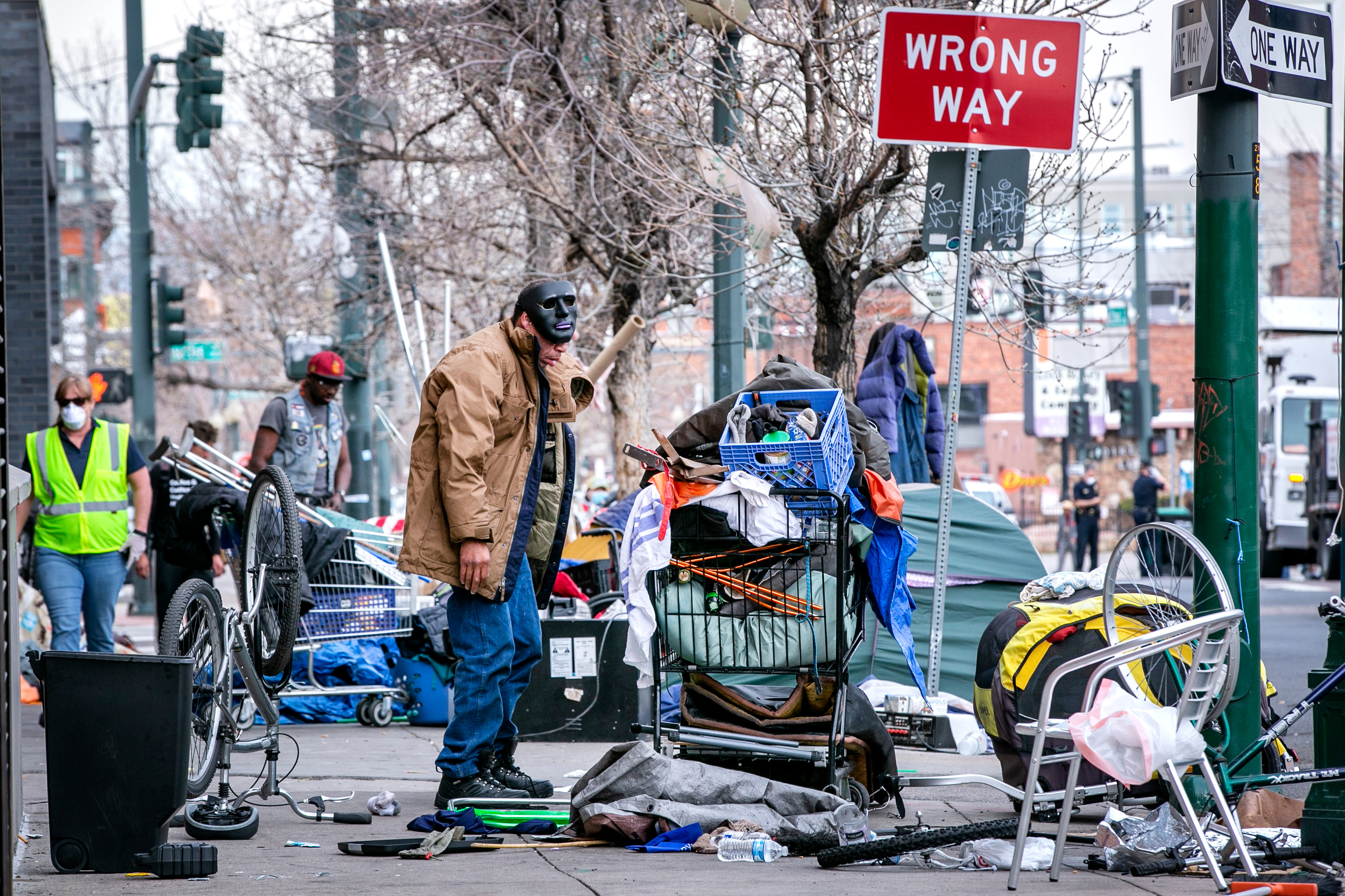 Hart Van Denburg/CPR News
Denver authorities and city workers descended on several square blocks near Champ-a and 22nd streetson April 30, 2020, to clear out a tent city that had grown over the past few weeks.
Hart Van Denburg/CPR News
Petar talks with Denver police policers on 22nd street. Denver authorities and city workers descended on several square blocks near Champ-a and 22nd streetson April 30, 2020, to clear out a tent city that had grown over the past few weeks.
Hart Van Denburg/Colorado Public Radio
Back From Broken guest Dana Smith at Phoenix in Denver, Colorado, on April 29, 2020,
Hart Van Denburg/CPR News
A man comes to the window of his tent. Denver authorities and city workers descended on several square blocks near Champ-a and 22nd streetson April 30, 2020, to clear out a tent city that had grown over the past few weeks.
In an email, Kuhn said the city was asking people to move Thursday "so that we can thoroughly clean. What we have seen, historically, is that people will move to the next block during our cleanings and come back when the work is complete."
You can read more at Denverite and see more pictures here.
— Donna Bryson, Hart Van Denburg
1:15 p.m. — In the age of coronavirus, no one wants to be on a crowded bus
RTD, the state's largest transit agency, is running more buses on still-popular routes and adding more train cars to allow for social distancing. Drivers are also able to skip stops if their buses are too full to take on more passengers. The agency has also limited passenger counts on most buses to 15, though some drivers think that should be lowered to 10.
RTD General Manager and CEO Paul Ballard said he's been in touch with business leaders in downtown Denver to keep a pulse on when workers will return in significant numbers. That could happen sometime in mid-May, he told the RTD board earlier this week and will be key in deciding when to reinstate cut service. 
"We want to make sure that we have enough operators of the buses and the trains to actually staff the service that we are bringing back," he said. 
RTD has developed a plan on how to reinstate service that uses a phased approach. If certain milestones are met, like a sustained decrease in the number of COVID-19 cases, an increase in the availability of tests and effective contact tracing by public health agencies, RTD could reinstate front-door boarding and fares by June. 
— Nathaniel Minor
Noon — Experimental drug test in Colorado shows promise
In a clinical trial, patients who received Remdesivir recovered in 11 days on average, compared with 15 for those who got a placebo. The drug stops the virus from replicating in the body. It has not yet been approved by the Food and Drug Administration for wider use.
"It's very exciting because if the data support that conclusion then it could be that Remdesivir will be the first proven effective treatment for COVID-19," said Dr. Thomas Campbell at UCHealth University of Colorado Hospital, who is leading one of the drug trials.
The results also suggested that it may spare lives, with a 3 percent decrease in the mortality rate of patients who received the drug.
— Claire Cleveland
10:47 a.m. — Good news for Coloradans still seeking unemployment
Note: This is only for people who need help filing a new claim. Read more about it here.
10:13 a.m. — Congressional delegation asks for more National Guard funding
The entire state congressional delegation signed a letter that was sent to President Donald Trump to ask for more funding of the Colorado National Guard to fight the pandemic.
Without an extension, the work of the National Guard could end in the state as early as May 15, according to a release from the office of Democratic Rep. Jason Crow.
— Jim Hill
9:08 a.m. — Summer internships go virtual
As some workers head back to the office, many summer internships are charting a new course online. Many education, government and tech jobs will offer their first-ever fully virtual work experience for college students.
"There are those companies who have figured out how to do this and modify the internship so students still have an opportunity to get the credit hours and get the revenue," said Sarah EchoHawk, who heads up the Colorado-based nonprofit American Indian Science and Engineering Society.
EchoHawk teamed up with other groups to write an open letter to tech companies. It encouraged organizations to delay internships to next summer or move them online.
— Grace Hood
7:33 a.m. — Polis says the state's response to COVID-19 can become more targeted as it begins testing more
Colorado has nearly doubled the size of its team working to trace and contain the coronavirus. And the state has also developed an online tool where Coloradans can report their symptoms. Both will help officials identify potential outbreaks faster.
"Meaning, 'oh my goodness, there are 11 cases that are connected to this office building.' Rather than risk locking down the entire city or county or economy, we need to lock down and isolate those who work in this particular building because they might be at increased risk," Polis said.
The state hopes to test up to 8,500 people a day by the end of May.
— Nathaniel Minor
6:59 a.m. — US unemployment claims top 30M
More than 3.8 million laid-off workers applied for unemployment benefits last week as the U.S. economy slid further into a crisis that is becoming the most devastating since the 1930s.
Roughly 30.3 million people have now filed for jobless aid in the six weeks since the coronavirus outbreak began forcing millions of employers to close their doors and slash their workforces.
Applications for unemployment assistance in Colorado fell for the second week in a row. During the week that ended on April 25, claims fell to 38,367, down 43.3 percent from the previous week.
As of April 18, 171,434 total people in Colorado were receiving unemployment benefits. That represents 6.4 percent of all eligible employees in the state.
— Associated Press
6:31 a.m. — Mesa County gets waiver for 'safer-at-home'
Mesa County has been cleared to start reopening houses of worship, restaurant dining rooms and fitness centers. The state's public health department has officially issued a waiver loosening restrictions in the county further than the state otherwise allows.
"This plan allows us to begin a localized, phased approach that will be implemented as we continue to work to ensure residents of Mesa County are protected from COVID-19," said Jeff Kuhr, executive director of Mesa County Public Health in a released statement. "We're asking that you stay the course; keep physical distancing measures in place, wear a face mask, and take precautions."
The openings come with a lot of restrictions.
People will be asked at the door whether they have any symptoms of COVID-19 and turned away if they answer yes. Restaurants and fitness centers can only serve up to 30 percent of their usual capacity and will have other social distancing measures in place. Mesa County has only had 44 positive COVID-19 cases and currently has enough health care capacity to accommodate some increase in infections.
— Megan Verlee
Editor's Note: This update originally misstated the number of cases in the county and has been corrected.
6:09 a.m. — Number of businesses seeking to operate in Colorado drops as the pandemic slams the economy
New business filings for the state declined 5.6 percent during the first quarter, according to researchers at The University of Colorado Boulder Leeds School of Business. On top of that, applications for trademarks dropped more than 15 percent.
According to the report, the declines point to a bleak employment picture for many months to come. Colorado's jobless rate exceeded the national average last month. The state's reliance on tourism and the energy sector is fueling unemployment. In fact, new business filings started to slow in February — prior to any COVID-19-related lockdown — due to turmoil in oil prices.
The slide accelerated dramatically in March when social distancing took effect.
— Sarah Mulholland
You care.
You want to know what is really going on these days, especially in Colorado. We can help you keep up.  The Lookout is a free, daily email newsletter with news and happenings from all over Colorado. Sign up here and we will see you in the morning!