East Troublesome Fire Moves Towards Estes Park; Sheriff Confirms Two Deaths In Grand Lake
Where things stand right now, with the East Troublesome and Cameron Peak fires
Evacuation orders for the east side of Estes Park were upgraded to "mandatory" on Saturday morning, as the Larimer County Sheriff's Office advised there is "immediate and imminent danger" for residents and businesses from the East Troublesome fire. But as the day wore on, Estes Park survived those warnings.
"Crews did strong work and kept the fire within the Park road system," wrote the Estes Valley Fire Protection District on Facebook just after 5 p.m. "There have been no impacts to the Estes Valley as of writing this." But they warned the fire is not contained, and crews plan to be back at work on Sunday despite the cold weather forecast.
The sheriff's office also ordered new evacuations along Highway 34 from Estes Park to Drake on Saturday morning. The road stayed open going east to allow people to evacuate. Highway 36 going south from Estes Park was also open to allow people to leave, but the sheriff's office anticipated closing both 34 and 36 as soon as everyone was evacuated.
Shelter sites are open in Loveland and Blackhawk, and they have been taking in evacuees from the East Troublesome and Cameron Peak fires, and doing COVID screenings on-site.
Anne Hivley fled her home in Grand Lake and stayed in Idaho Springs for a few days before going to the Red Cross site at the Isle Casino in Blackhawk. On Saturday morning, she said the last five days have been scary.
"The evacuation was horrible. It was like a horror movie, actually. We had about 15 minutes to grab what we needed and we left."
Her advice to other people now is, "Pack a bag and prepare for the worst all the time. Just have it ready."
Rich Johnson and his grandson Anthony left their home in Estes Park on Friday, after helping other people evacuate first. The Johnsons ended up in Blackhawk on Saturday, and Rich Johnson worried what would become of his house. "It'll be one of the first to go for sure, when [the fire] comes down the mountain," he said.
Anthony Johnson worried about his future, having just started a new job in Estes Park a few months ago. "We're laying all the fiberoptics, the infrastructure for the new internet. So I'm just hoping I have something to go back to on Tuesday."
That future looked uncertain on Saturday morning, when Paul Delmerico, who has been helping manage the Cameron Peak fire and has taken over the part of the East Troublesome near Estes Park, said the fire was just west of the YMCA in town, and just west of the popular Bear Lake area in Rocky Mountain National Park.
Delmerico finished the briefing saying, "We're going to do everything we can with our folks to ensure that we try to deflect the fire away from Estes Park." By Saturday evening, it appeared they had done so successfully.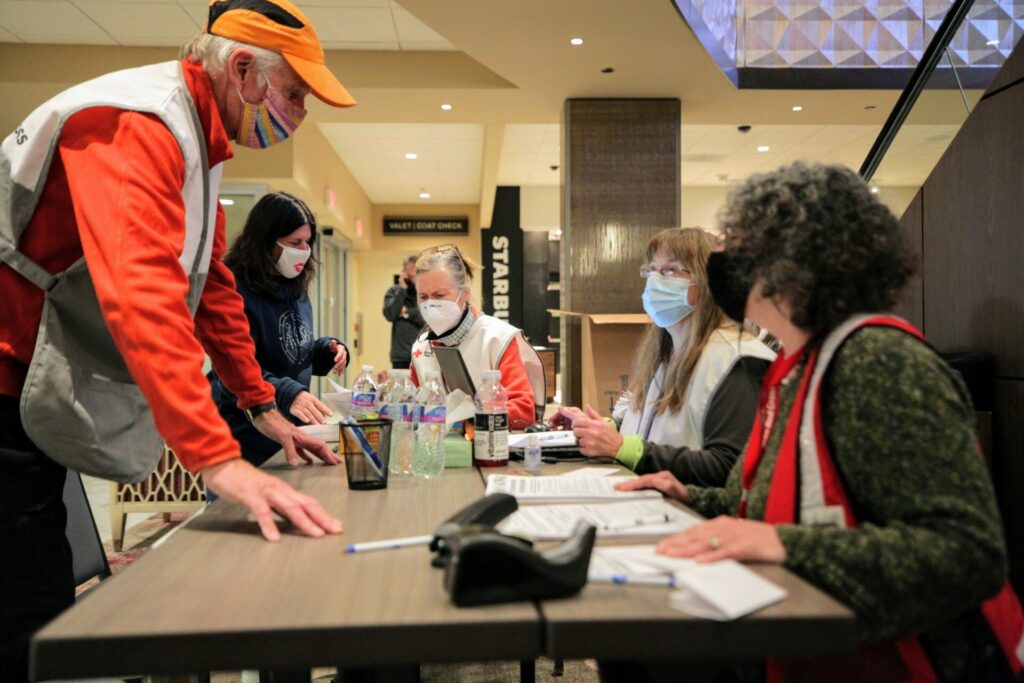 Snowy and icy conditions are expected to move in this evening, and will complicate efforts to evacuate people, assess damage and fight the fire.
Late Friday, the Grand County Sheriff's Office confirmed an elderly couple, Lyle and Marylin Hileman, died in the East Troublesome fire. The couple chose not to evacuate their home in Grand Lake, according to the sheriff's office and the couple's family.
The sheriff's department could not confirm other reports of the extent of structural damage or loss of life. But they did indicate that structures on the east side of Grand Lake have not sustained much if any damage.
On the west side of the fire, firefighters are focused on containing the southern edge closest to Granby and Hot Sulphur Springs. They expect containment numbers to jump up on Sunday.
Meanwhile, on the north side of the Cameron Peak fire on Saturday morning, the state department of transportation reopened Highway 14 between the Fort Collins area and Walden. It had been closed for two months. Even though it's reopened, CDOT encourages people not to use the road unless they have to.
CDOT Region Transportation Director Heather Paddock in a statement, "I know people are curious about the area and the fire, but there will be plenty of time to return to the area when conditions are better.
"We wanted to open this road to allow access for people who need this travel option right now as other routes have closed. There is still a lot of work to be done here, and the fewer people up there right now, the better it will be for everyone."
The Calwood fire burning north of Boulder also showed promising signs on Saturday. There are no new structures damaged and no one reported missing. It is now 66 percent contained, and the management team has contained about half of the northern flank, said Mike Wagner with the Boulder Sheriff's Department.
CPR's Hayley Sanchez contributed reporting to this story.