As The Delta Variant Continues To Spread Among Colorado's Unvaccinated, Some Wonder If Vaccine Mandates Could Ever Happen — And If They'd Work
Richard Zane has had it.
"The Delta variant is ripping through under-vaccinated communities, and health care is tired. I'm telling you, health care is tired," said Zane, a medical doctor who leads the emergency department at UCHealth University of Colorado Hospital, the state's biggest and busiest hospital, as well as the facility that's cared for more COVID-19 patients than any other.
But recognizing the problem is a long way from solving it. Zane is one of many in Colorado — particularly in health care — whose desire to see COVID-19 vaccines made mandatory wherever possible started as a nudge and is now becoming a push. 
"It's a matter of are we going to put this thing behind us because we have the tool to do it?" Zane asked. "Or are we not?"
The state's COVID vaccination percentage is stuck at 54 percent of the population now fully vaccinated. That figure is now growing only incrementally by about 50,000 per week — a number that has been mostly falling weekly since the start of July. Roughly 2.6 million Coloradans, including children under 12 who aren't yet eligible to get the vaccine, remain unvaccinated.
At the same time, 39 of Colorado's 64 counties now meet the CDC's definition of having "high" or "substantial" community transmission of the virus, ranging from Front Range counties like Larimer, Adams and El Paso to Mesa, Summit and Pitkin. The federal Centers for Disease Control and Prevention on Tuesday recommended that even vaccinated residents in those places return to wearing masks in indoor public spaces to prevent further transmission.
The number of new cases and the percentage of positive COVID-19 tests — almost all of them among unvaccinated residents — are growing each week in the state, from 3,226 reported statewide in the week of July 11 to 4,016 reported last week. The numbers are just a fraction of the 37,408 weekly cases uncovered at the winter peak of the pandemic, showing the effectiveness of vaccines in all but eliminating the threat of the illness for the vaccinated.
Why aren't people getting vaccinated? The reasons are varied, and complex
The reasons people choose not to get vaccinated are varied. Social networks are awash with misinformation about the vaccine. Recent nationwide polling from the Kaiser Family Foundation finds unvaccinated adults give a variety of explanations: the vaccine is too new (53 percent), worried about side effects (53 percent), just don't want to get the vaccine (43 percent), don't trust the government (38 percent) or don't think they need the COVID-19 vaccine (38 percent).
In an analysis, the group found unvaccinated adults tend to be younger, people of color, Republican-leaning and less-educated than the vaccinated population. But the deep dive look found key differences in terms of intention.
"Adults who want to "wait and see" before getting vaccinated are more likely to be young and people of color, while those in the "definitely not" group are more significantly Republican-leaning and in rural areas," the report explains.
During a recent arts fair in Denver's City Park, a doctor and a patron of the fair had a telling conversation about vaccines. A woman named Tara Davis said she wondered about issues she'd heard about with the Johnson and Johnson vaccine.
"It just seems like they rushed it," Davis said. "But I understand that there's a rush for it. There was a need." 
Dr. Terri Richardson, a leader with the collaborative and a former internist with Kaiser Permanente Colorado, explained to Davis what she knows about the safety and effectiveness of the vaccines.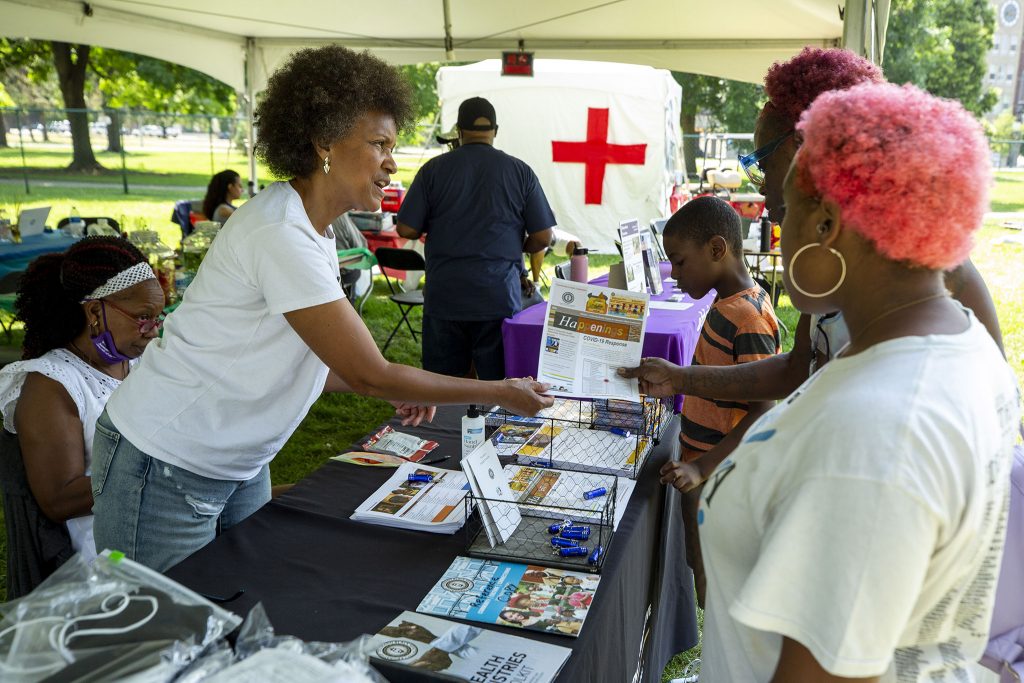 "They went through all the steps, you know, but they had more manpower. They had more money than ever committed to this," said Richardson.
Davis listened, and said, "I just ain't there yet."
Both vaccine hesitancy and vaccine refusal appear to be playing a role in rural Colorado. In Cheyenne County, on the eastern plains bordering Kansas, an emergency department physician at Keefe Memorial Hospital, Dr. Kurt Papenfus, was hospitalized with a bad case COVID-19 last fall, in a story that became widely known in the community. Despite that cautionary tale, Cheyenne County's vaccination rate is about 31 percent, roughly half the figure for many Front Range counties.
"The hospital (staff) is about 50 percent vaccinated," Papenfus said, via text. "I've encouraged getting vaccinated but there is a wary resistance to it. If the (Food and Drug Administration) were to formally approve the vaccination, it might help somewhat."
All 27 Colorado counties where fewer than 50 percent of eligible residents are vaccinated meet the U.S. Census Bureau definition of rural. But so does Colorado's southwestern San Juan County, where 94.7 percent of those eligible among the population of 589 have been vaccinated. It is the least populous Colorado county and has the state's highest vaccination rate.
"I believe the reasons for folks not to get the vaccine is personal choice and them not wanting the government telling them what to do," said Michelle Mills, CEO of the Colorado Rural Health Center.
Most government agencies and businesses are cautious to issue mandates, preferring other incentives (for now)
That leaves government and business leaders in a quandary. Will vaccine mandates simply harden opposition making it even more difficult to eventually reach a safer level of immunity, and forcing us back into another winter of mask mandates and localized lockdowns? Or would they push enough resistant people to get the vaccine to reduce caseloads to a more manageable level and allow the economy to stay open and life to return to normal? 
While a handful of other states and cities have moved increasingly towards mandating vaccinations where they legally can, Gov. Jared Polis and the state health department have continued to hope that incentives like gift cards will move more of the public to get the shot.
"These efforts remain the focus of the state's COVID response," said Polis spokesman Conor Cahill, in an email. "We expect as the FDA gives full authorization that many employers will consider similar policies to keep their workplaces safe and end this pandemic."
The city of Denver is taking the same approach. Strategic communications director Theresa Marchetta said the city is watching the Delta variant closely and monitoring its impact on infections and hospitalizations.
"We are constantly assessing whether we need to take additional steps to protect the public and not lose the progress we have made over the last few months. The best thing people can do right now is to get vaccinated," she said.
What hospital systems are doing
The lack of a government mandate puts the burden on businesses to make the choice. But even Zane's own health system is moving cautiously. UCHealth is now offering incentives to staff to get vaccinated, while still only gently warning of the possibility that they will become mandatory in late summer or early fall. 
More than six months after vaccines proven safe and effective at preventing severe cases of COVID-19 became widely available, just more than 8 out of 10 health professionals at UCHealth have gotten fully immunized, according to a spokesman. The system employs more than 26,000 people, plus thousands of additional contractors.
"Yes, I see mandates coming for employees," of UCHealth, said Zane, its chief innovation officer. "I think we've been pretty clear about it." 
Last week, Banner Health announced a mandate. The Phoenix-based system operates five hospitals, including one in Greeley, as well as clinics and other facilities in Colorado. Banner told employees being vaccinated for COVID-19 will be "a condition of employment."
To protect Banner patients and fellow employees, workers will be required to be vaccinated by November 1.
"With limited exceptions, all team members have until November 1 to be fully vaccinated," Banner said in a press release.
A spokesman declined a request for an interview. Banner also launched an employee incentive program, with 10 winners being chosen from fully vaccinated workers to get $10,000 each. The system employs 5,000 workers in Colorado.
Other big systems, like Denver Health and Kaiser Permanente Colorado, are still evaluating their options. Others said they were waiting until the FDA shifts one or more of the current vaccines from emergency use authorization to full authorization.
"Once a vaccine is FDA-approved, we will re-evaluate a possible mandate but are not currently planning to issue one," said Kevin Massey, communications field advisor with Centura Health.  In June, Centura announced it would give employees at all of its 17 hospitals a $500 bonus for getting the COVID-19 vaccine.
Massey said since the "appreciation bonus" was announced its vaccination rate among caregivers has continued to rise and is above 75 percent.
"We would like to reach at least 90 percent," he said, via email.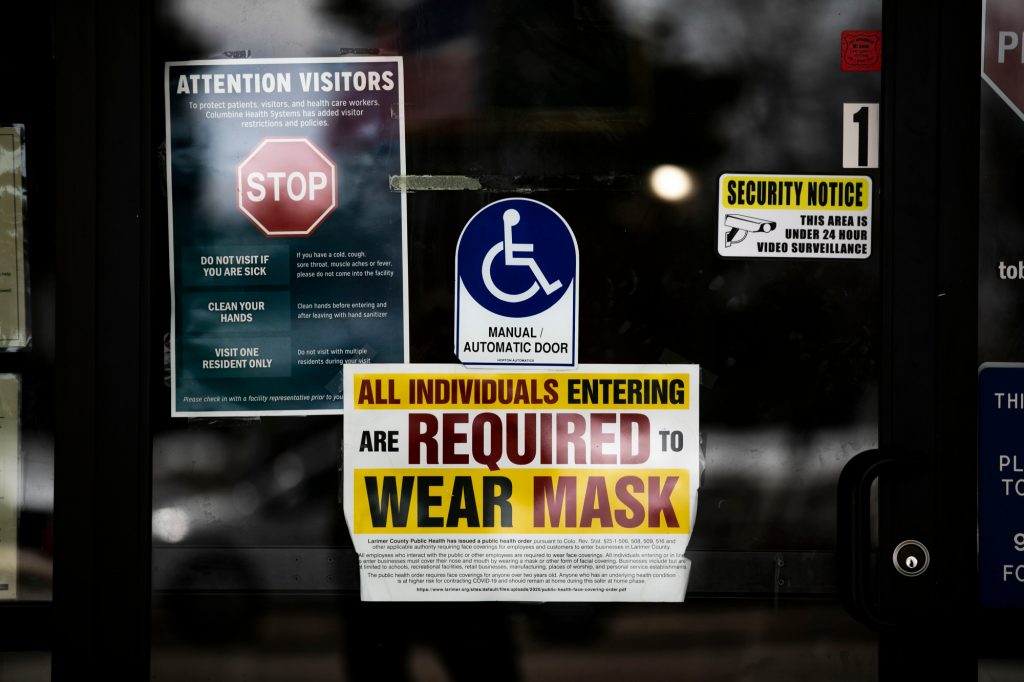 As the VA and others announce vaccine requirements, Colorado focuses on unvaccinated nursing home employees
On Monday, the U.S. Department of Veterans Affairs said it would require 115,000 of its frontline health care workers to be vaccinated against the coronavirus in the next eight weeks, a first for a federal agency. Its chief said he worried about the risk of veterans getting care at centers with low vaccination rates.
With vaccination rates slowing considerably, New York City and California announced vaccines would be required for public employees, with potential penalties if they fail to get their shots. 
All three said if they didn't get the shots, workers would have to get tested regularly.
Colorado's health department is now requiring unvaccinated nursing home workers to be tested more frequently. But even more frequent testing still leaves significant numbers of the people most vulnerable to hospitalization and death from COVID-19 — the elderly — at risk of daily exposure.
Some nursing home officials think Polis could and should take the burden off individual businesses by ordering health care workers, across the board, to get vaccinated.  
"I'm not a politician. I don't do anything in politics, but if I were somebody," such a decision could have a big impact, said Dr. Greg Gahm, a geriatrician and chief medical officer for Vivage Senior Living, which operates about 40 long-term care and assisted living facilities in Colorado. "I would think that this is a huge opportunity. I'm not gonna lose any votes. I didn't get Republicans voting for me the first time. And that's the biggest group that's against mandates and vaccines."
He said the move would put the governor "in the limelight," while prioritizing the health of the most vulnerable and the greater population. "I think it would send a strong message." 
Gahm said it would also benefit long-term care and assisted living facilities. Some national companies have adopted mandates, but many can't or won't. He said he'd back a statewide mandate for all health care workers, but not one just for long-term care facilities. In many, vaccination rates lag behind hospitals and other health care settings.
"We would love a mandate for all health care workers to be vaccinated. But if it's only nursing homes, (the employees who won't get vaccinated will) find another job and they'll leave."
In the third wave of the pandemic, Colorado nursing homes reported 1,118 nursing home deaths and the state for a time had the worst rate of death per occupied nursing home bed in the U.S., twice the national average, a CPR News investigation found. Those deaths were driven by an inability to keep the virus out of nursing homes, as it spread widely in surrounding communities, after the state's system for testing and contact tracing in the homes collapsed.
"It's a tricky issue," said Doug Farmer, the president and CEO of the Colorado Health Care Association, which represents more than 200 nursing homes and assisting living centers. Most health providers in Colorado would be all for it, but in some places, such a move could cause trouble, he said.
In more rural areas where employees are more likely to have "some philosophical issues around vaccination, they're really fearful" that they would "lose the 30 or 40 percent of the employees that are working for them now, that have elected to not get a vaccine."
In a tight labor market, "there's not a deep pool to draw from," he said. 
With expansive mandates looking unlikely, experts think 'the hodge-podge, local-first' approach will continue
A statewide requirement for all health care workers to be vaccinated could make all settings safer, Farmer said. "That to me is, you know, probably the most equitable direction to go," he said "but we're not there yet."
At least one longtime public health official thinks we never will be. 
"It'll never happen," said Dr. Mark Johnson, the president-elect of the Colorado Medical Society, the largest physician-based organization in Colorado. Johnson thinks Polis would never back it. "It's just too political." 
On Monday, almost 60 major medical organizations, including the American Medical Association and the American Nurses Association, called for mandatory vaccination of health care workers. The groups cited concerns about the highly contagious Delta variant propelling a new surge of coronavirus cases. In a statement, they called vaccination an ethical obligation for health care workers.
Johnson said he expected CMS to consider a similar position in the coming days, though he doubts it would influence the state to issue such a mandate.
And even if a mandate were issued by the state, it would cover just a fraction of the millions of people who are still declining the vaccine. That gives the virus a wide array of hosts as it mutates toward a day when it may evade the antibodies produced by current vaccines.
Several Colorado colleges and universities are now requiring COVID-19 vaccinations for students and staff, but neither health departments nor public K-12 school districts are requiring proof of vaccination for students 12 and older.
Johnson believes the hodge-podge, local-first approach of every county, every system, every business setting it's own course is likely to prevail. He predicts Polis will leave it up to different local entities and different organizations to decide for themselves.
"Mandates are complicated and tricky things. I think the first step is we've got to get this FDA approval," he said. "I don't think you can really support a mandate until the FDA has completely gone through their examination of all the data. And I know I'm not sure why it's taking them so long to tell you the truth."
It's not clear when full FDA approval will come.
Johnson laments that the voluntary approach, long on urging and encouraging, for the public good, and short on requiring the vaccine, has to date fallen short.
"It's sort of irritating. We as a country have been so wide open individualistic, that community is almost a bad word." 
Regardless, COVID variants will keep spreading
For his part, Zane worries about a way worse variant rearing its dangerous and deadly head, one that fully evades vaccines.
So he thinks it's time for the vaccinated to get the full benefits of their socially-conscious decision, and for the unvaccinated to be kept out of certain elements of modern life until they do. And they could be similar to what's already often required for the flu vaccine.
"It's pretty straightforward. Just follow the flu vaccine mandates. Health care, education, public service, airplanes, theaters, trains, buses, there should be vaccine mandates," Zane said. "And then the opposite should be true as well."
Zane fully endorsed a law approved by France's parliament Monday requiring a special health pass for domestic travel and for all restaurants and mandating vaccination for health workers. French President Emmanuel Macron said the moves were needed to avoid new lockdowns and to protect vulnerable people and hospitals, as infections spiked.
"He is not just mandating vaccinations for people, he's also making it very clear that if you're not vaccinated, you don't get to go to restaurants or cafes or cinema or museums," Zane said. 
Zane called not getting the vaccine, if you're able, a selfish decision that history will judge poorly.
"I've said this publicly and I've gotten a lot of hate mail for it, but I'll continue to say it publicly. I think that vaccination is a societal responsibility," he said. If one who can doesn't get their shots, "it's downright un-American, unpatriotic."
"It's not what Americans do. It's not how Americans behave."
You care.
You want to know what is really going on these days, especially in Colorado. We can help you keep up.  The Lookout is a free, daily email newsletter with news and happenings from all over Colorado. Sign up here and we will see you in the morning!