Pueblo's Comanche Coal Plant Is Closing Earlier Than Expected. Is Its Future With Nuclear, Or Renewables?
Colorado's coal country is preparing for the day coal-burning power plants are phased out for good. Communities are promoting tourist destinations, offering new job courses for workers and even converting the power stations to melt salt to store renewable electricity.
Some leaders in Pueblo, home to the state's largest coal-fired power plant, are thinking of going nuclear.
"We're looking at everything that would be considered clean energy, including nuclear," County Commissioner Chris Wiseman said. "I think the technology has changed in a way that we need to take a very hard look at it."
This is not the first time that Pueblo has raised the idea.
This time, it comes with a sense of urgency. Xcel Energy, the state's largest utility, announced earlier this year it plans to fully retire the Comanche Generating Station by 2040, three decades earlier than expected. 
Faced with a shortened deadline, Pueblo's leaders are plotting what the city will look like when it loses the largest source of greenhouse gas emissions in Colorado — and a significant source of local tax revenue.
County commissioners are excited about the potential of generating nuclear energy in the community. Other leaders, including Pueblo Mayor Nick Gradisar, are banking on other ways to power the local economy. 
"There's no reason why Pueblo can't be the renewable energy capital of the world," Gradisar said.
Pueblo is already installing other renewable power projects, but solar and wind alone can't replace Comanche's tax revenue.
Researchers say Pueblo is already moving in this direction, much of that due to Xcel's expiration dates for Comanche.
A 2019 study by the Colorado School of Mines suggested the city's shift to solar and wind could lower electricity costs and bring more private investment and jobs to Pueblo.
One of those projects is currently underway. Workers are installing hundreds of rows of solar panels on a wide expanse of land just south of the Comanche plant.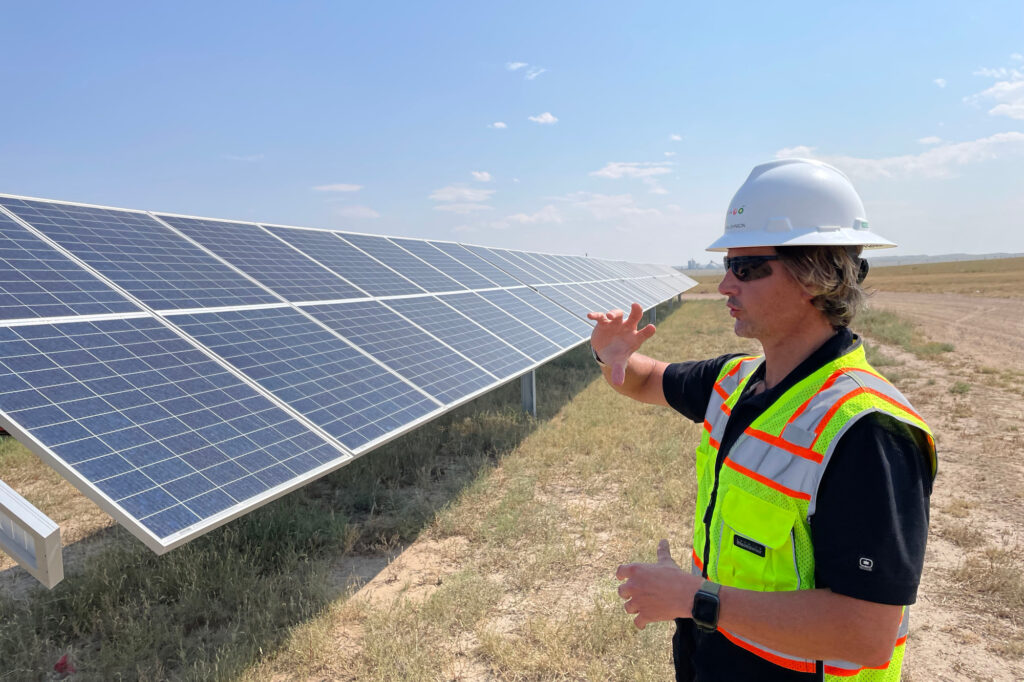 The Bighorn Solar project, operated by Lightsource BP, would provide 240 megawatts of power to the EVRAZ steel mill and pay $23.8 million in property taxes over 35 years, according to a company spokesperson.
That tax revenue is small in comparison to the Comanche site, which brought in $23.5 million for the county, city, school district and other public services in 2020 alone, according to Xcel spokesperson Michelle Aguayo. 
Replacing that revenue would take more than just wind and solar energy, Wiseman said.
"We need to have a lot of tools in our toolbag in order to be successful and compete in a world economy," he said.
There have been previous attempts to bring nuclear to Pueblo, but safety was and still is a concern for many.
NuScale, a nuclear energy company, spoke with city and county leaders in Pueblo about how it could use small modular reactor technology to repurpose a retired coal plant.
Wiseman also met with Don Banner, a local attorney who in 2011 had come to the county with plans to build a nuclear power plant on the outskirts of town.
Banner touted the project as a safe and efficient way to generate electricity throughout the day — unlike wind and solar — that would create enough jobs and tax revenues to support the county.
"Had they done it, Pueblo county would have been a leading county in the state by now," Banner said. "Ten years later, we would have had a nuclear power plant."
Deadly accidents and high-profile disasters like Chernobyl and Three Mile Island have helped make nuclear energy projects a flashpoint for public opposition.
Banner said his proposal attracted resistance from local residents and out-of-state protestors. The county board voted against the project a month after a nuclear plant was destroyed in an earthquake and tsunami in Fukushima, Japan.
There are other roadblocks — namely, a lack of political support and the cost.
Other Pueblo leaders are cautious of nuclear power.
Gradisar said he is worried the plant wouldn't provide any electricity to Pueblo, similar to the current arrangement with Xcel at Comanche.
State Rep. Daneya Esgar, who represents the area, called it "an idea of a few" and hoped it wouldn't gain traction.
Xcel, which operates two nuclear plants in Minnesota, is not currently looking to build one in Colorado, Aguayo said in an email, adding the ongoing discussions in Pueblo feel "premature."
Nuclear energy faces another practical hurdle: The cost. Nuclear plants cost billions of dollars to build, with costs rising as safety standards have tightened. 
Banner, now 76, said the only way to make nuclear energy a reality in Pueblo is strong political support. It didn't exist when he pitched his plan 10 years ago, and he questioned whether it exists now.
"The biggest opponent of nuclear energy is ignorance," Banner said. "You've got to have the political people wanting to do it, or it'll never come to pass."
You care.
You want to know what is really going on these days, especially in Colorado. We can help you keep up.  The Lookout is a free, daily email newsletter with news and happenings from all over Colorado. Sign up here and we will see you in the morning!