One Aurora officer found guilty by jury on lesser charges in death of Elijah McClain
Updated at 7:36 p.m. on Thursday, Oct. 12, 2023
One Aurora police officer was found guilty on Thursday for his role in the 2019 death of Elijah McClain. Randy Roedema has been convicted on the lesser charges of criminally negligent homicide and assault in the third degree. 
The other officer on trial, Jason Rosenblatt, was found not guilty. 
An Adams County jury deliberated for about two days in reaching their verdict, which was read in a Brighton courtroom with McClain's mother, Sheneen, in attendance. 
"This is the divided states of America, and that's what happens," McClain said to reporters after she walked out of the courtroom with one fist raised in the air — out of anger.

"And that's it. I'm out. I'm pissed," she said as she was walking out of the courthouse, arm locked with one of the prosecutors from the Attorney General's office.
Roedema could face up to four years in prison, but these convictions don't include mandatory prison time and Roedema may get probation instead. Assault 3 is a misdemeanor and includes sentences of up to 18 months, and criminally negligent homicide means one to three years in prison. He will be sentenced Friday, Jan. 5 at 1:30 p.m.
When the verdicts were read, Roedema's head fell and his family had audible emotional reactions from the front row. One of his lawyers put their arms around him. Rosenblatt put his head down on the table when he was acquitted, and he appeared to pray. One of his lawyers, Harvey Steinberg, slapped the table in happiness and wept.
Then, Rosenblatt was free to go and walk out with his family. A tear streamed from his eye and he was flanked by his lawyers. Roedema had to stay behind and hear about his continuing bond conditions and his sentencing hearing. His family stayed with him, wiping tears from their eyes.
Wednesday's verdict marks the end of the first chapter of a wrenching four-year-old case, which had been closed by authorities and then brought back alive through new evidence and the national racial justice movement. 
Attorney General Phil Weiser, who received this case in 2020 through an executive order from Gov. Jared Polis, said outside the courthouse that he appreciated the jury's service.
"I recognize that some people may not agree with the verdict, but we all must respect the jury system, which is a pillar of our democratic republic," he said. "The people who served on the jury are our neighbors, regular Coloradans who interrupted their lives for weeks to hear the evidence in the case, to deliberate, and to deliver justice."
There has been some measure of accountability for McClain's death by the city of Aurora, which agreed two years ago to pay his family and their attorneys $15 million. It remains among the largest civil settlement agreements ever in Colorado for police violence.
A second trial for Nathan Woodyard, another officer who was also on the scene that night, is scheduled to get underway on Friday. The paramedics who injected McClain with ketamine are scheduled to go on trial as co-defendants later this year.
What police are trained to do and what happened
In their final arguments given to 12 jurors and two alternates earlier this week, prosecutors focused their case against the two officers on negligence and training, ultimately proving to the jury that, as they forcibly detained him they also ignored crucial signs of McClain slowly dying. 
State prosecutors Duane Lyons and Jason Slothouber told jurors that then-officers Roedema and Rosenblatt were properly trained and had pages of policies and procedures that, if followed, would have saved McClain's life. 
A pulmonologist testified that from the sounds McClain was making into the body cameras — labored breathing and shortening sentences to almost catatonic — that he was aspirating a potentially lethal amount of vomit into his lungs.
"If they would have frozen time, he may have died or he may not have," said Dr. David Beuther, an internationally known lung expert from National Jewish Health. "In the hospital, we've had both outcomes in cases like this."
On Aug. 24, 2019, Woodyard, Roedema and Rosenblatt stopped McClain after a 911 operator received a call about a suspicious person walking down East Colfax Avenue. McClain was wearing a mask in August, because his family said he was often cold, and was walking home from a convenience store with a bag of iced teas.
The officers went hands-on within about 8 seconds of that stop and then took McClain to the ground. Woodyard gave him a carotid hold. McClain threw up several times in his mask, which they didn't remove for a few minutes. When paramedics arrived, they gave him ketamine. He lost his pulse in the ambulance, was briefly revived, but then had a heart attack and died a few days later.
"They were trained, they were told what to do," Lyons said, in closing arguments. "It didn't have to be this way … They were given instructions, they had opportunities and they failed to choose to de-escalate violence when they needed to."
Step by step, prosecutors walked through those 18 minutes between when McClain was stopped and when he was loaded up in an ambulance, where he eventually lost his pulse. 
Prosecutors say the officers ignored their training in several crucial areas, including not paying attention to McClain's breathing after the carotid hold and not treating his visibly deteriorating condition as a medical emergency. McClain cried out that he couldn't breathe seven times, prosecutors say, and neither officer told paramedics when they arrived about how he was doing. They didn't listen to his vital signs, nor did they communicate to paramedics that it was a medical emergency, prosecutors said.
"Today's verdict is about accountability. Everyone in Colorado, everyone in the United States, no matter who you are, is accountable under the law," Weiser said after the verdict was read on Thursday.
Jurors instructed to consider separate charges for each officer
"This is not just a tragedy, this is a crime," Lyons said. "All of the evidence points to the inescapable conclusion that these defendants are guilty of the crimes charged."
But two sets of defense attorneys, representing Roedema and Rosenblatt respectively, tried to make the case that the prosecution piled on a set of circumstances that, while deeply unfortunate, did not amount to a crime.
"Just because there's a tragedy does not mean there's criminality," said Don Sisson, one of Roedema's attorneys. "When it comes to the question of criminality, the prosecution bears the burden beyond a reasonable doubt. That's the highest standard in the law."
Sisson also points out that everything looks worse when people "Monday morning quarterback" the police, but, "that's not the way policing works."
Harvey Steinberg, a lawyer representing Rosenblatt, portrayed his client, the least experienced officer facing charges, as just following orders and fearful that his superior officer said McClain reached for his gun.
"It all changed," Steinberg said. "Rosenblatt hears from a senior officer, 'he's going for your gun, dude.'" What's he supposed to do? … What goes through his mind is we have to make sure no one gets hurt, and that includes me."
Even though Roedema and Rosenblatt were co-defendants, the jurors were instructed to consider each of their charges separately. This means, even though they were all sitting at the same table in this trial, lawyers pointed fingers at the other one at times during the trial, including during closing arguments.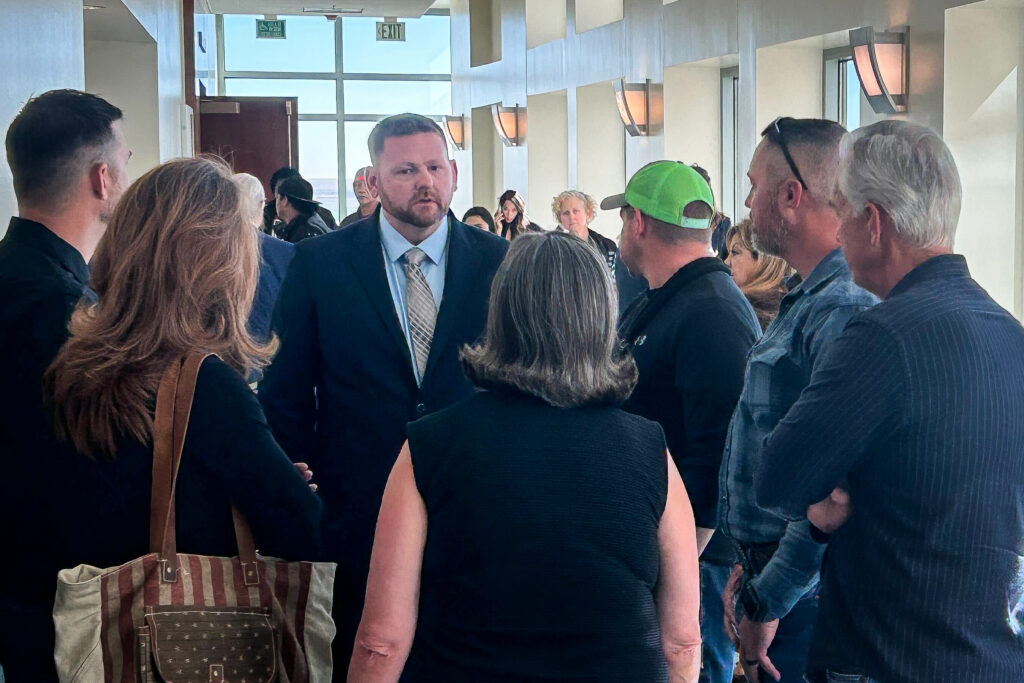 "Rosenblatt didn't jerk his arm. It was Roedema. Rosenblatt didn't have his knee in his back. It was Roedema," Steinberg said, Rosenblatt's attorney, during closing arguments. 
Roedema's defense attorneys said there were, at one point, 10 officers on the scene, two sergeants, two EMTs and two medics, and "not a single person had a single concern about what Randy Roedema did."
Slothouber countered, "Just because there is a sergeant on the scene doesn't mean that you stopped following your training."
Testimony about autopsy key
McClain's autopsy has been a key issue during this trial -- both for the state and defense attorneys. His autopsy, amended during the grand jury investigation, said he died of complications of ketamine after forcible restraint. 
Defense attorneys have homed in on a key sentence in that document written by Dr. Stephen Cina, the forensic pathologist who performed the autopsy.
"It is my opinion that he likely would have recovered had he not received this injection," Cina wrote, referring to the ketamine, a sedative. "As a result I believe this tragic fatality is a result of ketamine toxicity."
Because the officers didn't give the ketamine, defense attorneys say they shouldn't be held responsible for it. 
Slothouber countered that the officers' suggestion that paramedics give McClain the ketamine — body camera footage shows the officers discussing it before paramedics arrived — means they are just as guilty as the paramedics.
"Even if they don't push that needle in themselves … they're leading the paramedics to this idea," he told the jury, referencing the ketamine injection. Officers talked about giving McClain ketamine before paramedics arrived on scene with the drug. "They're encouraging it and saying, yeah, perfect, and then they're holding him in this dangerous position … That is guilt just as much as that they've done it themselves. The law makes no distinction."
You care.
You want to know what is really going on these days, especially in Colorado. We can help you keep up.  The Lookout is a free, daily email newsletter with news and happenings from all over Colorado. Sign up here and we will see you in the morning!