As Diane Mitsch Bush and Lauren Boebert Compete In Colorado's 3rd District, Here's What Former Reps Say It Takes To Win
What do the ski-resort town of Aspen, the Western Slope city of Grand Junction and the archeological hub of Cortez have in common? The same congressional representative. 
For the past decade, that representative has been Republican Scott Tipton. But with his primary defeat by political newcomer Lauren Boebert, the district is guaranteed to get a new Congresswoman — either Boebert or Democrat Diane Mitsch Bush.
It can be hard for any politician to build consensus in this diverse district. And no one knows that better than the people that have represented it in the past. 
Ben Nighthorse Cambell wore out several pairs of shoes campaigning in the 3rd Congressional District. He won the seat as a Democrat in 1986 and held it for three terms, before running for Senate and switching to the Republican party. 
Looking back, he thinks he was able to understand the differences in the district because of his own wide range of experiences before running for office — from rancher to teacher to military police officer.
"That range of skills that I went through myself gave me the ability to understand and listen and try to represent a large range of people in the 3rd CD," he said.
Across the board, the people that have run for and won this seat in the past say the biggest challenge is its size — encompassing almost half the state. And with that size comes a lot of differing political opinions.
"This has always been a little bit of a difficult district to represent, I think, because you have a diverse agenda," he explained. 
And that, according to Nighthorse Campbell, means you can't represent the district by ignoring its Democratic strongholds like Steamboat Springs or Carbondale, just like you can't ignore its conservative stretches in the West and the South. 
Nighthorse Campbell said there were plenty of people who didn't agree with his political positions "but that doesn't mean you shouldn't go talk to 'em or deal with 'em. And I used to go visit with the ones I knew weren't going to endorse me ... I knew that there was some in there that might break ranks and support me individually if they thought I wasn't too much of a threat."
He thinks what voters across the district don't want is a rubber stamp — for the far-left or the far-right. 
The 3rd CD's largest voting block is unaffiliated voters, followed by Republicans and then Democrats. So while it leans conservative, Democrats do have a chance. The last Democrat to represent the district was Rep. John Salazar, who held the office from 2005-2011 until he was unseated by Tipton.
"I think it's important to have someone who can listen to voters across the political spectrum, not just the echo chamber of their own party," said Sal Pace, a former state lawmaker who served as Salazar's district manager. 
Pace also ran for the seat in 2012 and lost. But he said for any politician to succeed here, they need to find a local issue that resonates, instead of just wading into national ones. 
Mitsch Bush seems to be taking a page from this political playbook. During a virtual round table on ranching issues last week, she highlighted how she fought her leadership when she was in the statehouse over rural issues.
What issues are important to you this election? Take our survey.
"They didn't understand some of the water issues. They thought it was partisan. I was on a lot of Republican bills and they said, 'You're on a lot of Republican bills' — that was when I was a freshman — and I said ... 'I have to represent my constituents.'"
In Congress, representing those constituents that could also mean butting heads with other members of the Colorado delegation. Former Republican Rep. Scott McInnis, who represented the district from 1993-2005, said those were some of his hardest fights because many people there feel like Denver and D.C. don't listen.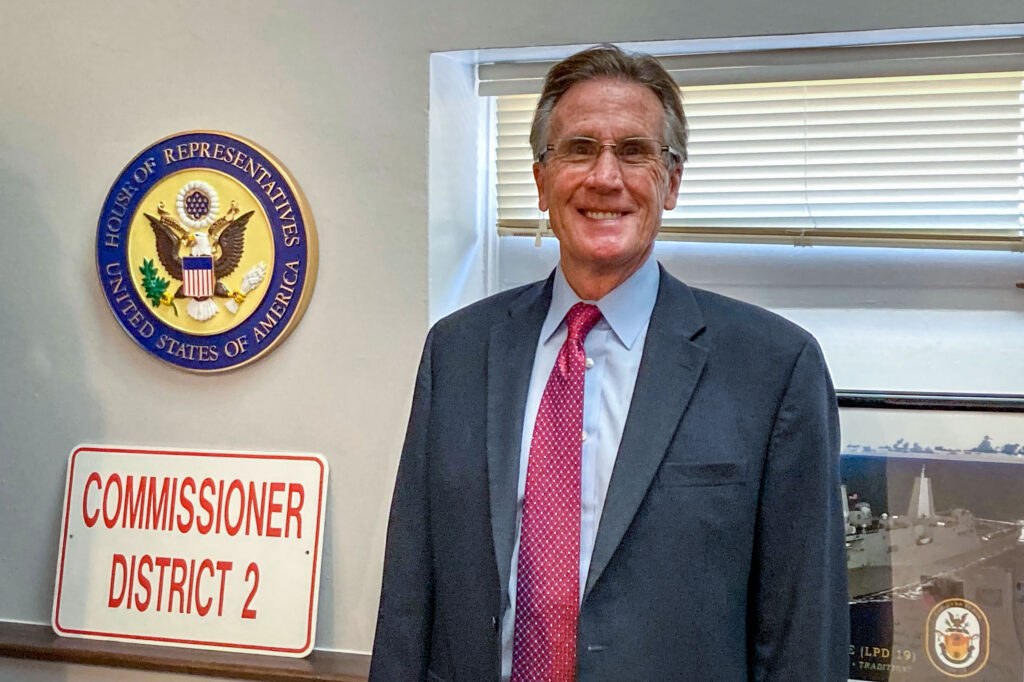 "Everyone pretty well feels we get the short end of the stick on transportation. We get the short end of the stick on school funding. We get the short end of the stick, period, out here," he said.
And that's why he believes whoever is elected will have to be noisy and strong, characteristics he sees in the Republican candidate, Lauren Boebert.
"Lauren's got a lot of spunk," McInnis said. "And I'll tell you that's a real asset ... in a campaign and even more important that kind of energy level is going to be critical for her success in the U.S. Congress."
But before either of these candidates make it to Congress, they have to navigate a campaign trail that is difficult in the best of times — when there's not a pandemic making rallies and door-knocking tricky, to say the least. Pace believes that to have a fighting chance candidates need as much direct voter contact as possible, one way or another. 
"The events might look different but I certainly think the candidates need to get out to all the areas of the district," Pace said. 
Mitsch Bush is sticking to the virtual campaign trail for the time being, but Boebert has been hitting the road in the real world. And if Misch Bush's strategy is to focus on the local, the playbook Boebert's cribbing from is President Donald Trump's — reaching out to so-called forgotten voters. Part of Boebert's stump speech notes her victory was fueled by them.
"Those forgotten voters, who someone else reached out in 2016 and said 'You forgotten voters are forgotten no more.' They showed up again. And they're going to show even bigger in November," she said at an August GOP event in Gunnison County.
Mike Stratton, a Democratic political consultant who's from Durango and worked with former Rep. Salazar, said COVID-19 has changed how voters may choose to interact with candidates, so campaigns have to think beyond rallies and door knocks.
"Your candidacy is more reliant on the voter contact methods you employ, which are TV, radio, mail and phones," he explained. 
All of which takes money, especially in a district that encompasses four different media markets — Denver, Grand Junction, the Four Corners, and Pueblo. Both women will need deep campaign war chests. Mitsch Bush went into the general election with a strong advantage there, but Boebert's growing national profile is expected to help make up the difference.
One campaign staple may be gone from this year's race — a debate. Boebert and Mitsch Bush have yet to agree to even one. Democrat Pace believes "it'd be really crazy not to have any debates." But he also said that not having a debate would likely benefit Boebert, since in his view, "Diane is an adept policy wonk and does very well in debates."
McInnis said whatever the outcome on Election Night, whoever wins should have a fantastic time representing the district. 
"And I'm just going to say work hard. The people appreciate it. They may not agree with you on an issue, but if you work hard, they'll know it. They'll appreciate it and you'll really feel honored to serve 'em."
You care.
You want to know what is really going on these days, especially in Colorado. We can help you keep up.  The Lookout is a free, daily email newsletter with news and happenings from all over Colorado. Sign up here and we will see you in the morning!