As Colorado COVID Cases Rise, Polis Wants More Vaccine Mandates For Some But Local Control For Others
Gov. Jared Polis said Wednesday that Colorado is continuing to see an increase in the number of new COVID-19 cases and hospitalizations driven by the Delta variant of the virus.
Colorado is now reporting 1,100 cases per day for the first time since mid-May, though the rate of growth is still not as steep as the U.S. average. But state epidemiologist Dr. Rachel Herlihy warned that Colorado isn't immune to seeing a rapid increase of cases in the future. 
"That certainly is a possibility, and again is why we need Coloradans to stay vigilant," Herlihy said. 
Herlihy said some states have seen a more rapid acceleration of cases after students returned to school.
"It's certainly why we need to have strategies in place to make sure that our school-aged children are protected at this time," Herlihy said.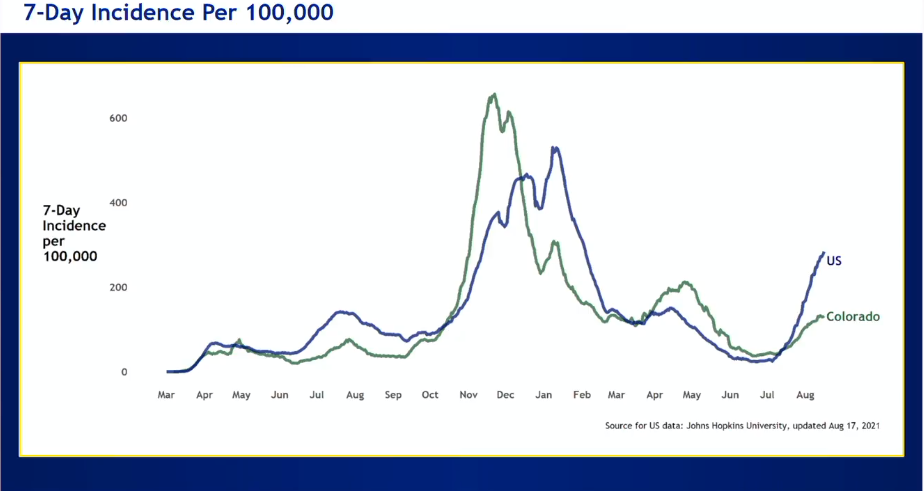 A district-by-district, community-by-community approach to masks, schools and kids
Polis has maintained that a statewide mask mandate for schools is not necessary, at least not yet. But Polis wrote a letter to school superintendents encouraging them to follow the guidance from the Centers for Disease Control and adopt masks.
He added that different communities have "higher risk thresholds" with regard to COVID in their communities, and that "there's no right and wrong."
"There's parents that don't let their 16-year-old drive because they're worried about the safety of 16-year-old drivers. There's others that do," he said.
He added that his kids will be wearing masks this coming semester, even if they lived in a school district that didn't require them.
Districts are adopting different standards, and many aren't requiring masks this coming semester. Polis urged people to stay civil if they're disappointed with their district's decision. 
"If we differ with our leaders in different areas, that's okay and we have a voice to do that," Polis said. "But what's not ok is threats of violence or getting in the way of education."
Polis said it will be harder for districts that are not implementing COVID-mitigation measurements to be able to assure parents that they remain open through the year. He said that if quarantine issues affect the ability for schools to remain open, additional state actions will be considered. 
Certain state employees are now required to get vaccinated, and Polis is asking that other health care workers get their shots
The upward trends in infections, hospitalizations and deaths are why certain state employees will now be required to get fully vaccinated by the end of October. That includes employees for the Colorado Department of Public Health and Environment, the Colorado Department of Corrections and the Colorado Department of Human Services. 
Polis said Coloradans often don't have a choice to be in contact with these types of state employees.
"We have special responsibility to not endanger the lives of those who we serve, that responsibility is on us," Polis said.
Executive Director of Corrections Dean Williams said the entire department "toiled" over this decision, and are afraid they'll lose staff over this mandate. But the Delta variant has changed the conversation.
"I want to retain every member who works for me right now today, but that doesn't alleviate this special sense of responsibility and duty that we have to each other as a department, and especially to those people that are in our custody," Williams said. 
Polis also sent a letter to the state's Board of Health, asking that employees across other health facilities, including hospitals and nursing homes, be vaccinated. That board will consider Polis's request on Aug. 30.
"Coloradans shouldn't have to worry about whether you're exposed to the virus from the very person who was supplying you the healthcare that you need to live," Polis said. 
On Wednesday, the federal government took a big step toward requiring all nursing home workers to be vaccinated by tying Medicare and Medicaid funding, which supports nursing homes, to vaccine requirements for staff.
More stories about kids, masks and schools in Colorado:
The state of COVID vaccination in Colorado
Though the vaccines have been proven safe and effective, nearly 1.7 million eligible Coloradans, people 12 and older, have still not been fully vaccinated.  
The state is now working to get third doses of the Moderna and Pfizer vaccine to those who are immunocompromised, but boosters are not yet available for those who received the Johnson & Johnson vaccine. A third shot would bolster the effectiveness of that vaccine, which is only 63 percent effective for those who are immunocompromised, according to Polis. 
No paperwork is required to prove an individual is immunocompromised to get the third shot. 
The federal government also announced Wednesday that they are recommending the general public get a booster shot eight months after receiving their first dose. That would mean frontline essential workers and nursing home residents will start getting their third shot starting in late September. Polis said more information would become available as that date approaches. 
The state has enough doses to start third shots while also vaccinating those who have not yet received their first shot.
---
Editor's note: This story was updated after publication to remove reference to a new daily case high after the state acknowledged a discrepancy in its reporting.
You care.
You want to know what is really going on these days, especially in Colorado. We can help you keep up.  The Lookout is a free, daily email newsletter with news and happenings from all over Colorado. Sign up here and we will see you in the morning!