Club Q alleged shooter charged with murder, hate crimes in second court appearance
Updated: 2:34 p.m.
The suspect in the shooting at an LGBTQ bar in Colorado Springs has been formally charged with hundreds of murder and hate crimes — and it's a move the District Attorney says sends a clear message.
"We're not going to tolerate actions against community members based on their sexual identity," said Michael Allen, District Attorney for the 4th Judicial District during a press conference on Tuesday. 
"Members of that community have been harassed, intimidated and abused for too long, and that's not going to occur in the 4th Judicial District."
Anderson Lee Aldrich on Tuesday was charged with 305 criminal counts that include first-degree murder, attempted murder and bias-motivated crimes during a second court appearance at the El Paso County Judicial Building. Aldrich entered the courtroom just before 8:30 a.m. wearing a neon green El Paso County Jail uniform — purplish bruises previously seen on Aldrich's face and neck at the first virtual court hearing last month were not as visible.
At a Tuesday press conference following the court hearing, Allen said the first-degree murder charges against Aldrich are based on two different theories — five counts are intent and deliberation of murder, and then another five counts are of extreme indifference to murder. 
According to the DA's office, there are several charges under intent and deliberation and extreme indifference for the attempted murder charges too.
Those charges carry with them up to 48 years in prison. The first-degree murder charges all hold potential sentences of life in prison without parole, Allen said. The hundreds of charges Aldrich faces are likely among the most charges ever filed in a single murder case like this in the state of Colorado, he added.
For all of the charges filed, none were for weapons, and the DA's office on Tuesday declined to say why. At this time, 40 bias-motivated charges are stacked against Aldrich.
"We are going to prosecute this case to the fullest extent of the law. We also have filed bias-motivated charges in this case, meaning that we think that there's enough evidence to satisfy our burden on bias-motivated offenses."
Under Colorado law, a person commits a bias-motivated crime if they have the intent to intimidate or harass another person because of their perceived race, color, religion, ancestry, national origin, physical or mental disability, or sexual orientation. The law states that a bias-motivated crime has been committed when a person knowingly causes bodily injury to another person, or by words or conduct, knowingly places another person in fear of imminent danger directed at that person or their property.
Allen said due to a recent change in the state's bias statute, they're able to pursue bias charges against Aldrich.
"The wording was changed to allow it to be committed in whole or in part based on bias," he said.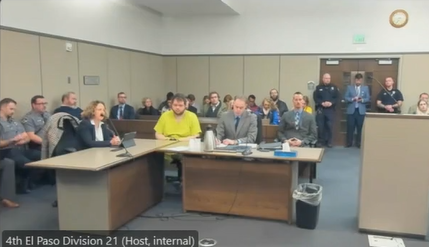 Aldrich, 22, is accused of opening fire late Nov. 19 in the club serving the LGBTQ+ community, killing five people and injuring at least 19 others. 
A drag show had been scheduled for that Saturday evening. People in attendance have recalled a collective effort to subdue the shooter before police arrived. Richard Fierro, a brewery owner, says he tackled and beat the alleged shooter with the attacker's own pistol. 
Allen said Tuesday their goal is to make at least one bias-motivated charge for each of the patrons present at Club Q the night of the shooting. The amount of these charges will change as they continue their investigation and find more victims who were present that night, Allen said. 
Aldrich is being held without bail at the El Paso County Jail. 
Daniel Aston, Kelly Loving, Ashley Paugh, Derrick Rump and Raymond Green Vance were killed in the shooting, and have been remembered fondly by community members, family and friends at various vigils. 
El Paso County District Court Judge Michael McHenry decided Tuesday that Aldrich's arrest affidavit from the Club Q shooting will be unsealed after 5 p.m. Wednesday.
McHenry set a tentative preliminary hearing for Feb. 22.
---
More Club Q coverage
---
You care.
You want to know what is really going on these days, especially in Colorado. We can help you keep up.  The Lookout is a free, daily email newsletter with news and happenings from all over Colorado. Sign up here and we will see you in the morning!